Five Star Riders Shine at Top Teams Show
Story and Pictures Berni Saunders
One of the very rewarding aspects of covering horse shows and performance events is to be kept in the loop of the people that I get to meet ... and learn about their achievement and highlights.

I have been over to Rob and Gail Clay's beautifully appointed Five Star Agistment and Activities Centre in South Cranbourne on a number of occasions to photograph clinics and shows, so to learn of the success of their riders at the recent Victorian Top Teams Showjumping Championships which were held at Werribee Park on the 18th and 19th October, 2009 was a real thrill.

Gail Clay reported that two members of the winning team ( The Pocket Rockets) were regulars at Robbie Allen's training nights at Five Star ... as were two members of the third placed team (South Eastern Dressage Club's - Southern Stars). Jessica Theobold riding Humphrey and Helen Watson on Haberfield Sweet William were individual Championship winners and Lucy Rosenblum riding Diamonty also did well. Nicole McNaughton on Sugar Daddy along with Lisa Archer on Doctor's Orders represented the winning team - and we all congratulate the Pocket Rockets for their great achievment at Top Teams 2009.

Gail said, "It is rewarding to see the hard work pay off! These riders have trained regularly with Robbie and Sarah Allen to build sound basics and put this into practise when they get out and compete - this is what it is all about!"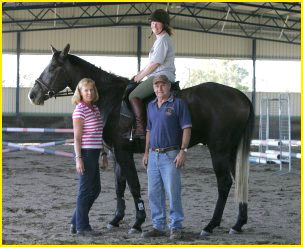 Above -Sarah and Robbie Allen at Five Star
Below - Robbie's most notable student,
his very successful daughter, Becky Allen.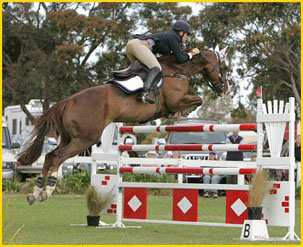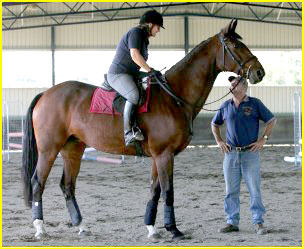 Robbie Allen helps a student at Five Star
When I spoke to Gail Clay and she told me that she and Rob have aimed to play a part to see an overall improvement in the standard of Australian showjumping by providing regular training clinics and freshman's rounds to give enthusiasts regular outings and schooling opportunities. Gail said, "I guess I am the jumping enthusiast and Rob is more for Dressage. Over the years, we have noticed that many of the shows that used to have jumping classes are just not there or have reduced their jumping program, so it is hard to give horses enough experience to improve, if there are less events to go to. Jumping is very difficult for those who do not have the facilities and people on the ground to help and many riders do not have the chance to practise enough!"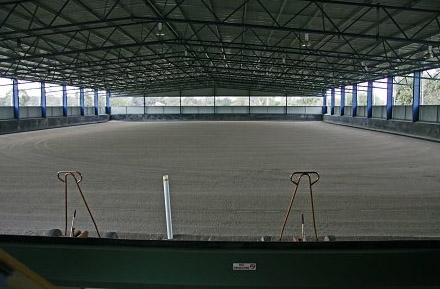 The huge indoor arena with plenty of room for jumping rounds,
plus a spectator gallery and sound system - all mod cons!
"When we added the new indoor arena and activities facilities, we decided that we would do our bit to ensure that jumping was catered for, so Five Star conducts fortnightly jumping classes on Wednesday and Thursday evenings with Robbie and Sarah Allen. Then we hold monthly training rounds which provide competition experience and we have had really positive feedback about the installation of our permanent 'bull ring' which is a valuable training facility and does not interrupt the indoor training or competitions. We have taken the best ideas from top international training facilities and believe that we now have state-of-the-art features for our clients." Gail added.

Indoor Jumping

Outdoor Jumping.+

The permanent 'Bull Ring" at Five Star


Go To - Five Star Activities Calendar
or e-mail Gail Clay <gailclay@live.com.au>