In heatwave conditions NSW rider Stuart Tinney took top honours in the most prestigious and demanding Eventing competition in the Southern Hemisphere when he won the CCI **** at the Australian International Three-Day Event, conducted in Adelaide he rode the gutsy grey Vittori.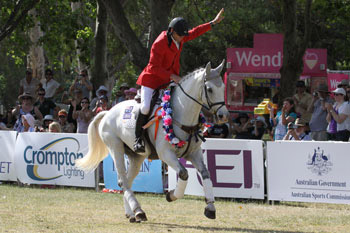 Victorious - Stuart Tinney and Vittori
Picture by Jenny Barnes
The 4 Star class really tested the competitors with only 16 of the 31 starters finishing the three day competition which was hailed as one of the toughest courses in the history of eventing. The riders were
expecting
the course builder to test their skill, but the oppressive heat could not be factored into their preparation strategy - it has been the hottest November on record and was bound to effect some combinations more than others!
Bates Saddles Australia and Horseland have had a long term relationship with Stuart Tinney and both Australian companies were enormously proud of his outstanding achievement.
A Bates spokesperson told Cyberhorse, "We are all delighted with Stuart and Vettori's win, truly well deserved after all their hardwork, this experienced combination really excelled giving Stuart the opportunity to show his skills over the testing cross country phase - we are even more proud that he was riding in a Bates Elevation."
Even though Stuart won Gold at the 2000 Sydney Olympic Games, he has never before won the Adelaide International CCI 4-star class which is one of only six annual events in the world held at this, the highest level of the sport. Stuart has had to settle for the runner-up place on three occasions so was delighted to break this tradition. He said at the completion of his successful ride, "I am relieved, I did not want to finish second again."
Stuart was partnered by Vettori, a 13-year-old grey gelding owned by Peter and Kathy Ward who have keenly followed Vettori's career and love being part of the sport and they were delighted with their horse's convincing win. Stuart plans to build on his Adelaide 09 success and consolidate with the hope of team selection for the 2010 World Equestrian Games which will be held in Kentucky (USA). This course is said to be demanding but picturesque and a true test for horse and rider.
The home town sweetheart of the Eventing and Team Silver Medallist in Beijing 2008, Megan Jones finished 2nd on her second string horse, the chestnut gelding Kirby Park Allofasudden (pictured below - by Jenny Barnes). Her champion Grey Olympic partner, Kirby Park Irish Jester (pictured below - by Jenny Barnes) came home in third place.

| | |
| --- | --- |
| Kirby Park Allofasudden | Kirby Park Irish Jester |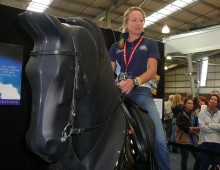 Victorian based 2000 Olympian Amanda Howell finished in 4th place on her attractive mare Koyuna Tora Bora and the nimble footed grey has been improving with each outing. This 4 Star placing sets up the chance for Amanda to get to Kentucky for the World Equestrian Games in 2010 - she will have the home state fans hoping she can build on her Adelaide form and be part of the Aussie team in Kentucky. Amanda is also supported by
Bates
and Horseland and she told me at Equitana (when she got off the dressage simulator at the
Horseland
stand - pictured right) that they were both so helpful and interested and she was very grateful for all that both companies done for her and their support of the entire Australian Eventing Team when they are to take part in International events.