National Dressage
Championships 2009
Oct 28 - Nov 1
Prydes at the Nationals 2009
Story and Pictures Berni Saunders - Page 2
Prydes Feeds are a family owned, specialist horse feed company and everyone involved at their Gunnedah mill in NSW are passionate about what they do. At the Nationals, the Prydes people were kept very busy on the Prydes stand explaining about the various feed products that are particularly suitable for Dressage horses and the a very wide range that gives wide scope to ensure the perfect Prydes feeding solution.

Representing the in-form Parbery Performance Horses training stables was Brett's business partner and wife Melinda Parbery and she rode Maurie and Jan Bruce's wonderful mare Neversfelde Kudu (Kassiber (Imp. Trak) x Space Hostess xx) in the Intermediate 1 and the Intermediate Freestyle tests. Melinda did a fantastic job with Kudu who can get a little hot which would result in her losing concentration and the fantastic rhythm and expression that has made the black mare famous. Melinda did a great job and when I spoke to Brett later, he said he was very proud of Melinda.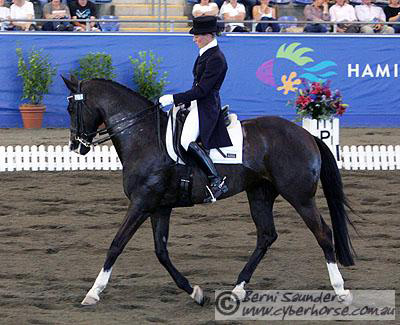 An elegant combination - Melinda Parbery on the
ballerina of the sport - Neversfelde Kudu.
Prydes Feeds are also great supporters of the Hanoverian Horse Society of Australia and sponsor the Prydes/HHSA Novice Elementary Leaderboard event which rewards the highest place Hanoverian registered horse at various state wide competitions throughout a particular year. The 2008 winner was Queensland's Kaz Roe on her imported Hanoverian mare Donna Bonita (Don Bosco/Balerina). Kaz showed us all that she has the progressive training, feeding and other issues well sorted by achieving 9th place in the Medium Championship - from a most impressive field of qualified candidates. Kaz was thrilled to have been acknowledged as the highest scoring Hanoverian last year and now looks to see Donna Bonita progress up the ranks to join her stable mate, For Joy, in the FEI ranks.


Donna Bonita - the 2008 Prydes/HHSA Novice/Elementary
Leaderboard Winner (follow link for 2009 details)


Kaz Roe on For Joy (Fabriano/Pia) 9th in the PSG Championship and
5th in the Intermediate Freestyle - they danced. Both Kaz' imported mares are prepared on Prydes Feeds and are a glowing testament for good feeding and nutrition ...

Canberra Vet Rebecca (Bec) Walshe is another of the Prydes riders to have done well at the 2009 Nationals. Bec has enjoyed fantastic success with her 'stylish' gelding Stylist (Contango ll x TB) who has given her some great rewards on his way up the grades through the Young Horse events and at this competition he was 6th in the Medium Championship. Stylist is loose moving and built 'uphill', so an ideal dressage prospect, Bec says "I look for a complete feed that gives me responsive energy - high energy for stamina, but not hot!. It is important that the minerals and vitamins are balanced and I like the feed to promote a good coat!"


Rebecca Walshe on Stylist - 6th in the Medium Championship.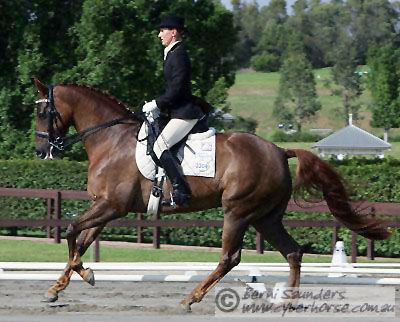 Tammy Stephens and River Range Carolina
I caught up with Queensland rider Tammy Stephens who made the trip down to Sydney with her mare River Range Carolina (Northern Classic) and they did a very neat test with no real mistakes. Tammy took part in the Medium events and she said that she was pleased that her tests went well! "I know that I rode a bit too carefully, but my horse did exactly what I asked, I just need to ask a little more in the future. Coming down to the Nationals is a big part of our experience and we have learned a lot. I have had a great deal of help from Ron Major from Prydes Feeds and I am sure that my feeding program will allow me to consolidate the work and put in to practise what we have learned this weekend!"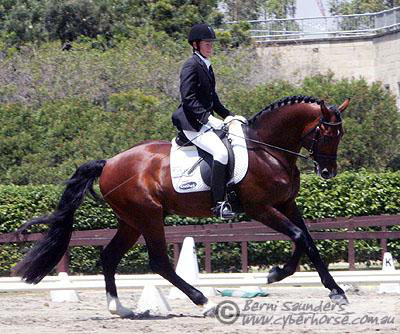 Leasa Stephen and Galanthus
Leasa Stephen (right) is another "Prydes rider" who came down from Queensland to be part of the Nationals. Leasa is a wonderful ambassador for the sport as she gets involved in many projects which ensure that she does her bit to support the Australian equine industry. Leasa was one of the major driving forces behind an initiative to get Queensland back on track after the devastating effects of the Equine Influenza outbreak. She is also the Volunteer Co-Ordinator for Equitana Asia Pacific and her organisational skills come to the fore in this demanding role. Equitana would not be viable without a huge team of volunteers and Leasa has proven herself in this important role. Leasa told me that she has lots of volunteers who come back to Equitana to make a contribution and also catch up with the friends they made at previous events. "we are one big happy family" Leasa said!
Leasa operates the busy Gypsie Lodge Equestrian Centre in Queensland where she stands her loose moving and talented Hanoverian stallion by Gymnastic Star. She told me that he lacked a little match practise at these Nationals, but the only way to give the horse the experience he needs, is to get him out at the big events - it is a bit of a 'chicken and egg' situation ... the horse need the experience in the big atmosphere and yet it is easy to consider waiting for the magical moment when he has more experience. I love to be part of the nationals!"

Leasa said that she uses various Prydes feeds for the horses at home but for her stallion - "EasiResponse is an awesome cool performance horse feed and I use Prydes Power Pak when I need to give the competition horses a little boost of energy, say on the 3rd day of a big event."


Jeremy Janjic on Django of Cacharel (Pike x Renske van De Olde Hoek) - what a wonderful picture they make!

Jeremy Janjic and Christine Crawford from the North Kaluda Stud and Training Centre, were on my Pryde's watch list as Jeremy rides one of my all-time favourite horses - Django of Cacharel - the stunning Dutch Friesian stallion who recently won his first start at Prix St Georges. Jeremy rides another of Lynn Jenkin's (Tashkent Friesians) beautiful Friesian stallions - Jacana TK. Django took part in the Medium and Advanced events and did a fantastic Advanced Freestyle test in the indoor arena. One judge agreed with me and the other, not so much so the score was not up to their best. Jacana TK has enjoyed a wonderful first season of competition with great success and lots of interest in the growing trend to ride a Friesian. Jacana is also winning his share of fans, he is the more leggy and athletic type that is favoured for the development of the modern sports Friesian.

Jeremy said, "Friesians have a fantastic docile nature and can get heavy ... yet they need the energy to show their expressive, flamboyant movement. Django is a great ambassador for Prydes new performance feed - EasiSport, which does not contain any grain. It is perfect for Django ... or any horse that needs a carefully monitored, calorie controlled diet - EasiSport keeps his weight under control but gives enough energy for high performance ... and it has the correct balance of vitamins and minerals."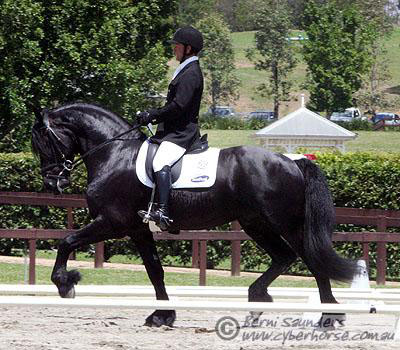 Jeremy Janjic on the imported Friesian stallion Jacana TK (Ulke x YMKJE 2)
Christine Crawford is also from North Kaluda and she too had a busy "Nationals" riding the stunning and huge gelding Jazzsong (Zass x Pia) and her own Kaluda Renoir. Christine is a talented professional and looks to get the best from the horses she has in training. She said, "good preparation and training is a necessary part of success, but the right feed for each horse is also important. We love Prydes feeds and find that a mix of BioMare Cubes, EasiResult and EasiPerformance works well for all of the horses at North Kaludah ... oh yes, Jeremy feeds EasiSport to the Friesians, to help maintain their ideal weight and give them the energy for good competition performance. We love Prydes feeds because I know they are complete and balanced."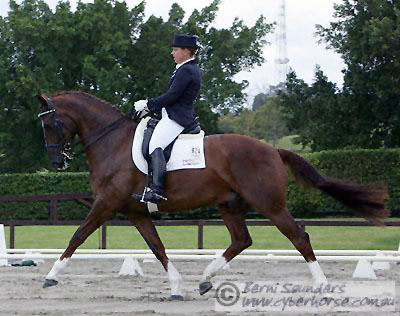 Christine Crawford 'powers' in an extended trot on Jazzsong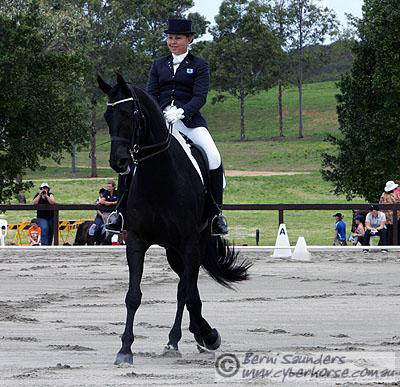 Christine Crawford and Kaluda Renoir (by Regardez Moi from Beauford Belang)
A highlight of the 2009 Nationals for the friends of Prydes and Prydes riders was the Friday night get together and BBQ. Peter and Sharon Pryde were the perfect hosts and they were assisted with the hospitality by Susannah Gazia, the Prydes Equine Nutritionist. Peter donned cooks apron and did the BBQ thing to perfection.

I was delighted to be invited along and got the camera clicking between white wine and snags. It was a fun time and added some light relief to the serious business of competing at the top dressage event in Australia. Thanks Prydes.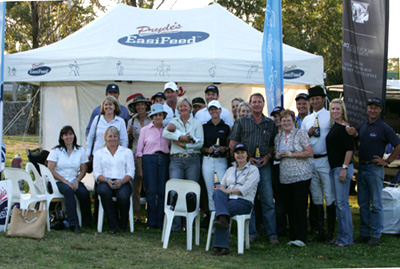 The happy gathering - Friends of Prydes 2009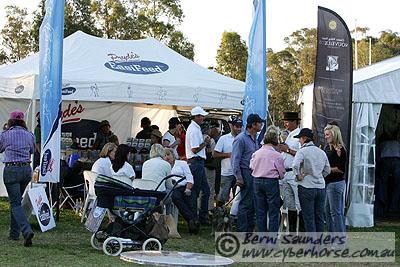 The BBQ in full action, lots of animated talk and fun - should be more of it
If you would like help with developing a balanced diet that can be adjusted daily according to your horses workload and behaviour contact Pryde's Pty Ltd – www.prydes.com.au

Prydes Nutritionist can custom make diets to meet the specific needs of your horse -

For more information on Prydes Feed click here