National Dressage
Championships 2009
Oct 28 - Nov 1
Prydes at the Nationals 2009
Story and Pictures Berni Saunders - Page 1
There is no doubt that the National Dressage Championships are the most important event for this Olympic discipline ... and with such a large number of dressage enthusiasts now using Prydes feeds, the Australian owned Gunnedah (NSW) based company was keen to play a major role at this event.

To this end, Prydes sponsored the first FEI class of the championships - the Intermediate ll competition (click here for full report) which got proceedings off to a great start on Thursday 29th October. The Prydes team consisting of Peter and Sharon Pryde and Equine Nutritionist Susannah Gazia did a great job to have the arena take on a 'Prydes' look and the colourful signage added atmosphere and highlighted their involvement to the supporters of Dressage.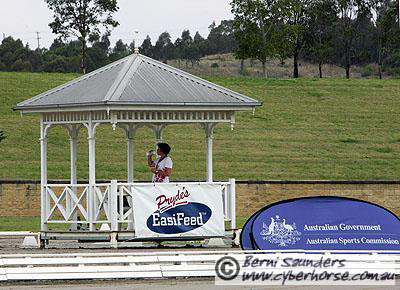 The judges box at B and the signage shows the connection..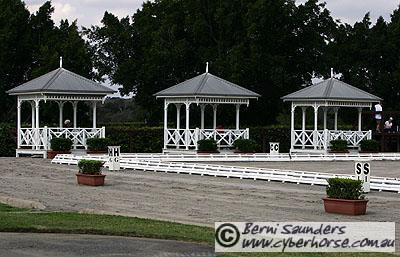 The three judges boxes at the head of the No 1 Olympic arena.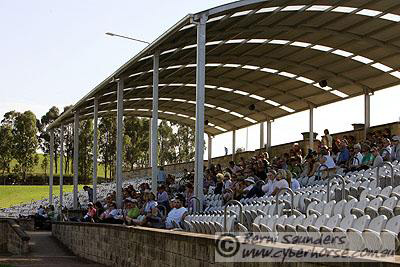 Considering that the Inter ll competition was held on a Thursday
afternoon, an encouraging number of spectators gathered to watch.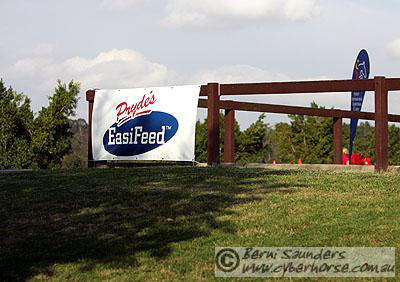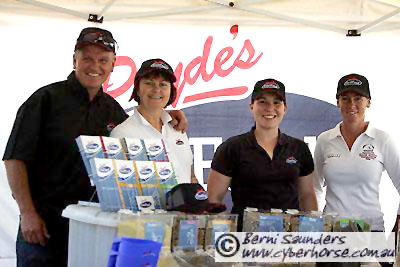 Prydes people ... from left, Peter and Sharon Pryde, Susannah
Gazia (Equine Nutritionist) and Prydes rider from Queensland,
Leasa Stephen pictured at the Prydes stand at the Nationals.
The Inter ll had a fairytale outcome from a sponsor's viewpoint ... as it was won by a Prydes sponsored rider - Queensland's Tor Van Den Berg riding Cheryl O'Brien's fantastic imported Hanoverian stallion Fisherman's Friend (by Fabriano from Penny Lane) on a score that would satisfy Olympic and WEG Selectors - 66.632%, so here's hoping Tor and Fish can consolidate and put in some more good performances in the lead up to WEG in Kentucky next year. Pictured above right is Maria Schwennesen from Queensland who was part of the Intermediate ll judging panel.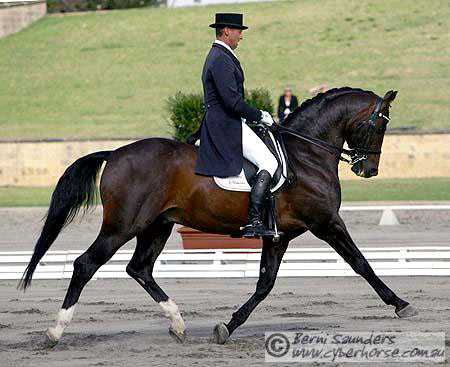 Worthy winners of the Prydes Feeds Intermediate ll Championship
for 2009 was Tor Van Den Berg riding the fabulous Fisherman's Friend.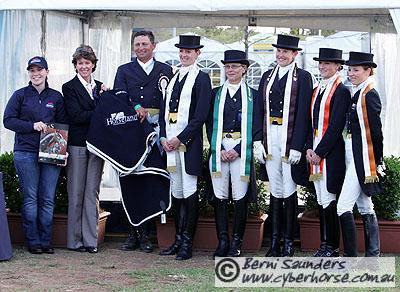 Presentation for the Prydes Feeds, Intermediate 11 Championship for 2009
from left: Susannah Gazia from Prydes, Susie Hoevenaars (Centre Line Judge)
the Champion, Tor Van Den Berg, Heath Ryan on Regardez Moi was second
but could be at the presentation, Gitte Donvig was third, Charlotte Pedersen
4th, Fiona McNaught 5th Daniella Dierks 7th and Nicole Magoffin 8th.
The 2009 National Dressage Championships had particular significance as the event is an important qualifier for the World Equestrian Games in Kentucky next year. Based on the results of the Grand Prix CDI-W and the Grand Prix Freestyle CDI-W there will be a Prydes fed horse on the team - Victory Salute ridden by Brett Parbery. Victory Salute is huge, standing 18 hands tall and he was bred ... and is still owned by former FEI rider, coach and judge Carolyn Lieutenant. The handsome bay is by the imported Dutch stallion Salute (Imp) from Esprit, a mare by the imported French Anglo Arab Victorieaux and Esprit has a splash of Percheron blood.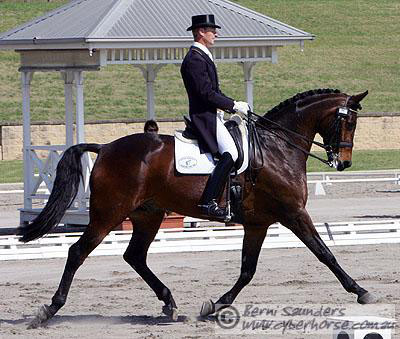 Victory Salute and Brett Parbery in their Grand Prix test.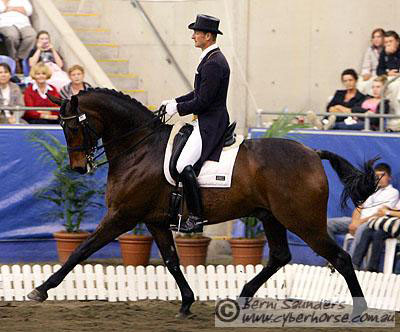 Victory Salute and Brett Parbery make great music together in their
harmonious and exciting Grand Prix Freestyle ride (CDI-W)
Victory Salute's WEG 2010 campaign has had a most thorough preparation as Brett and Sam did a training/qualification trip to Europe in 2008 leading up to the Beijing Olympic Games. While they missed selection by a very small margin, Victory Salute (Sam) was in Hong Kong to be part of the Australian Paralympic Team, where he partnered Georgia Bruce and they had great success together. This experience got Sam acquainted with the huge Olympic atmosphere, travelling by air and living away from home for extended periods.

Since Sam returned to Australia Brett has focussed his training on consolidating the work that will secure their place on the Aussie team for WEG 2010. The piaffe/passage tour is now world class and as the big scoring element of the Grand Prix this is very important. Sam has it all ... his huge frame gives him the elegant movement that is pleasing to the eye and his canter changes and pirouettes are very well executed with elegance and ease.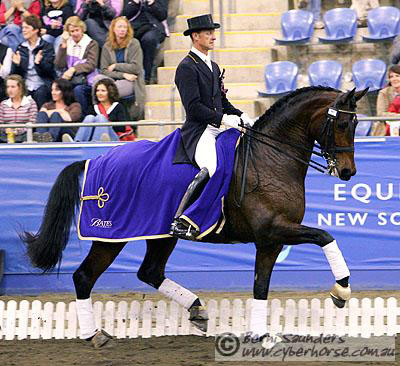 Victory Salute and Brett Parbery enjoy their success during
the Lap of Honour at the Hamilton Island Grand Prix presentation.
The 2009 CDI-W Champions Victory Salute and Brett Parbery were the well deserved stars of the Nationals and a great advertisement for Prydes Feeds. Brett told me that he needs cool, responsive energy that is sustained throughout the test. "I must have the confidence that I can access high energy for the demanding elements such as the piaffe/passage tour, which comes at the beginning and then again at the end of the Grand Prix test." Brett added.

"The ideal feed for a good Grand Prix horse must give sustained energy for the work - without the excess calories which will just put on weight and diminish athleticism. The feed must also provide the right balance of vitamins and minerals to keep the horse in top health with a good coat. Now that we have worked out the diet, our horses offer an even level of energy, for longer periods, which is essential for training dressage horses. "We feed Prydes EasiPerformance and EasiResult to the 15-20 horses that Melinda and I have at home (Parbery Performance Horses). Prydes feeds are easy to feed out as they have everything added ... and the horses really like these two mixes." Brett explained.

Tor Van Den Berg had a fantastic competition and his success continued with another imported Hanoverian stallion, Lauries As (Londonderry/Pik Lady) winning the Elementary 3 D competition, with a 2nd in the 3C. Fisherman's Friend and Lauries As are both owned by Hanoverian Horse Society of Australia President, Cheryl O'Brien (pictured right watching the Grand Prix test) from Remi Stud in Queensland and she says, "Both stallions have the best performance bloodlines in the world and were chosen to come to Australia for their special qualities to upgrade the Australian Hanoverian gene pool - they have fantastic trainable temperaments - even though they are both very different. Fish is 'all boy' but likes to work with the rider. He enjoys his work and has improved as he has progressed up to FEI - he thrives on being clever! Ace ... well Berni, you have met him and what else can I say. He is the sweetest and most obliging stallion and his work at this event speaks for his aptitude for training. He has given us all a very pleasant surprise, as you know, when he arrived in Australia just on 12 months ago, he had had only the basic work for Young Horse classes and in less than a year he has gone through the early grades to be here and placing at Medium level." Cheryl enthused.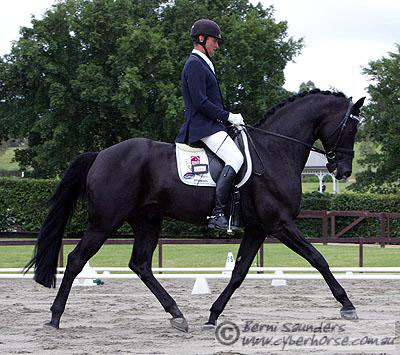 Fellow Prydes rider, NSW based Matthew Dowsley was second to Tor in the 3D and just ahead in the 3C which Matthew won on his imported stallion San Jose by the inform stallion Sandro Hit from Raja. This win meant a lot to Matthew as he bought the stunning bay/brown colt when he was a baby - on the recommendation of his German friend Sylvia and San Jose has done all of his education with Matthew, who hopes that they will progress up the grades to eventually represent Australia at International level some time in the future. Matthew was ahead in the Elementary championship by the smallest of margin. Tor and Matt were rather chuffed that they had beaten the girls!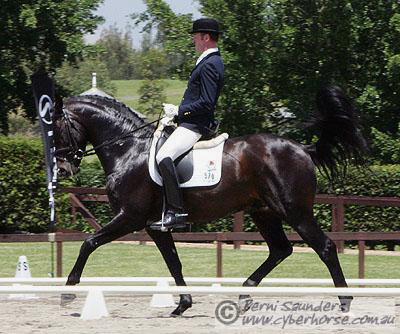 Matthew said that keeping his horses at their peak requires a high energy feed with balanced minerals and vitamins. He needs them to have the energy to work ... without excess calories." He finds EasiResponse, EasiPerformance, EasiFeed Three the ideal choice for his horses.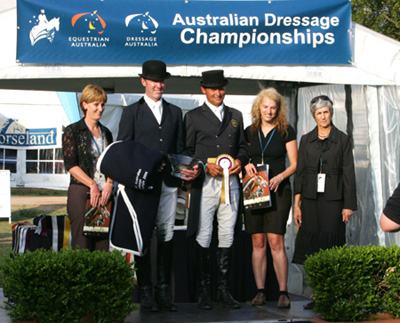 The Elementary Championship was a great achievement for Prydes with
Matthew Dowsley and San Jose the champions by a very narrow
margin over Tor Van Den Berg and Lauries Ace.
Tor feeds his horses Prydes EasiResult or Prydes EasiResonse. He says that it gives the horses 'slow release' energy and they feel as good at the end of their test as they do when he first gets on for the warm-up. "I have the power to show their best, even if it is the second test in a long day of competition!" Tor said.

Lauries As and Tor Van Den Berg did a great job in the Medium classes with third place ion both tests and third in the Medium Championship.

I went to Que Sera Farm in Biddaddaba, Queensland to watch Lauries As (Ace) work in April 2009 and the horse was doing good quality Novice work. It ways a great deal about this fantastic temperament and trainability that he can be up there with the best at the Nationals - two levels higher, in such a short time. Tor says, "Feeding is an important part of the overall preparation - you have to get it right!" Tor enjoyed sharing his success with wife Mel (Hughes) and their gorgeous two week old daughter Olivia.
Tor also rode 5 YO Young Horse event on the lovely chestnut gelding Sir Anton, owned by Plumbolah Pty. Ltd. The talented youngster is by Jaybee Alabaster who is training with Australian Olympian Rachel Sanna and being prepared with WEG 2010 in their sights. Sir Anton did a lovely first round teat and finished in 4th place after the 2nd round.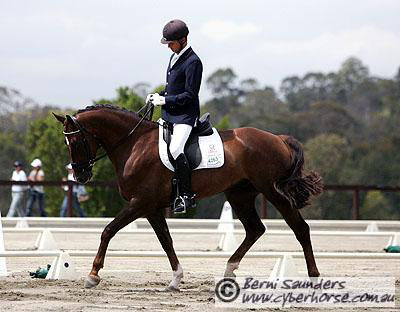 Prydes Rider Tor Van Den Berg on the 5 YO Sir Anton.
If you would like help with developing a balanced diet that can be adjusted daily according to your horses workload and behaviour contact Pryde's Pty Ltd – www.prydes.com.au

Prydes Nutritionist can custom make diets to meet the specific needs of your horse -

For more information on Prydes Feed click here