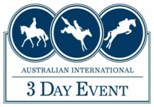 Jumping & Final Results
Sunday 15th November, 2009
Only 16 horses finished the gruelling 3 days of competition of the 31 starters on the CCI **** class with some of the notable combinations dropping out due to eliminations and retirements on the XC course. Stuart Tinney (right) and Panamera being eliminated from the showjumping round. The weather and demands of a four star eventing competition presented difficulties that some combinations were not able to overcome. South Australia has sweltered in temperatures normally only experienced in the first few months of the year and the hottest Springtime conditions ever experienced. While every effort was made to ease the impact of the heat, it is difficult to factor these extremes into the preparation.

Stuart Tinney (above) and Vittori were very worthy winners keeping their cool and the day 2 lead which was established by some fancy footwork in the cross country phase to finish day 2 with no XC jumping faults and time penalties of 11.6. Vittori was sensational in the jumping phase and Stuart rode one of just 3 fault free rounds on the third day of competition. Stuart had just 1 time penalty on his other CCI **** horse, Ari De Gwaihir and this moved them up from 11th place after XC to 7th place overall.
Beijing Olympian Megan Jones on Kirby Park Allofasudden finished in 2nd place, stretching the margin a little with the one fence down in her chestnut's showjumping round.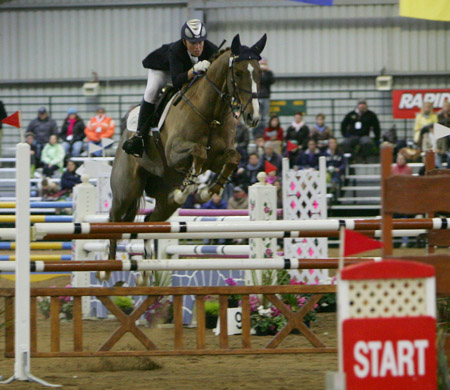 Megan Jones riding Kirby Park Allofasudden
Megan's Beijing partner KP Irish Jester did a wonderful dressage test which gave them a 9.5 point lead at the end of day 1. Unfortunately for Megan, Irish Jester had problems cross country and uncharacteristically recorded 20 jumping faults and 28.8 time faults. The day two gap was such that even their perfect jumping round on day 3 was not enough to bridge the gap and our Beijing Team Silver Medallists finished in 3rd place having made up some ground with a clear jumping round.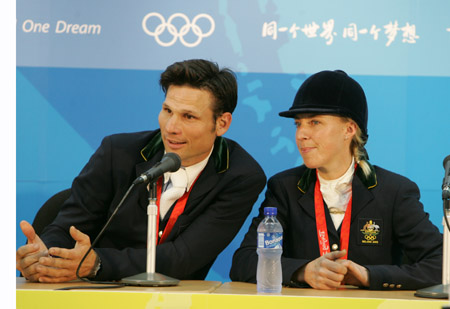 Beijing Silver Medal winning team-mates Shane Rose and
Megan Jones. Shane and his Beijing horse All Luck were
eliminated on the XC course. Megan and Irish Jester incurred jumping
faults and time faults on XC day .... and could not make up the loss.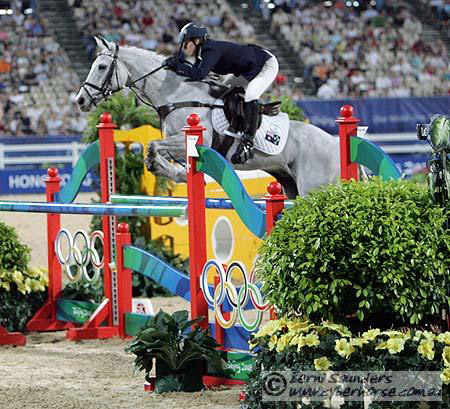 Megan Jones and Kirby Park Irish Jester in Hong Kong 2008
The 4th sash went to the popular Victorian competitor - Amanda Howell on her pretty grey mare Koyuna Tora Bora. This 'easy to watch' combination came into day 3 in 4th place and a clear showjumping round could easily have moved her up a place or two. Unfortunately, Tora Bora had four jumping faults and one time penalty in this phase. Even so, they managed to maintain the placing earned after day 2 XC.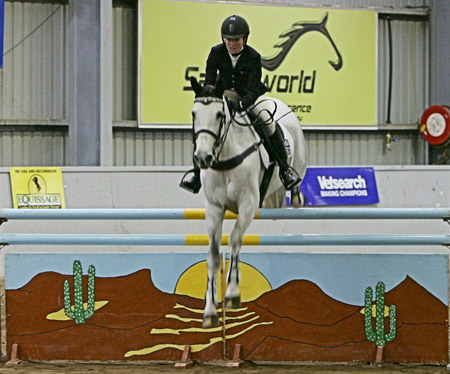 Amanda Howell on Koyuna Tora Bora

Luke Jones and Soul had a remarkable XC round which saw them zoom up the leaderboard from 24th place after the dressage into 3rd and a chance for a win. Luke would have been hoping that Soul could give him the brave response and lift he would feel in the horse's best performances. With some luck on their side, this pair could have made another step up the ladder. Hpwever, it was not to be and Soul recorded 8 jumping faults and 5 time penalties in their final round and this dropped him back to 5th place in the final placings tally.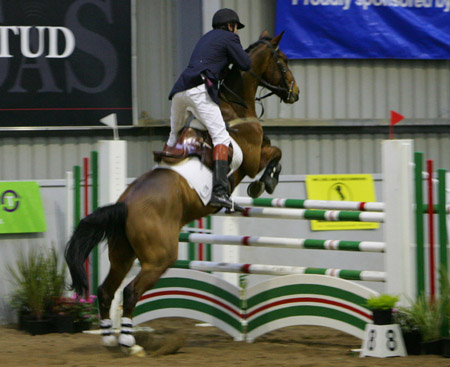 Luke Jones on Soul
6th place went to the New Zealand entry Clarke Johnstone and Orient Express. They progressively improved on their 16 place after the dressage and kept the jumping and time penalties to a minimum to record a top 6 finish - all good - when trying to impress the selectors for WEG in Kentucky next year.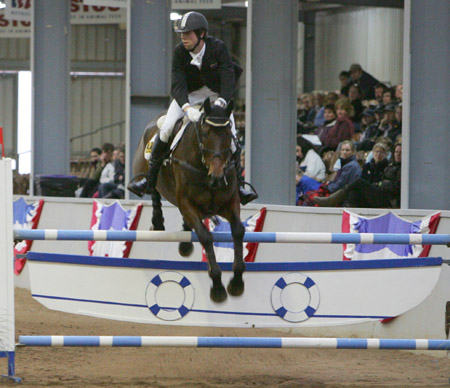 Clarke Johnstone and Orient Express
Victorian Katja Weimann and Pluto Mio lost their 2 day lead by just one fence! Their final score of 50.40 was overtaken by Emma Scott from NSW on Jenbern Monyana who was hot on Katja's heels and managed a showjumping round with just 1 jumping fault to finish on 50.00.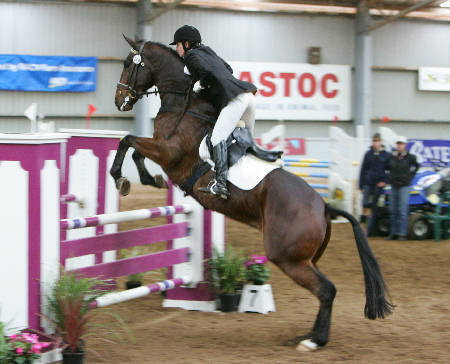 Emma Scott and Jenbern Monyana
Both girls rode precise dressage tests and went cross country recording no faults. It was down to the wire ... and just one fence cost Katja and her lovely grey Pluto Mio their lead. Emma is no stranger to success and has established that Jenbern Monyana has the talent to go on to greater things and that she now has the experience and dedication to partner him to international level.

Shane Rose and Koko Black were third, on a final score of 51.60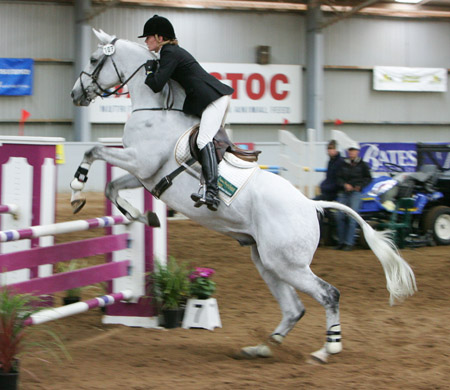 Katja Weimann and her lovely grey Pluto Mio
Andrew Helestine and Warrego Windchester from Victoria proved their strength in the jumping phases when they took out first place in the CIC** competition. They were placed 24th after the first day dressage and put in a sensational round on the cross country course with no jumping faults and just 1.2 time faults. The final days showjumping was fault free and gave Andrew a final score of 68.40.

Beijing Olympian Shane Rose (above) came into day 3 as the progressive winner, but the 8 jumping faults he accrued in the showjumping phase cost him the lead ... by the smallest margin (68.50). Third place went to Claudia Graham, it was great to see Park Street Vision back on track and living up to his potential. Claudia has covered all bases to see her horse in peak form and it is great to see her and the talented "Parker" in the top placings. I am sure that Claudia will have her sights set on the London Olympics in 2012 and she has the experience and time to structure her campaign to meet the selection criteria.