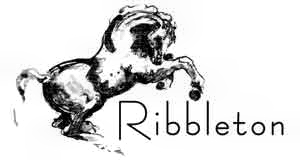 Can't afford the riding horse of your dreams?
Ribbleton can help turn your dream into a reality…
Thinking about buying a foal or young horse but feel to inexperienced to take the risk?
Who hasn't read something like this before?
"This stunning Hanoverian colt foal is by far one of the most gorgeous foals we have ever offered. With his exceptional type & correctness, his fantastic movement & wonderfully curious personality he will definitely be a the top of his class in just a few short years."…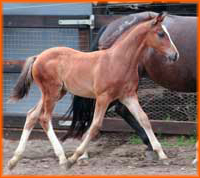 Erin McKay's Ribbleton Freemantle by Fishermans Friend / Ribbleton Ruby (Rotspon)
Looks tempting?? But everyone tells you "you must buy a horse under saddle or you won't know what you are going to get, don't take the risk!"
Maybe it's time to consider that the opposite could be true. We often hear people describe their riding horse as dull to the aids, tense, nervous, sour etc. Most people complain that their horse isn't offering enough, isn't trying enough or they're nervous, unconfident or they don't want to participate - they're not being partners. If you purchased your horse as a ridden horse, then you probably don't really know what the first 3-5 years of it's life were like? It could be possible that the upbringing of your young horse has something to do with the problems you face now?
Imagine if you were in control of the education process of your foal right through to riding age! The management and development of your young horse plays an enormous role in its success under saddle.
Training the young horse starts almost as soon as he can stand on his own four feet. The training process is all about gaining trust through communication. Your foal will register everything you do -all your body language, even the tone of your voice -.
Dee Symons Ribbleton Ferrari by Fishermans Friend / Aunty Blue
The development and growth of your young horse is an amazing journey to be part of and is a cost effective way to own a top quality horse. So how can Ribbleton help?
We work closely with each owner to develop a training strategy that will suit his or her desires. Most of our young horses are destined to a future in dressage or jumping. This means that all of the skills we teach our young horses are designed to work towards that ultimate goal. For example:
We teach the foal to yield to pressure – why? When you are riding your horse and you put your leg behind the girth and apply pressure, what do you want? You probably want your horse to move laterally. How much easier would it be if you horse understood this concept long before you got on!

We teach the foal to become a progressive learner – why? How many times have you been out on your horse when it has gotten scared and you have struggled to get the situation under control? How great would it be if your young horse had been presented with many challenging situations and you and your young horse had a strategy to work positively through these situations?

We teach the foal to follow contact with a light and steady response – why? Connection, connection, and connection… no doubt you have heard this over and over in your career whether it is dressage or jumping. How cool would it be if your young horse already understood this concept? Connection is not just about sitting on their back and having connection through the reins to the bit. If this concept in introduced in the way you handle your foal and young horse, getting it under saddle is just a simple progression.

We help you to build trust, develop clear communication and create situations that set you and the foal/young horse up for success! The result is a young horse owner partnership that is confident, has great respect and is enjoyable for both. We were laughing the other day with our farrier when the young horses didn't want to leave the training area and go back out to the paddock! What a great sign we are doing something right.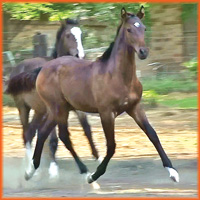 Samantha Farrar's Ribbleton Freestyle by Fishermans Friend / Ribbleton Weltango (Whisper)
Young Ribbleton Freestyle lives with Samantha Farrar about 1 hour North of Sydney, NSW. Sam recently commented on the behavior and trainability of the young horses at Ribbleton:
"All presented as extremely well mannered, respectful of humans and well handled. I saw Freestyle in an un-weaned state. In only 4 weeks he was weaned, halter-broken, could be lead up onto a platform (standing on it) and then walked straight up into our truck without another horse there! Amazing."
It was all the training principles that Freestyle had learnt during his 6 months of life that enabled us to easily and confidently ask Freestyle to walk up the steep ramp into the truck. A great example of a progressive learner.
We work closely with our young horse owners to set them on a plan for success. We are available for the long haul and are keen to remain part of your journey long after the foals have left Ribbleton. The three years prior to riding is such a short period of time where you can achieve so much that will make the riding phase an absolute pleasure.
There are two ways that you can buy a young warmblood from Ribbleton:
1 Ribbleton has a selection of young warmblood horses from foals to 3 year olds for you to choose from. They can be seen on our website and you are welcome to visit our visit our stud in Dural, NSW (30km from Sydney city) to meet them in person.
2 Breed your own foal to a Ribbleton mare: You have the opportunity choose a Ribbleton mare & the stallion of your choice to breed a foal! This is a great way to share in the amazing journey of breeding your own foal whilst knowing that an experienced stud has your best interest in mind. It's also the most affordable way to get yourself a top world-class warmblood with payment plans available.
You can check out Ribbleton horses at www.ribbletonwarmbloods.com.au or call Paulette on 0410 440 259 or send an email to ribbleton@ribbletonwarmbloods.com.au