Australian Dressage Championships
29 October – 1 November 2009
Sydney International Equestrian Centre
Nationals News - Day 3, 31st October, 2009
Story and Pictures by Berni Saunders

Hanoverian Horse Society of Australia
Medium Championship - Page 2

Note Indicates a horse with Hanoverian origins.

The Medium classes at the 2009 Australian Dressage Championships were of a very high standard and ironically saw a huge number of horses with pedigrees that trace back to Hanoverian bloodlines. The HHSA were very well represented at this event and people flocked to their well positioned stand to find out more.


President of the Hanoverian Horse Society of Australia Cheryl O'Brien engages in an animated conversation about Hanoverian horses and their huge international success as the foremost breed ... worldwide.


Cheryl Fort on Rendezvous

18. Victorian Cheryl Fort on the impressive stallion Rendezvous (Regardez Moi x La Bella) While their 4 B score was higher than the one for their 4C test, the lower scored test earned the highest place and they were 13th in this test. The placing in the 4B saw them down in the combined placings. I hope Cheryl takes the judges comments on board and tweaks her future rides accordingly, as their is no doubt that Rendezvous is a very good horse with a fantastic future.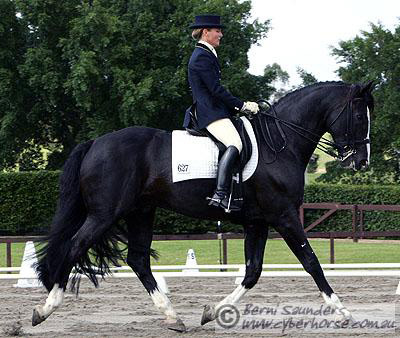 Nichola Paff and Heathmont Echo
19. Nichola Paff on the striking stallion Heathmont Echo by the well proven sure Rotspon and from from Benbarak Eclipse. It would be difficult to find a more appealing boy than this perfectly marked stallion - he is beautiful with a million dollar tail!! However his dressage needed a little more polish for the top scores on offer by the very experienced judging panel on this day. Nichola is a well respected rider and trainer and is certain to take on board how the top scoring horses worked and what the judges were looking for. I am sure that this stallion will make his mark as the work becomes more consolidated.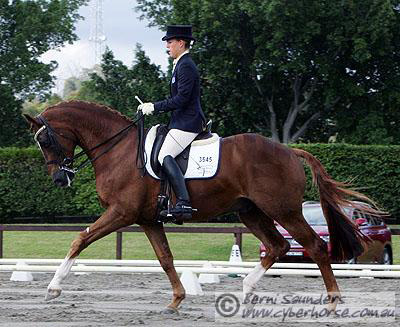 Robbie Soster on Robali Razzamatazz
20. A little disappointing was the Medium result for talented young NSW rider Robbie Soster on the loose moving Rotspon gelding Robali Razzamatazz (formerly Mayfield Razzamatazz). His 4C test was well below par and they finished well down the list. The judges had wildly differing opinions about the 4B test with Victorian Judy Peel having them in 4th place and NSW judge Kyli Bullock scoring Robbie well down for 27th place. I am sure that Robbie would not see this competition as one of her best on her talented horse and will look to address the shortcomings.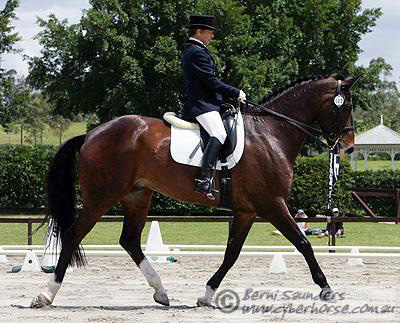 21. Jane Bruce rode the lovely gelding Neversfelde Weltsong by Weltmeyer from Neversfelde Kudu (who partnered Melinda Parbery in the Intermediate classes at this event). My soft spot for Kudu made me very keen to see her son in action and he is certainly a lovely horse with loads of talent. Perhaps some tension which was manifested in contact problems detracted from the overall quality and high scores. Jane and Maurie Bruce are experienced trainers and will address these issues for future performances.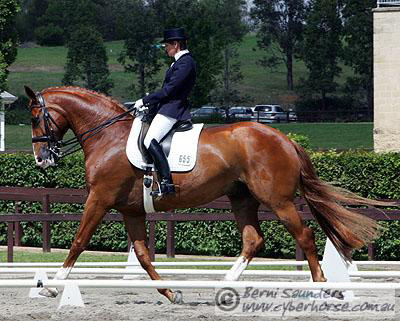 Barjar Winston and Dianne White - beautifully balanced
but perhaps not quite forward enough for the top scores.
22. Dianne White on her prolific winning gelding Barjar Winston by Weltmeyer from Barjar Vaalia. Winston is an imposing fellow with lots of talent and a great future in the sport. I am sure that the judges marks reflected that they would have liked to have seen more freedom of movement and a test with more energy. All of the riders appearing at these championships will use their results as a guide to prioritising their future training. Not all horses will be able to adjust to the greater demands of the sport, but I hope we see more of this lovely contender.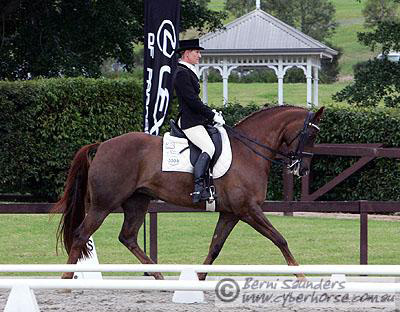 Tammy Stephens and River Range Carolina
23. Queensland combination Tammy Stephens and River Range Carolina (Northern Classic) did a very neat test with no real mistakes. I spoke to Tammy after her appearance in the Medium events and she said that she was pleased that her tests went well! "I know that I rode a bit too carefully but my horse did exactly what I asked, I just need to ask a little more in the future. Coming down to the Nationals is a big part of our experience and we have learned a lot. I have had a great deal of help from Ron Major from Prydes Feeds and I am sure that my feeding program will allow me to consolidate the work and put in to practise what we have learned this weekend!"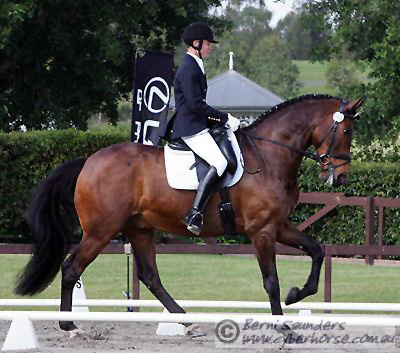 Ruth Schneeberger and Flowervale Freereign
24. South Australian professional Ruth Schneeberger who originally came from Switzerland and has now made Australia her home, rode the lovely gelding Flowervale Freestyle (by the Dutch stallion Freestyle from Apricot of Wondaree). Ruth presented tests that would have won just a couple of yeas ago, however at this event. with the improved attention to impulsion and freedom of movement shown by the higher scoring horses, they were a little conservative and failed to draw big scored from these judges. I am sure Ruth will take on board the message as delivered on the score sheets and prepare for 2010 with this information in mind.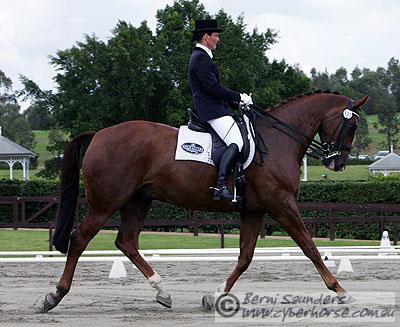 Janet Dillon-Smith on Il Bamboccio
25. A pedigree with the proven genetic material for the job, Il Bamboccio is by the German supersire Wenzel 1 from the Northern Warmblood Stud mare, Northern Celeste. The elegant chestnut is owned by Michelle Buckley who has had a great deal of dressage success from the saddle and now as an owner. Today's test saw this horse become too deep and some movements laboured. Like most riders at this level, the top competitions become an important measure of the horse's training and provides valuable feedback for the future training priorities.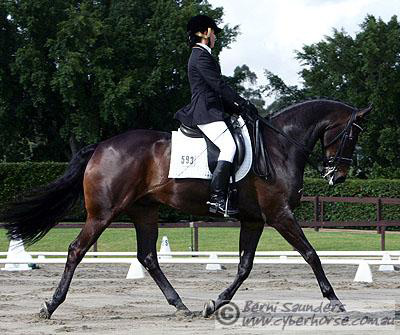 Lia Notaras on Broadway Award
26. Broadway Award (by Anamour from Solitary Belle) bred by Keith and Denise Smith who were very actively involved with the AWHA and made a great contribution to the upgrading of Warmblood horses in Australia. I loved this horse and felt it a pity that he tended to come behind the vertical at times which I was aware would be costly - and it was! I do not believe that the scores reflect the real potential and I hope that Lia can improve the faults that the judges felt detracted from the overall quality of this test.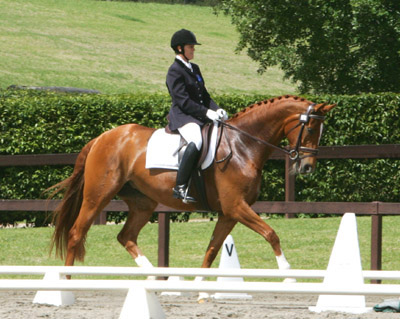 Judy Smith and the glorious imported Hanoverian mare Comtesse
27. Victorian Judy Smith rode her spectacular imported mare Comtesse (Cordoba X Wunderschoene) and the trot work impressed greatly. The mare has such beautiful rhythm, elevation and presence, I was very excited about their prospects for a good score. However, the canter work was not so good and the mare seemed to 'get lost' with her balance and poise and this really dragged down the marks and put them well out of contention for a place. Judy is a thorough trainer and works with the best ... so hopefully enough improvements will take place in the next twelve months to see Comtesse up there with the top scoring horses where she belongs.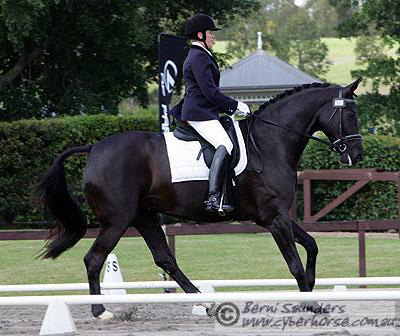 Judy Smith on Duchess 2
28. For Victoria again, Judy Smith on Duchess 2 (De Niro x Rosana M) another of the 3 beautiful imported Hanoverian mares that Judy and her friends are lucky enough to own and ride. Duchess was not quite forward enough and it is only by taking part at this level that reveals the little shortcomings which are costly. Without this test of the work it is easy to live with a quiet way of going when the horse is well behaved and gives generously, but to win at the Nationals the rider needs to ask for more!



29. Christine Crawford on her own Kaludah Renoir (by Regardez Moi from Beauford Belang) presented a really pleasant test but the judges score state that they wanted more for the higher scores that see a top 10 finish. Christine is a talented and determined competitor and she will take away the messages that the scores reveal.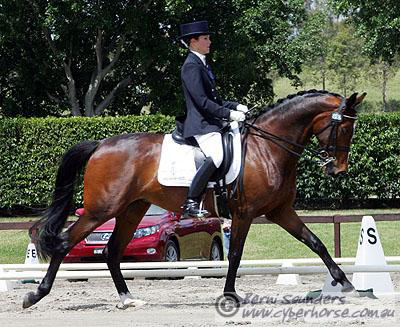 Kylie Burton and Flowervale Ferraza
30. Victorian Kylie Burton and the very talented - but highly reactionary mare Flowervale Ferraza (by Olympic Ferro from well performed mare Fluete). With this pedigree you would expect something special and this petite bay mare has it all before her. She seems to give 150 percent ... and then get a little wound up by the job she has taken on! When Kylie can get her relaxed they are hard to beat. Kylie was a full time rider and trainee coach but has opted to keep the sport as a hobby and go to Uni to study Engineering.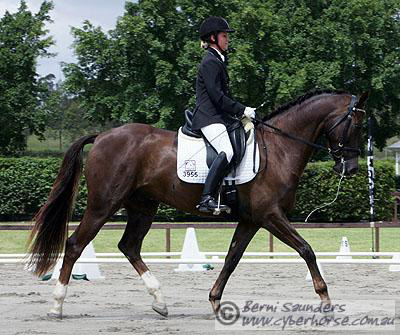 Emma Flavelle and Andiamo
31. Andiamo (by Anamour x Bardot xx) and talented Queensland FEI rider Emma Flavelle (who impressed all on her wonderful mare Northern Meara) put in a disappointing performance in the Medium classes. Without looking at their tests from the same position as the judges, the overwhelming shortfall was the impulsion and energy that the better scoring horses demonstrated. With proven Grand Prix traiing ability, Emma is sure to address the problems that she experienced.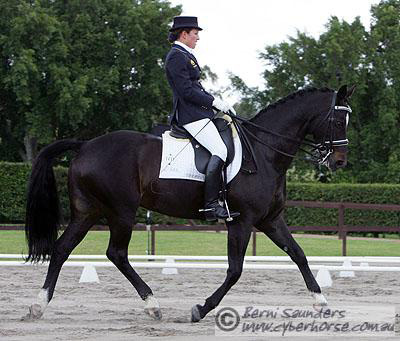 Concorde and Krysten Lituri
32. Krysten Lituri on her Danish Warmblood gelding Concorde (by Cassonova x Lavendel) had difficulties in the 3C test and this robbed them of opportunities to feature in the overall awards. I am sure that Krysten will take away lots of information which will assist her in the way forward over the next twelve months.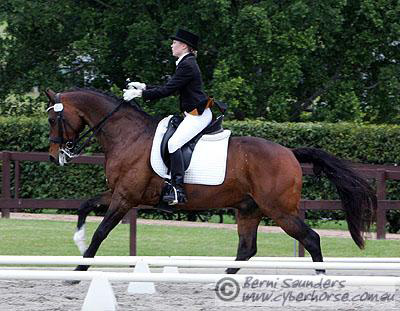 33. Snapdragon (by the much loved Australian sire Salute (Dutch) from Stirling Delphinium) and Kathryn Crofts. She would be disappointed in their final scores but the horse went kindly but not enough energy and engagement for these judges. I trust that Kathryn will address this and we see this lovely horse out again next year.

Susan Elekessy and Don Frederick
34. Don Frederick bred in Australia by the German Hanoverian stallion Don Frederico from Remi Wedgewood. He was ridden by Susan Elekessy from NSW and this tall and elegant gelding is another that needed to be more assertively and forward to earn the higher scores from this demanding panel of judges.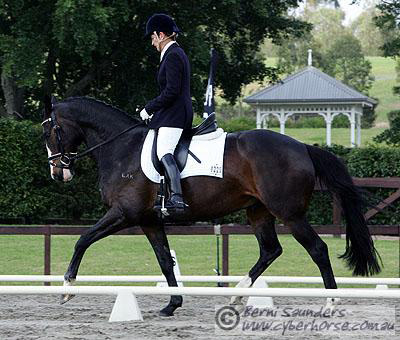 Kerryn Connors and Exklusive Armani
35. Victorian Kerryn Connors rode her sensitive and often reactionary Trakehner gelding Exklusive Armani (Benito x Marsden Park Early Light) and was very pleased with his performance in the Elementary classes. He is just coming up to Medium level and while he has done well in qualifying events, however for this standard of competition, he needs to consolidate.


Placegetters in the Hanoverian Horse Society Medium 4B test - from right Victorian Judy Peel, the centre line judge, Kate Taylor-Wheat, Mary Hanna, Tor Van Den Berg, Rodney Martin, Melinda Morris, Kaz Roe, Sarah McDonald and Rebecca Walshe with Cheryl O'Brien the President of the HHSA the sponsor of the 4B.


Placegetters in the 4C competition from right - Liz Duncan (SA) the centre line judge with Cheryl O'Brien representing the HHSA, Kate Taylor-Wheat, Mary Hanna, Tor Van Den Berg, Melinda Morris, Nicole Tough, Rebecca Walshe and Sara McDonald.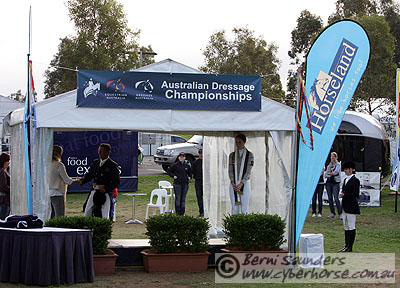 Tor Van Den Berg in the Horseland presentation pavilion - Horseland
did a fantastic job with the competition facilities and main sponsor signage
- it all added to the atmosphere and colour and Horseland were generous in
their commitment to make this a very special event for competitors and fans.
Go Back to Medium Report Page 1 | Full Results

Cyberhorse has lots of Pictures e-mail for proofs and Prices