Australian Dressage Championships
29 October – 1 November 2009
Sydney International Equestrian Centre
Nationals News - Day 3, 31st October, 2009
Story and Pictures by Berni Saunders

Hanoverian Horse Society of Australia
Medium Championship - Page 1

Note Indicates a horse with Hanoverian origins.

It was interesting to note that this very strong class was sponsored by the HHSA (Hanoverian Horse Society of Australia) - a very pro-active group supporting the breeders and owners of locally and internationally bred Hanoverian horses. The Hanoverian Stud, Celle and the Hanoverian Elite Auctions in Verden Germany have become synonymous with the most prolific winners in the Olympic disciplines at international level and looking at the results of the top placed combinations at this important event, the trend is also evident here in Australia.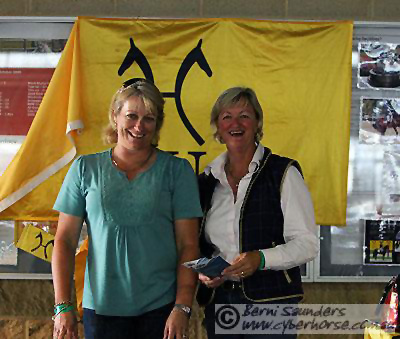 Naomi Lane and Cheryl O'Brien on hand to answer questions
about breeding and owning Hanoverian horses in Australia.
The HHSA are a really active and supportive breeding group and as a group organise and run many activities and events to fast track the local knowledge base and help to improve the quality of horses to upgrade the local gene pool as well as provide top quality competition horses. In 2009 the association put together a plan to assist Australian breeders to buy fillies or mares at the Elite Auctions in Germany which took place earlier in the year. This initiative resulted in a significant number of future breeding horses coming here to improve the future generations.

Another fantastic annual event is the HHSA Prydes Feeds Novice/Elementary Leaderboard which rewards the highest placed registered Hanoverian horse at this level during the year. This is a great incentive for owners/riders to get their promising young stars out and about and to promote the breed to other dressage enthusiasts.

In 2009 A very hard working group within the HHSA put together a high quality Foal Catalogue to promote the sale of young horses bred by HHSA members, here in Australia. The publication has been very well received and showcases the international quality horses that are emerging from the breeding programs which have had input from the Hanoverian Verband in Germany, by way of the annual inspection and classification tour that has been so helpful to out studs in formulating the best nicks and crosses for Australian conditions.

The HHSA would be proud of the number of horses in the Medium classes that go back to some Hanoverian blood in their pedigree - of the 35 horses to finish this class, 21 have a Hanoverian connection - even though they may not have a current Hanoverian registration. Internationally, Hanoverian horses have the best performance record in the Olympic disciplines and it is clear that the strong association with the German Hanoverian Verband (stud book) and the stallions of the Celle Stud has helped to improve the quality of dressage horses in Australia.

The top 3 horses in the two medium classes were a joy to behold - I am sure that the judges would have loved to be riding rather than judging, as they were everything the modern breeder is looking to produce - wonderful paces, trainable temperaments and physically striking individuals with the conformation made for their job.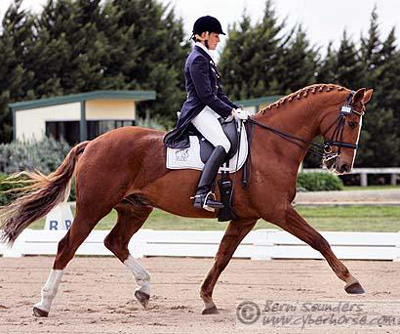 Centre Line judge in the Medium 4B test was Victorian FEI
rider, Judy Peel pictured here riding Sunbury Lodge Playwright at GP.
I spoke to Victorian A Level Judge Judy Peel (centre line judge in the 4B test) a short time after the completion of the Medium tests and she enthusiastically reported that it was the strongest Medium event that she had ever seen and this makes for very exciting times ahead. Judy felt that the top horses were of true international quality and showed the potential to go on to represent Australia overseas. Judy is a Grand Prix rider and competes her Australian bred Sunbury Lodge Playwright.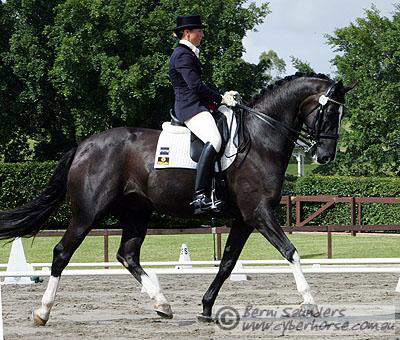 Kate Taylor-Wheat on World Star - International quality
performance with scores over 70% in both Medium level tests.
1. The winner of both Medium classes and the Medium Championship (by the smallest of margins) was Kate Taylor-Wheat's (NSW) elegant and lofty, super moving gelding World Star by World Magic (by Warkant/Cavalier Warkant was the German Hanoverian Stallion of the Year 2002) and from the mare Galia. Kate rode with tact and precision, so produced a test that is all dressage is meant to represent. There was energy and impulsion, clear definition between the collection and extended paces and harmonious riding with an obviously well planned campaign to reach this level.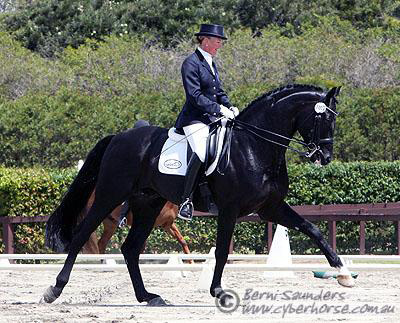 Mary Hanna on the "winningest" horse in Australia -
Shiraz Black. Duel Champion of Champions at DWTS (08 & 09)
Victorian Elementary Champion & Vic Teams Med. Champion 09.
2. Victorian State Coach and former Olympian Mary Hanna rode the stunning black stallion Shiraz Black (by Sandro Hit) and they put in a fantastic performance at the Nationals. Shiraz has made a meteoric rise to the pre-FEI levels and has dominated the Young Horse classes and Victorian Dressage awards with unprecedented success in 2009.
Shiraz has a truly beautiful canter and this allows wonderful expression in the changes and canter half passes. Mary was very pleased with her stallion and said that he coped with the atmosphere very well.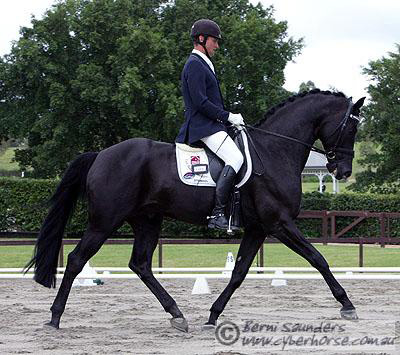 Tor Van Den Berg on Cheryl O'Brien's (Remi Stud) Lauries As
3. The 2009 Nationals proved to be a great event for Queensland professional Tor Van Den Berg who rode Cheryl O'Brien's imported Hanoverian stallion Lauries As into third place at this event. Cheryl is the President of the Hanoverian Horse Society of Australia, so this was just reward for the support of Hanoverian enthusiasts who shared Cheryl's enthusiasm to bring a proven German stallion to Australia.
Lauries As (Ace to his friends) is by Londonderry - the outstanding son of the immortal Lauries Crusader - who many believe to be a most influential sire of the modern Hanoverian sporthorse. I paid Ace a visit back in April this year and he was not long in work with Tor and Mel and working at Novice level. Having been the runner up champion at Elementary and a top 3 finish at Medium, speaks volumes about his temperament and trainability. Tor and Ace are sponsored by Prydes Feeds and Tor loves the feed as he says it ensures the slow release energy that is needed to prepare a horse for a top scoring performance.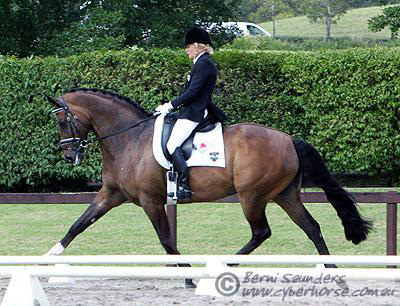 Melinda Morris on TS Schyborne (pronounced Shivorne)
4. Melinda Morris (Mrs Carlos de Cleermaeker) and TS Schyborne have impressed and succeeded all the way up the ranks to reach this level to make such a great impression at the Nationals. The most attractive son of Weltmeyer from Trackstein Scarlet has wonderfully rhythmical and energetic movement and no doubt Melinda has had great help from her well respected Belgium trainer husband in her preparation for this event. Melinda told me some time ago that she was actually looking at another horse at the Trackstein Stud and saw the young Schyborne over the fence in another paddock. He took her eye so much she asked if she could look at him ... and the rest is history.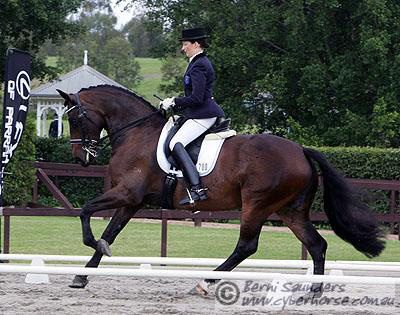 5. Victorian rider Sara McDonald and Adlanta Rose are another combination who carved out an impressive early career having had great success in the Young Horse events at many competitions. Sara bred her mare (by Rotspon from Adloo Georgia) and Sarah trained and rode her mum, Adloo Georgia up to FEI level and has been on the State Dressage squad on numerous occasions. Adlanta Rose is a smaller, heavier type which no doubt comes from her mum who was this build and I seem to recall that there was a splash of Clydie in her blood, however, when Rosy steps out, she moves like a ballerina. Sara has done a really good job and this combination are sure to stay on the podium in top company.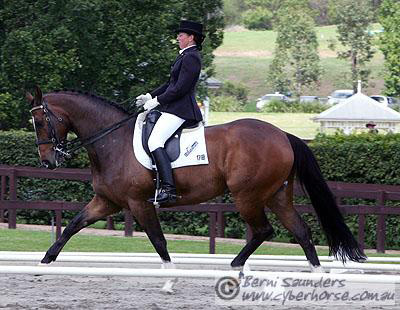 6. Canberra Veterinarian Rebecca Walshe rode her stylish, Stylist - a loose moving gelding by the respected sire Contango ll from a TB mare. Rebecca has been with Stylist since he was broken in and has also made a mark in the Young Horse events as they progressed up the dressage ladder. Rebecca has taken part at DWTS and Stylist has always impressed and increased his fan base. Rebecca is another Prydes Feed devotee and has mentioned the importance of a well balanced diet when it comes to a busy competition season and the work required to stay at the top.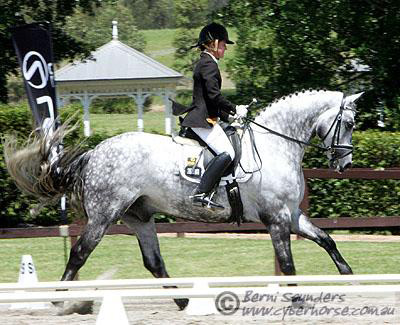 Queensland's Nicole Tough on the beautiful Dante
7. Hard work and good preparation has proven to be the best plan for Nicole Tough and the most impressive imported gelding Dante (by Depardieu from Schimel) the "drop dead" gorgeous boy was imported by Ken Dowsett (also known as Beau Dowsett), he is the father of Danielle Dowsett who is the owner of Dante. Danielle was to ride at these National Championships in the Elementary competition on Remi Rockefella but sadly the horse was injured in his stable 3 days before yjr Dowsett family were due to leave the Gold Coast to travel to Sydney and had to be scratched from the competition.

Dante has tested Nicole in his early days of competition, but even though Nic is very small in stature, she has larger than life commitment to the sport and understands that these early resistances need to be addressed and rectified. She has a strong following and deserves her consistent success.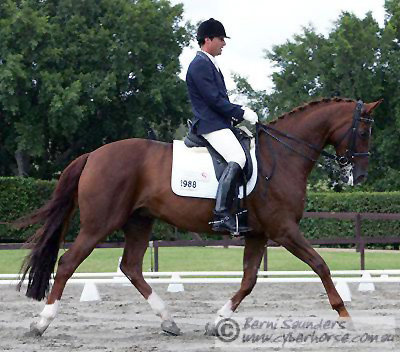 Rodney Martin on the delightful mare Weekend Feeling
8. NSW owner and hobbyist rider Andrea Beatty has an enviable collection of the most beautiful horses and her lovely mare Weekend Feeling (Welt Hit ll x Optimistim xx) steps out, having recently changed from the Dierks stables to be in training with Matthew Dowsley and Rodney Martin. The bright natured mare looks nice and relaxed on this occasion and worked very well for Rodney who rode tactfully, yet with great effect. They made an elegant picture and this good result was well deserved.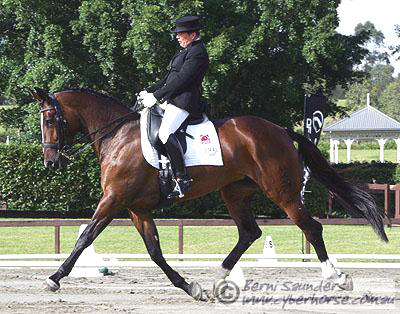 Kaz Roe on her imported Hanoverian mare Donna Bonita.
9. Queensland combination, Kaz Roe and her successful imported Hanoverian mare Donna Bonita (Don Bosco x Balerina) stepped out with all eyes focussed to see how the HHSA 2008 Novice/Elementary Leaderboard winner would fare in open company. It is worth noting that all horses to take part at the Nationals are winners due to the stringent qualification criteria which must be met in order to take part. I loved this mare's loose and easy way and Kaz rode her perfectly. A great advertisement for the Hanoverian breed and no doubt one day Kaz will have a foal to carry on these well proven bloodlines.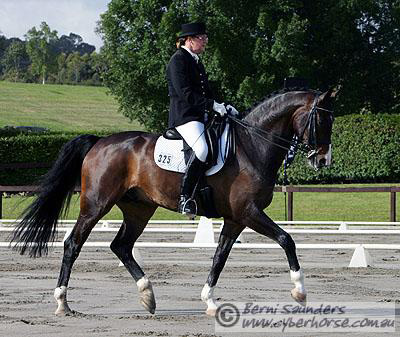 Victorian Debra Court on Sandro Star
10. Another talented horse with a pedigree that boasts the blood of the well represented Sandro Hit - who was an acclaimed Bundeschampion and Dressage World Champion. He has a phenomenal breeding record and many champion offspring proving his worth as a breeding stallion.
Sandro Star is by Showstar by Sandro Hit and from Gina Ginelli, Deb purchased her horse from Mary Hanna who imported him as a youngster. Deb is on the Victorian Dressage Squad and now has help from the state coach Mary Hanna. There was a lot to like about the test and a little more match practise and looseness will improve the overall impression and score.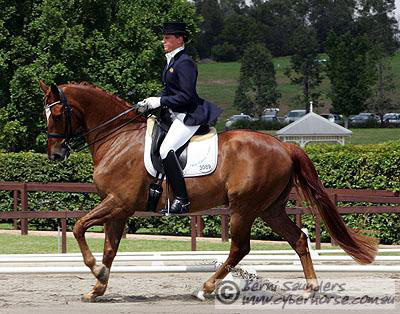 Victoria Welsh and BJ Kaneto Casablanca
11. Queensland young rider Victoria Welsh herself comes from a very good dressage family as her mum Libby has a great number of achievements to her credit. The Welsh family are keen devotees of the Hanoverian breed even though Victoria rode her Australian bred BJ Kaneto Casablanca by the beautifully marked BJ Kaneto Cassanova from the now defunct BJ Kaneto Stud on the Gold Coast. Victoria is an accomplished rider and has every chance to go on to represent Australia at international level, at a later date. Her Medium tests at Nationals level were meritous and well prepared.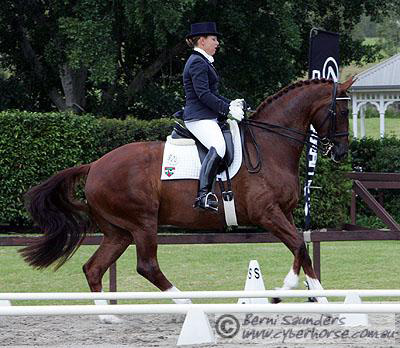 Christine Crawford and the imposing Jazz Song (Zass x Pia)
12. The huge and imposing gelding Jazz Song was very well ridden by Christine Crawford from North Kaludah Stud. I saw a big improvement in the horse since I last saw him and was surprised that he did not end the day further up the ranks. The scores were very close and in real terms this was a good result for this talented combination and I am sure the horse's owner Madelain Swan would have been very proud.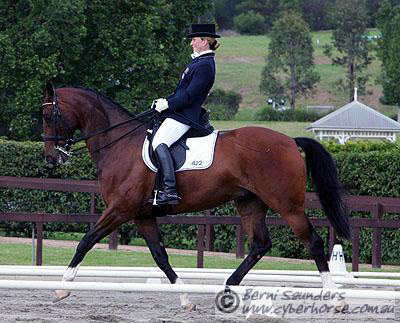 Sally Collins on the elegant Duntryleague.
13. Sally Collins (Dowsett) rode her own gelding Duntryleague by Duntroon (Donnerhall) from Dweedle Lady and is was a good result at this demanding level, which starts to sort out the horses which will go on. As previously mentioned, all the horses at Medium level at the Nationals had to qualify through their local events in order to be part of the Australian Championships and this is a big consideration when viewing the final results. Duntryleague has great potential for the future.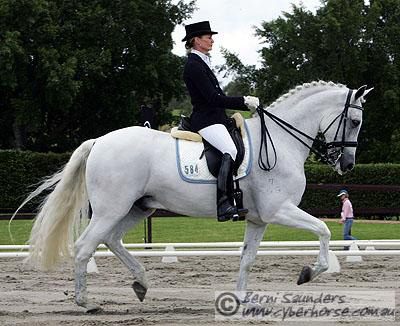 Victorian Maree Tomkinson on the charming Rangeview Mikado
14. International rider Maree Tomkinson partnered the delightful Andalusian (not too sure if he would now be classed as a PRE) gelding by Anchorbar Martelo x Rangemore and it was a lovely test to watch. I note that the judges were rather divided in their opinions with placings from 9th to 18th recorded on the score line. Mikado has great movement for his breed, but it is seldom that we see a Spanish horse at the top level in Australia as they have a different way of going which favours the collected movements and they lack the looseness and flow in the extended paces. Internationally the breed have been rewarded for their flair for piaffe and passage. Maree mustered her vast experience to bring out the best on offer and should be well pleased with a better than mid field finish. I am sure that Mikardo's owner Jenny Johnston would have been very proud to see her boy working so well.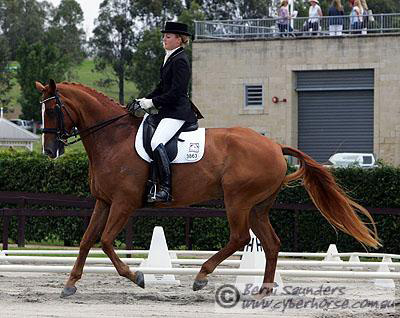 Jocelyn Hutton on her Weltmeyer gelding Wallstrasse
15. Queensland combination Jocelyn Hutton on the elegant Hanoverian gelding Wallstrasse, by the legendary Weltmeyer and from Fairbanks Genellie. For the most part, it was a pleasing test but a few moments of tension lost some marks. The experience of qualifying and taking part at the Nationals is a great highlight in a rider's career and Jocelyn will learn a lot from making the long trip down to Sydney.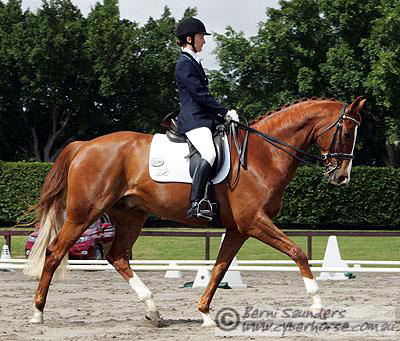 Cathy Chittenden on the leggy chestnut Solletico
16. Solletico was noted in my program as one to watch! The elegant, loose moving son of Domingo (by the Hanoverian stallion Daktylus) impressed in the Young Horse classes as he progressed up the grades of Dressage. This combination seem to have a real partnership and show the potential to go on. Perhaps Solletico lacked the impulsion and engagement of some of the higher scoring horses, but I feel that Cathy will look at what the judges were rewarding and strive to improve these aspects of Solletico's future work.


Elliot Patterson and Leandro

17. Elliot Patterson and Leandro stood out as a combination to watch. This imported chestnut gelding is by the outstanding German stallion Lauries Crusader and from the mare, Hauptstubuc. Leandro made some little mistakes which were costly but for me did not detract from his appeal or optimism for a bright future. I feel certain that there is a lot more on offer and we will see it emerge in the next twelve months or so. Leandro will be on my 2010 watch list!
Go to Medium Page 2 | Full Results

Cyberhorse has lots of Pictures e-mail for proofs and Prices