TON DE RIDDER
Works with our Elite Riders at Hidden Valley ...
but Brett Mace works against the Sport!
14/15/16 October 2009
Story & Pictures by Berni Saunders

I was very excited to learn that October 2009 was to be a special time for the development of Australian Dressage, so I set aside a couple of days to ensure that I had the opportunity to share my observations through Cyberhorse (and other publications such as The Public Arena, who print my stories) for all enthusiasts to enjoy. Ton De Ridder's visit was sure to be a highlight of the year and great help to our Elite riders as they prepare to represent Australia at WEG in Kentucky next year.

Respected German dressage trainer Ton de Ridder (above right) was born in Holland and moved to Germany at 19 years of age when he became a Bereiter at Paul Stecken's stables (former director of the Westphalian Riding and Driving School ). Ton went on to work for a couple of years as a trainer at Udo Lange's barn and later moved to Aachen where he runs the Rossheide centre (Hof Rossheide). At Rossheide he works with many successful international riders and is known as an astute and effective coach/trainer.

Ton was the National Coach for the Dutch junior and young riders at the 2003 European championships at Hickstead in the UK. In 2007 he achieved a "family success" at the European championships Junior event when his daughter won the European title. At the 2000 Olympic Games in Sydney, his pupil and wife Alexandra Simons de Ridder had great success with an Olympic Team Champion medal riding the flamboyant Chacomo.

This elegant bay horse was my 'stand out' at Sydney and impressed many with his three super paces with fantastic expression, self carriage and ease of movement. Sadly he was lost to the sport, but you can see some video footage of Chacomo (here)

In 2008, Ton's Japanese pupil Hiroshi Hoketsu qualified for the Olympics and made history by being the oldest competitor at age 67. Pictured right - Hiroshi Hoketsu on Whisper, representing Japan at the Beijing Olympic Games. They are pictured at the Sha Tin Racecourse Equestrian complex in Hong Kong.

Recently I had my horse stabled with Maree Tomkinson at Hidden Valley and I have listened with interest to the stories of her European experiences. Maree said that Mr De Ridder was a very special coach and has an excellent reputation. "He really helped me while I was away ... and it is fantastic that he is coming to Australia to work with riders here!" Maree enthused. (pictured - the back of the beautiful Hidden Valley stable block)

I know that most Australian dressage enthusiasts are keen to hear comments and training hints from the best, so I allocated a day to cover the clinic and a couple more days to edit pictures and write a story from the notes I would take. I have always endeavoured to cover such events so that people from all over Australia feel that they have shared the words of wisdom. Elite riders are used to performing in public and are not concerned about having their lessons documented so that others may learn - this clinic was captured on video! We all accept that things can go wrong ... but they can also go very well ... and we learn a great deal from both situations. This is what enthusiasts love about the sport!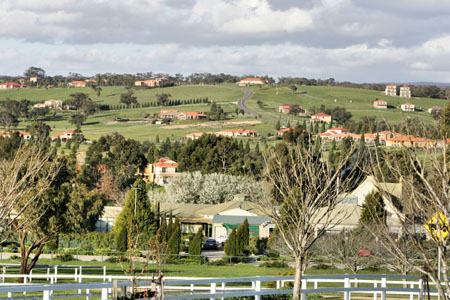 The glorious views around the Hidden Valley Equestrian Centre in Wallan.
I arrived in time to catch the Victorian State Coach Mary Hanna warming up on her expressive imported Dutch gelding Tango V - by Tineke Bartels stallion Jazz. I knew that Mr De Ridder would be a great help to Mary as she looks to qualify Tango for the World Equestrian Games in Kentucky next year and his first words were right on the mark, helping Mary to get her horse relaxed and working into the steady frame that allows his best. "He must be through" said the expert and Mary made some adjustments. It was clear that the lesson started well and Tango would show some special work. Above right - Ton de Ridder with Australian Dressage Selector Susie Hoevenaars.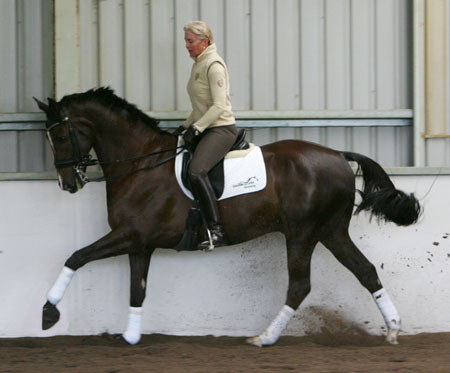 Mary Hanna riding Tango V in the Ton de Ridder Clinic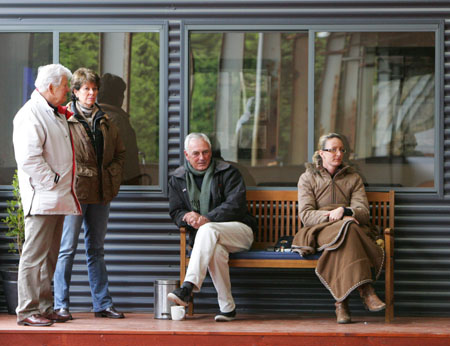 Above Fred and Susie Hoevenaars with Rob Hanna and Gitte Donvig seated.
Tango was not completely warmed up when, to my surprise, a very sour faced and surly Brett Mace (our High Performance Manager - pictured right) marched up and asked me to leave. I was taken aback as I had travelled 1 hour in the pouring rain to be at Hidden Valley to cover the day and include most riders - believing my interest would be appreciated and of value to the people who could not attend. Mary Hanna heard him and said that she was quite happy for me to cover her lesson, so I continued to take photos. He backed away momentarily but when Mary was busy in her lesson, the agitated Mr Mace again approached me quite aggressively and demanded that I leave and said that it was not up to anyone else to invite me and that I was not welcome to cover the clinic! I explained that I would be very happy to have my story proof read before publication, but it was clear that Mr Mace was in a "no can do" mood and quite determined to throw me out. I complied and made my exit. Mr Mace's demeanour changed and he was beaming. I asked him what was funny and this really tickled his fancy. He could hardly contain his satisfaction at having such power!

I explained what had happened to the Technical Delegate Deborah McNicol and she went back in to make sure that the offer of proof reading the story, before publication, had been noted - but no change of heart from Brett Mace!

Talk about a "them and us" mentality - this is what is wrong with dressage and why the rank and file membership feel that they are not considered and therefore get little value for their membership dollar! I thought that Equestrian Australia were working to overcome this sort of negativity and welcomed the interest of media - who can make a difference to public perception and help to encourage the membership to believe that we are all in this together! Based on today, I got this wrong! Brett Mace needs help with his people management and PR skills!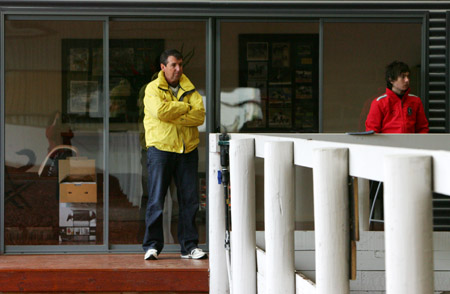 Brett Mace in his "Bouncer's" stance guarding all at Hidden Valley.
I am sure that it is not the Elite riders that want the Brett Mace enforced segregation. Talking to riders at many of the big events around the country makes me very confident to say that they are uncomfortable with the way it looks to the ordinary enthusiasts who perceive a lack of transparency and cronyism. The manner in which I was treated by Brett Mace today fosters bad will and nothing positive can come from dividing the ranks. HE is not a dressage lover, so why should HE care?

I have a great deal of evidence through congratulatory e-mails to support my assertions that dressage people from out of the way places appreciate Cyberhorse's reports and feel that this is their only opportunity to be involved with many events that are held in Sydney, Melbourne and Brisbane.

On my first encounter with Mr Mace back in 2007 I was equally unimpressed (no shocked) by his lack of commitment and interest. He was away from his home state (again, with travel costs and accommodation added to his hourly rate) at the Brisbane CDI in Toowoomba. I felt that the "High Performance Manager" would have taken advantage of a new venue and mostly new group of competitors and get out to talk to the Queensland riders and become involved with this important event. I asked some of the key riders if they were approached for feedback ... and the answer was no! Mr Mace sat in the VIP area for most of Saturday afternoon catching up on the news and could not have been less interested in the horses or riders. I recall thinking what a bad look this was and wondered if he showed the same lack of enthusiasm at other official engagements!! Pictured above Brett Mace 'watching' the Grand Prix test at the 2007 Brisbane CDI. Good thing his performance as High Performance Manager was not being assessed by anyone in the know! I guess he is the boss of himself ... and therefore not accountable. He is employed to look after our sport by the government ... so this is our taxes at work, hmmm!)

Back to the clinic at Hidden Valley. Unlike Brett Mace, I was not being paid for my involvement, I was there because I care for the sport and believe that we should take every opportunity to showcase our best dressage combinations and world class facilities such as Hidden Valley. This effort may in turn encourage people to believe that we are going places! Today's policy to exclude people does not expand the dressage fraternity or help sponsors and related businesses who rely on growing the sport to justify their involvement! It certainly does not make people feel that they are important or belong - is this what we want from our administrators?

I know that Mary Hanna and Maree Tomkinson share my view that we need to encourage owners, sponsors, traders and all enthusiasts so as to give them confidence that Australian dressage is viable and worthy of support. A transparent approach is the only way to strengthen the bonds of like-minded enthusiasts and create the sort of environment that has helped the Europeans to excel.

When considering Mr Mace's actions, I reflect on the policies which govern general sports news coverage - in particular the racing industry where print, on-line and TV outlets are welcomed as an important part of racing and receive timely and regular information about industry developments and news. Press facilities and hospitality are available at all newsworthy events and race meetings and the press are encouraged to attend. It is recognised that publicity has a great bearing on public interest ... and without public interest, the fan base (and financial base) diminishes. Secrecy is hardly what dressage needs as it is a sport which struggles for ANY main stream recognition (and the benefits that go with it) ... this is not rocket science Mr Mace!

I doubt that anyone would argue that the level and depth of coverage for Australian riders and Australian events is diminished and has been largely replaced by reports from overseas events. If we are to boost the profile of Australian equestrian sports we need to ensure that we "market" our people and our horses and promote wonderful facilities like Hidden Valley to the rest of the world. The Internet can take Australia out to a global audience and give our best riders the stage they deserve ... and yet, narrow minded petty bureaucrats like Brett Mace want to keep our best a secret - go figure!

Openness and transparency is what we all want - this is the Australian way and makes our egalitarian country the special place we choose to be.

Below - some of the riders I did NOT see today.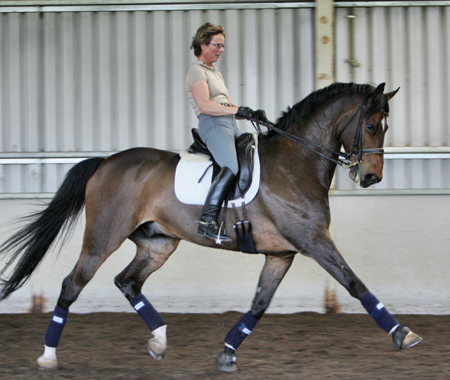 Charlotte Pedersen on the exciting Come to Me
attended the clinic.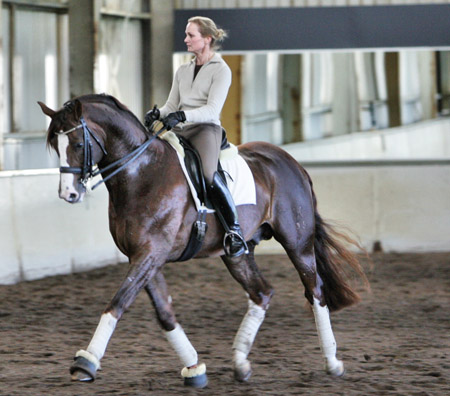 Maree Tomkinson and Rodrigo lll an exciting combination
and making their mark at first season Grand Prix.