2009 Horseland Equestrian Australia
Interschool Championships
28th September - 1st October ... Werribee Park Equestrian Centre.
Story and Pictures Berni Saunders- Page 1

Firstly, a huge pat on the back to the hard working Committee for conducting a very successful event for Australia's talented young riders who came from all over the country to take part. Approximately 350 riders and 420 horses were entered in a varied and interesting program which was well designed to ensure that there was something for all young horse enthusiasts. Pictured above the Event Office - where the helpers and committee did a great job to keep this event running smoothly and everyone happy! Well done.

A big thanks to the generous owners who lent their horses for riders who were not able to bring their own. A fantastic gesture and I am sure that many lifetime friendships were formed through meeting new people this way.

The competition got started on Monday 28th and all horses underwent a veterinary inspection to ensure that they were fit to compete. The rest of Monday was taken up with official matters. Tuesday saw the Showman classes and Jumping, Wednesday was Dressage and Eventing and Thursday was more Eventing and Combined Training.

Pictured Right - Belinda Dawkins the Dressage Co-Ordinator for the event.

Wednesday was the social evening and dinner where everyone got the chance to say hi and enjoy some spectacular entertainment. The ride and drive demo was a hit - as too a demonstration of how Vaulting should be done. A good time was had by all!

The event was designed to provide something for almost all junior riders and included a "Showman" class where the combinations did a dressage test, ridden show class, jumping and an in-hand showing presentation. It was a very good event and gave the good "all round" junior horses and ponies a real chance to shine.

I was not familiar with the "Showman" class and asked Catriona McCallum who comes from the Wangaratta district in Victoria, if she and her lovely Arabian gelding Cosmic Sparkling Starlight would allow me to follow their day from warm up through the 4 phases of their Showman class.

Catriona was very obliging and "Sparky" was a dream to photograph. They are pictured right in the area outside the cyclone wire fence behind the second indoor arena during their morning warm-up and practise.

This class was a fantastic opportunity for junior riders to have a go at several aspects of showing and horsemanship and they were treated to the expert eye and appraisal of many of our most respected experts. Multi Garryowen Trophy winner, successful Dressage competitor and Judge Helen Heagney was one of the officials in the Dressage phase and respected Showjumping rider and trainer, Robbie Allen judged the jumping performances of the juniors.

Below we follow Catriona and Sparky as they make their way around all 4 phases of the Showman classes which were held on the beautiful lawn setting at Werribee Park.

Dressage

Ridden Show Class

Jumping

In-Hand Show Class

Helen Heagney, show rider
dressage rider and judge of both.

The sign from Robbie Truck
from which he was judging.
Horseland were the main name sponsor of this event and were an active part of the competition with their attractive signage to be seen in all of the main areas. Horseland store proprietor Jamie Page helped everyone with his knowledgeable advice about Horseland products and reported brisk business in the trade village.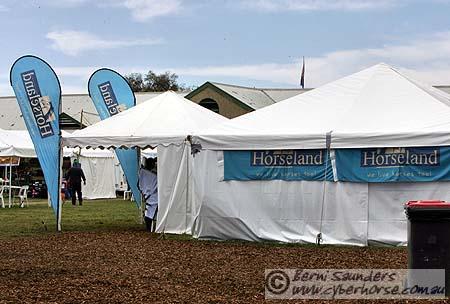 The Horseland Stand in the Trade Village.

Bates were major sponsors of the event and while they did not have a stand, their presence was all about ... and much appreciated.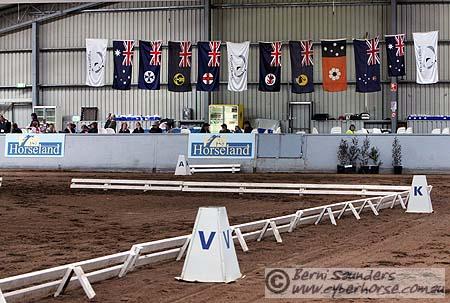 Decor at the top of the indoor arena.
There were lots of interesting trade stalls with interesting products and great bargains. Lyn from The Riders' Shoppé always manages to have beautiful colours and fabrics in her riding clothes and I was delighted to be one of the first to see her just arrived Iris Bayer collection which is really something.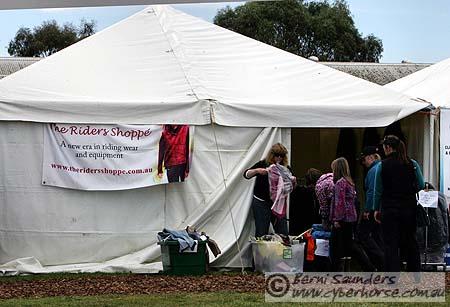 This competition was a good place to see the presence of Marcus Oldham College as many of the young riders took the opportunity to find out more about a career with horses.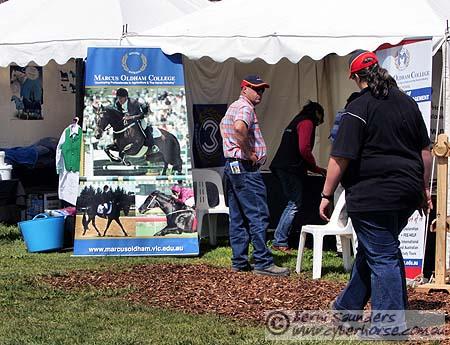 Marcus Oldham train for careers with horses and agriculture.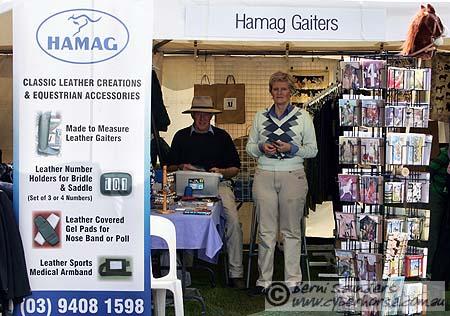 Great supporters of junior events - Maggie and Hamish from Hamag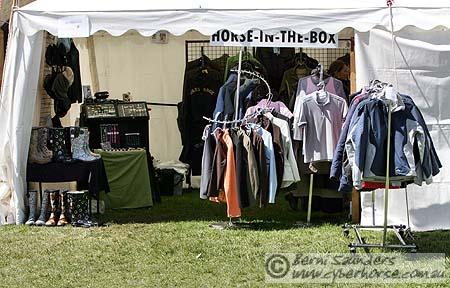 Horse-in-the-Box must have done well as I saw lots of their
wonderful coloured rubber boots walking about the event.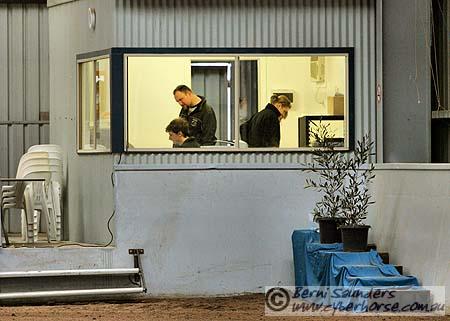 The scoring team from Equi-Score were kept busy and did a very good
job to keep the scores from all areas flowing through to competitors.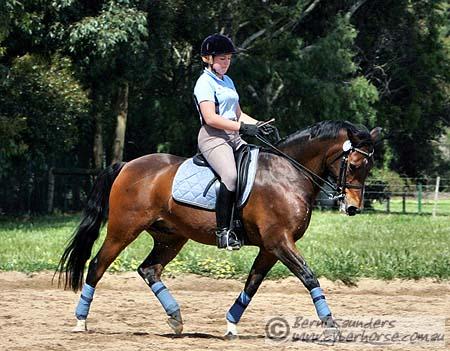 I really enjoyed watching this talented combination warm up and stopped to think
what a wonderful stepping stone this sort of competition is for young riders.
Sancha Butler is riding her lovely 13 YO Welsh/Arab cross gelding, Goldshaft
Moonshadow and she told me that she has trained him right up the grades.
They went on to achieve a 2nd and 3rd in the Medium Dressage classes.
Results | Go to Page 2 - Pictorial Highlights