The VDC celebrated it's Ruby Anniversary (40th year) earlier in 2009 which makes this year's Club Championships an especially notable event. As the longest established Australian Dressage Club, the VDC have been innovators for the sport and a significant part of some milestone achievements.

The VDC take on a slightly different role to most clubs which are based in a regional location and serve their local enthusiasts ... the VDC sees it's role as servicing a Victoria wide membership by ensuring that they run competitions and offer significant discounts on entry fees so that riders are afforded the chance to subsidise their participation. The VDC President Marg England and her committee work tirelessly to ensure that the Victorian dressage community share common ground and all work together for the good of the sport.

This event was chosen to host the Victorian Final for the Equestrian Australia Prix St George Challenge - an important event which replaces the FEI PSG Challenge which was set up to encourage combinations entering the first level of FEI competition. Unfortunately ... or ... fortunately (depending on perspective), Australia's 6th place in the Teams competition at the 2000 Olympic Games in Sydney, meant that the FEI took Australia off the list of countries needing their support to develop the sport of dressage, so we are no longer able to take part in the FEI PSG Challenge. Equestrian Australia considered that this important concept should be carried on so the EA (formerly EFA) PSG Challenge was born.

The 12 best Victorian PSG combinations were invited to take part at this event knowing that the Victorian Selector's eyes firmly on them to choose our representative/s at the Australian final which will be held at the National Dressage Championships at SIEC in Sydney.

Congratulations to Meaghan Willis on her lovely chestnut - Roxbury Armistice for a consistent year and being chosen to represent Victoria at this prestigious event - perhaps this talented pair can bring this award down south? NSW judge Jillian Cobcroft (above right) was invited to officiate to ensure that the riders were given the best opportunity for an independent assessment.

VICTORIAN DRESSAGE CLUB INC.
2008/2009 CLUB AWARDS
The awards below go the horses who have been the most successful at each level at VDC run competitions over the past competition season.

PRELIMINARY (Michael Lee Trophy - dedicated to long time supporter and former Club President) was won by FEDERICI owned and ridden by Lou D'Elia

NOVICE (Christopher Robin Trophy - dedicated to the wonderful horse of the same name who was owned and ridden by Anthea Pannam (Hayes)) - Won by SHIRAZ BLACK owned by Rob and Mary Hanna and formerly ridden by Gitte Donvig and now campaigned by Gitte's mum, Mary Hanna.

ELEMENTARY (Presidents Trophy) - Again won by the amazing stallion SHIRAZ BLACK who was the Champion of Champions at the 2008 and 2009 Dressage with the Stars event. Shiraz Black stands at Rob & Mary Hanna's Statene Park i stud in Drysdale, Victoria.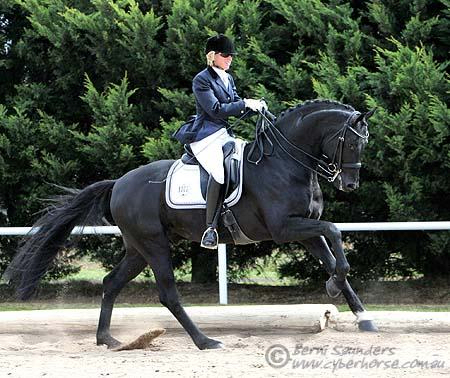 Shiraz Black - a magnificent "uphill" canter - the secret to his success.
MEDIUM (Gilbey's Trophy) won by RENDEZVOUS owned and ridden by Cheryl Fort.

ADVANCED (Eric Rundle Trophy) won by LUCIFERS LYRIC and Janelle Bean-Thornton.

FEI (ANZ Bank Trophy) proudly won by Meaghan Willis riding ROXBURY ARMISTICE. Meagan was wearing her Statene Park team member's jacket .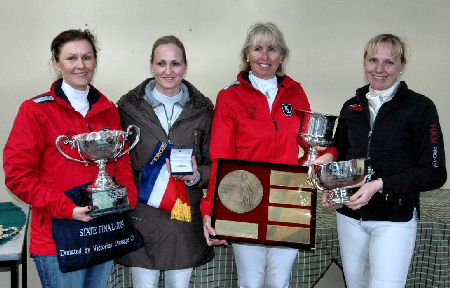 Left to right - Meagan Willis, Maree Tomkinson, Mary Hanna
& Janelle Bean-Thornton - Congratulations to all award recipients.
Picture with many thanks to Greg Gibson (Meaghan's proud hubby)

As is so often the case at Werribee Park - the 'weather gods' seemed agitated and displeased so threw at competitors all 4 seasons over this two day competition. Saturday bought in a howling north wind and unseasonally hot temperatures getting up to 25 degrees. The wind is never pleasant, but when it set off several mini sand storms - many horses gave less than their best and some tensions in the ring could be attributed to these anti-horse conditions. Sunday was cooler and quite pleasant to start - but by mid day the winds had whipped up again and brought in some rain - not enough to make us smile, but enough to cause some below par performances.

Above is Sylvia McLachlan's elegant and talented imported gelding Avignon (by Abanos - Alabaster) who shows his exceptional talent and lift in the flying changes - albeit, objecting to the wind gusts, swirling sand around him. Avignon's Saturday performances were great 3rd in the Advanced 5B competition ... but the weather blew in and the unpleasant conditions were not on Sylvia's side for Sunday's less demanding Medium 4B test.

Preliminary winner on 69.200%
the loose moving and elegant
Salazzo owned by G Hart and
ridden by

G Moloney


2nd in Preliminary Championship -Gladwin (Hanoverian) owned by
Gayle Maule & Melissa Alexander and
well ridden by Nikki Donald.

Hollybrook Gideon and Melissa Stevenson - I bred this lovely horse so was pleased to see him going so well.

Ebony Park Jante - what a girl. She has only been in work for 8 weeks and is a nursing mum - the beautiful imported Friesian mare stole the day for me.

Avoca Big M - a classy Clydesdale cross making his mark at Novice level.

The beautifully feminine Jaybee Aloha ridden by Kerry Sisely.

Sylvia McLachlan - part of the move to ride beautiful mares - Mayfly is special.

Kinnordy Ragusa owned by A Inglis
and ridden by Kate Boyes

Red Bull and Stephanie Dijkstra stepped out in fine style. Steph
looked great in her ANKY jacket!!

Lee Howells is a fantastic organiser and is often on the paperwork side of competitions, so it was great to see her aboard Lynmara Rusano and having fun.

Romanov and S Williams -
looking good and placing.

Ludovico and Berwick Dressage Club President Michael Bragge.

Novice Champion on Sat and Sun - the beautiful Donna Fidera and G Moloney

Runner up Novice Cham on Sat and Sun was Belcam Candace with S Ruedegger