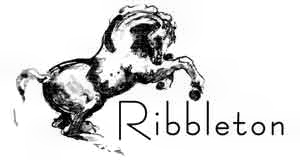 The Importance of Mum ....
by Berni Saunders
In by-gone days, "letters to the Editor" often contained questions such as ...


"I have a mare that I competed up to Novice level, but gave up because she was a downright b...ch to ride and bucked when I asked anything of her, my instructor told me to give up!

She was also difficult to float and sometimes hard to catch. The mare is a little short neck and is a somewhat croup high. Now that I am not riding her I think I will breed a future dressage horse! Can you tell me which stallion will produce a nice natured foal with good conformation and movement???"

Fortunately, this naive ignorance has mostly been set aside by the amount of information that is available on-line. People can research matters such as the genetic blueprint of successful performance lines, along with other horse breeding information and statistics specific to their chosen discipline. However, the importance of the mare's contribution is underestimated and people still say, "that is a lovely foal, what stallion is he/she by???" The key to breeding a foal which has the inherent makeup for future success is largely determined by the dam's pedigree and the proven character traits that are present in her DNA.

Conformation, movement, temperament and trainability (different to temperament, albeit closely related) are all highly heritable, just as surely as negative traits such as conformation faults, a bad disposition and known defects or weaknesses such as no extended trot, cannot do flying changes or a lack lustre piaffe/passage tour are passed on and often difficult, if not impossible, to overcome. Hopes and dreams can end in disappointment and years of time and money wasted.

Even though foals are the 50/50 genetic product of both parents, a discerning breeder understands that nature (genetics) and nurture (the influence of their mothers attitude and acceptance) will be highly influential in terms of how the foal grows up and responds to it's relationship with people and acceptance of training. This factor can tip the balance to ... nature 40 / 60 nurture ... and suggests that the mare can carry a greater influence than the stallion in overall quality and character of the foal. NO stallion is so pre-potent as to overcome the faults of the mare in 100% of cases!


A trainable nature is part of the positive influence of a good mare as it is learned when the foal observes it's mum's reactions to the influences around her. When the youngster grows up and begins work as an adult - the selective breeding (nature) and the dam's teachings (nurture) gives the best chance of the horse going on to reach full potential. These attributes are part of the quality assurance of a stud which understands and observes the importance genetics. We all know that good training, good riding and the right chances play an important part - but it is heart breaking to see good money go after bad, in an attempt to make a "silk purse out of a sows ear"!

The experienced stud master knows that it is not so much the stallion that you need to be concerned about - the mare line is the key to quality ... and more so in modern warmblood breeding ... as most Licensed stallions have been quality tested and assessed by independent experts before they are entitled to breed a registered foal.

Australia has very good stallions standing here and access to the best in the world through frozen semen. It is the quality of mares that has let us down in the past and needs to be addressed for the breeder looking to ensure that the high costs of breeding and raising a foal are being spent on a venture that will see a realistic return should the youngster need to be offered for sale.

I recently spoke to Ribbleton Stud principal Paulette Evans and she told me about a number of her young horses that are proof positive that careful selection of the stud's broodmare band has ensured that the bloodlines deliver consistent quality. She said, "For instance, our beautiful filly, Ribbleton Faith (Fishermans Friend (Fabriano)/Glenmurray Charm) is a shining example of a foal living up to what the pedigree promised us.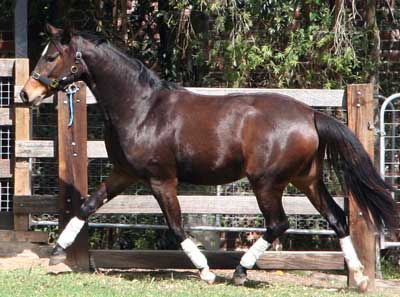 Ribbleton Faith - just like dad, with mums good influence!
She was the 2007 Hanoverian Foal of the Year under German assessor Dr Jochen Wilkens - we were so proud of her then - and now that we have started her breaking in we are seeing the real value of her pedigree come to the fore. She is certainly one of the best horses we have bred to date, beautifully balanced with the most amazing cadence and suspension along with a very sweet nature, to top it off!

Her conformation is superb, Faith is 2.5 years of age and has started work in hand. She is really trainable, always listening and checking in to see what I would like her to do next. In many ways we are sorry to be selling her, but we do have the foundation stock of her making and know that she is best out there in a competition home and perhaps later become a mum herself [click here for video] [click here for more information]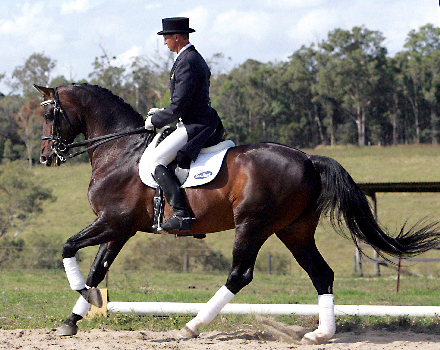 Imported Grand Prix stallion - Fishermans Friend ridden
by Tor Van Den Berge at Pinelodge Queensland.
Paulette added, "Proving that the good families just keep on producing good quality, we were delighted that a sister to Faith's mum, Ribbleton Weltango (by Whisper/ Weltmeyer) produced an outstanding 2008 colt - Ribbleton Freestyle, again by Fishermans Friend (Fabriano/Pik Bube - Hanoverian Stallion from Celle State Stud, Germany). He too impressed Dr Wilkens and was a top 10 foal during the 2009 tour. This gives him the "Highly Commended" status which is recognised in Germany. He is already sold and we congratulate his new owners and look forward to seeing Freestyle go on to make his mark on the gene pool of best future Australian performance horses.

For many hobbyist breeders the knowledge of pedigrees and the proven bloodlines is not easily (or quickly) learned ... and there are many traps for young players. Ribbleton stud's gene pool represents the research of a lifelong passion and lots of overseas trips resulting in many great European contacts who have helped to secure the quality broodmare band that is the hallmark of the present breeding program.

Ribbleton Stud has put together a very innovative plan to allow enthusiasts to realise their dream of breeding a foal. For a limited time, the stud offers the opportunity to choose a Ribbleton mare .... and the stallion of choice ... to allow you to breed the foal of your dreams.

This ensures that the breeder has access to the best mare bloodlines without the costs of importation or a knowledge of horse breeding, foal raising and later sale of the mare ... or the hassle and expense of keeping the mare and breeding year after year - thus creating a workload that is not part of the original plan.

Ribbleton even offers a tailored payment plan - how good is that?

Before making a 2009/2010 breeding decision, e-mail Paulette Evans of Ribbleton and check out the options ... buy or breed?

Check out the Ribbleton web site for more....