Day 1 , 3rd September 2009, a Great Success
Story and Pictures Berni Saunders - Page 2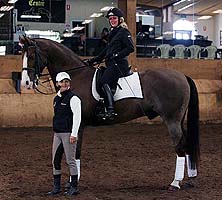 The next horse to go was the charming (and doesn't he know it) gelding, Monet.
I discovered that Balmoral Equestrian principal Julia Battams was involved in the importation of Monet and rode him competitively for a while, so he has developed a large and very enthusiastic fan club at the centre.
Debbie was able to help his lucky owner and rider Vivian Lipshut, to get the tall gelding softer and more over the back with her counter flexion exercises. As with the previous riders, she said, "Turn his nose to the outside, haunches in ... and use the rail to help you to control him." Then the exercise was reversed and as the spectators came to expect, we saw looser and more rhythmical movement at the end of Debbie's effective suppling exercises, Vivian was delighted.
Debbie helped Vivian to understand the priorities of her work sessions! "Don't over ride, try to keep the rhythm and connection ... rear end to front! Too much hand interferes with correct acceptance. Work for steady connection and be careful not to have too much inside rein." Debbie showed Vivian how a correct arm and hand position would help to create a correct connection. "Keep him in front of the leg and more forward. Get his position right and then GIVE with your inside hand!" Debbie showed the way!
"Work on the relationship between the hand and leg ... horse's head up and light ... that is what we want!" Debbie concluded as the very much softer Monet was leaving the arena.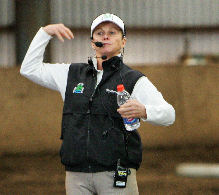 Debbie said on quite a few occasions throughout the day that she worked ALL horses along the same lines in their preparation - this was very well demonstrated in the similarities in the lessons for Susannah Buckley on her 5 YO and Vivian Lipshut with her older FEI trained Monet.
Debbie was so patient and encouraging - she is a gifted clinician who worked with enthusiasm and compassion, bringing out the best from each horse and rider combination - we can only hope that she accepts invitations to come back here on a regular basis.

Monet the imported gelding from Belguim.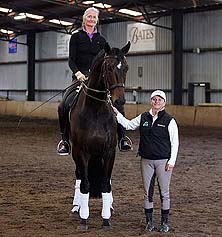 First on after lunch was the very elegant pair from Winchlesea in Victoria - Sylvia McLachlan on her beautiful imported gelding Avignon by Abanos (Alabaster) from a mare by Rio Negro who was campaigned very successfully by the legendary German, Willi Schultheis, about 15 or so years ago. I was amazed to see how much this combination have improved and this is a truly beautiful 8 YO with the world at his feet. I said to Sylvia that the pictures I have seen show that Alabaster has the most beautiful head and Avignon has his grand daddy's good looks!
Sylvia is such an elegant rider, it was impossible to photograph a bad moment, but It was clear that after 40 minutes of bending ... attention to rhythm ... and counter flexion to soften the back and enhance the swing in Avignon's already lovely paces - we were starting to see his best.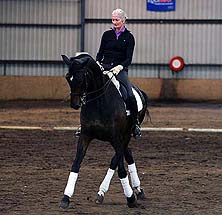 Debbie stepped up the requirements for Sylvia's horse and they performed some lovely sequences of half passes on short diagonals. This exercise acted as a 'barometer' for Debbie and she observed that the horse was not quite as willing to stretch to the left. "Allow with the inside rein and encourage him to stretch. Be careful not to hold him with the inside rein in the half pass .... ALLOW! Sylvia was encouraged to use travers/renvers to sharpen his response and counter bending to soften ... NOW he is ready for the half pass left and what an improvement!
Debbie offered another helpful idea ... "Think about keeping the bit in contact with the corner of his mouth, but WITHOUT pulling. Keep this feel through the transitions, then go into half pass." Debbie added, "If he takes too long to respond, use half halts to get him softer and more responsive, tap him lightly, try for a quicker response."
Sylvia and Avignon moved in the canter work and again Debbie wanted to see the horse's quarters in ... then straight as a suppling exercise that also sharpened his responses. "Very good, I like that you ride his back up into the inside rein - lovely, very good!" Debbie encourages. "Very nice, now take the inside rein forward and bring him back to the outside rein and position him in travers at the canter - this will give you softness and bend - very good, feel that?" was Debbie's response to this pleasing work.
Debbie addressed the spectators who were sitting in the indoor arena and also those up in the glass fronted gallery, "New work needs to be exaggerated - this gives the opportunity for the rider to reward ... listen and feel when he gives up the tension ... timing is everything."
For Avignon it was on to canter and Debbie looked at the walk to canter transitions, "Prepare the walk for the 1st stride of the canter - think about timing and balance - very good!" Debbie said to Sylvia. I am sure that I was not the only one who could see the attention to these details paying big dividends. "Beautiful - I like that!" was Debbie's response to the soft canter work of Avignon.
I thought as Sylvia came to the end of her session - we are so fortunate to be seeing some beautiful horses in Australia in this era of Dressage. What we need is more trainers like Debbie to help us work with these talented horses. It is the basic training and opportunity to have eyes on the ground that is missing from the training of most. It is commonly known that the top combinations work with their trainer on a daily basis and this is not the way in Australia as we mostly keep our horses at home and ride alone. More enthusiastic and compassionate trainers who are able to address the main problems and give helpful exercises to help us to rectify the faults that creep into our work is what will take Australian dressage on to the next stage ... good horses, good riders, good training = great results!
Sylvia and Avignon make an elegant pair and it is great to have them
riding for Victoria and not SA where Sylvia lived for many years!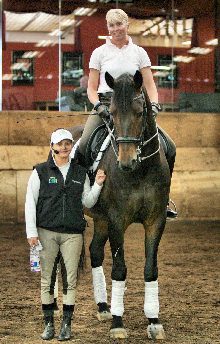 Next on was Mary Hanna's second horse for the day - the new arrival, Umbro. This handsome 8 YO is very like Mary's Athens horse Limbo, who sadly died in quarantine in England. Umbro is probably not quite so tall and he has a little more "air under him" to give lift and lightness to his paces.
Mary bravely rode outdoors - I say bravely because the spectator's shelter was covered by a mesh fabric which had come away in a couple of the main places that it should have been secured to the metal frame - with resultant flapping and movement from a "big white monster!"
Debbie asked that every get seated and stay put as the horse had enough to deal with without adding to this people moving about. Julia's Rhodesian Ridgeback felt that he was important enough not to be included in this directive and happily wandered about the arena.
Umbro was quite afraid to begin with, but soon realised that part of his job was to listen to his rider and not take any notice - he settled well.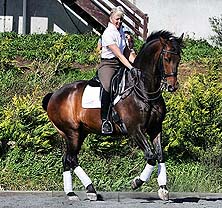 Mary told me earlier in the day that she really enjoyed her lesson with Tango and found it encouraging that Debbie worked in a similar way to her with counter bending exercises to create a soft back and particular attention to the horse's rhythm.
Debbie said, "Don't let him get quick, we want a lovely soft even tempo which prepares for a quality half pass. Work to create an opportunity to let go of the inside rein then let go as a reward (see right) - good girl, soft with the hands, give for a second...yes!"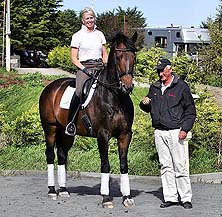 "He cannot learn that he can get stronger - in the canter, the willingness to bend will help him to let go of any tension. When he is calm, do not let him get slow - keep him quick with the hind legs. Bring him back, then ride forward ... yes ... lots of those (transitions!"
Debbie and Mary prepared to work on Umbro's early days in piaffe and passage and they used the transitions to prepare for the half steps. Debbie said, "When you have to hold him in the hand, this is when irregularity creeps in - go forward then back and be careful not to get short. In the moments when he is not sure what to do - ride him forward and back - leg to hand - think more forward and clarify what you want. If gets confused, go forward." Pictured above Mary and Rob Hanna with the 8 YO Umbro.
Umbro - a star of the future.
Debbie made a very clear association by saying, "Think MEDIUM before passage rather than a backwards motion ... go forwards into passage. This word picture gave a noticeable improvement to Umbro's regularity and expression and the 8 YO showed us that he has a talent for the harder work.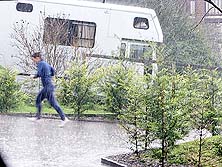 By the completion of Mary's outdoor lesson we all went back to the shelter of the indoor as the black clouds rolled over in a very threatening way. No one was brave enough to curse the rain as it is so badly needed, but the warning of what was to come sent people scurrying about to ensure that everything was put inside and out of the way of what was to come. The rain did not last for long, but this was the heaviest downpour I have seen for many years and confirms why this area is known as one of the greenest parts of Victoria.
Next were Stephanie and Rebecca and the noise of the rain made it difficult to hear what Debbie was saying. The pictures below show each horse working through the lateral bending exercises and Debbie got great results from this nice pair along with every horse in her clinic today.

Rebecca and her 7 YO


bending softens ...


Stephanie & Carlo
head out and head in bending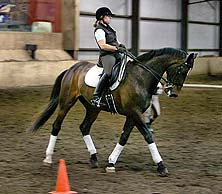 The last riders that I was able to catch on the day were Amanda Goodwin and Catherine Goss. Amanda rides her own AEA ETOne who started his competitive life as an eventer - owned and trained by Rob Hanna. Mary said, "When we realised that he had such talent for piaffe and passage it became clear that he needed a career change to give him the chance to excel in this area. Amanda bought him and they have done much of the work while they are both in the learning phase - it is not always the best way, but it has worked well for them and this is probably as much due to the horse's good temperament - Amanda works very hard to improve and they are going well."
| | |
| --- | --- |
| | AEA ETOne |
Debbie worked with both riders individually in recapped the earlier lessons of the day ... lateral work for softness, control of the shoulders and hind quarters and keep the hind legs active for improve engagement and balance. Amanda's horse showed quite an improvement and I would have liked to see him on day 2 & 3 ... she appreciated hearing that her regular work is on the right track and the horse is progressing nicely.
Catherine Goss rode the imposing chestnut gelding Donnerwetter - a 13 YO by the Donnerhall stallion, Donnerschlag. Catherine asked not to be included ... so she has her wish. Most riders like to be included in this sort of coverage so I was not sure what this was about?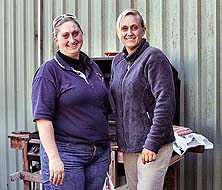 I had to get back to Woodend to catch up on the day I left behind at 7 am to get to Balmoral by 9.00, but this was a very productive day and I would like to take this opportunity to thank Ursula and Jacqui for sharing their passion for Dressage by bringing Debbie McDonald to Australia. Without the hard work and commitment of a few who are prepared to run such clinics, we would not have the input and lessons which were delivered today. Thankyou again on behalf of all Australian enthusiasts and I trust that Debbie will return again soon.
Thanks also to the various people who have hosted the clinics at their fantastic facilities - it is a great way to strengthen the family of dressage riders and help to foster more interest in the sport. Below - some early springtime views around the Balmoral Equestrian Centre.
You might still catch the ...
Western Australian Clinic Information
Clinic Location: Brookleigh Equestrian Centre
1235 Great Northern Highway
Upper Swan, WA 6069
Phone : +61 (0)8 9296 0018 Fax : +61 (0)8 9296 0014
Email - info@brookleigh.com.au
Clinic Dates: Friday 11th September 2009 - Sunday 13th September 2009 Start time: 8am each day.
Audit fee: $20 per day (pre purchase) $25 (at door)
Directions - Brookleigh is located in the beautiful Swan Valley, just 30 minutes drive from Perth City and 15 minutes from the International and Domestic Airports.
The entrance to Brookleigh is just 10 minutes north of Midland. on the left hand side of the Great Northern Highway.
For further information contact Jacqui
Debbie McDonald Tour - Australian Web Site
You can see much more of Debbie McDonald @
the wonderful site Dressage Training On-Line
Debbie's NSW Clinic is being filmed for inclusion on this great site