Day 1 , 3rd September 2009, a Great Success
Story and Pictures Berni Saunders - Page 1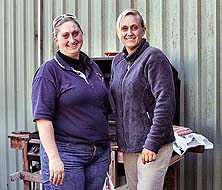 The Debbie McDonald clinic in Australia came about due to rather unusual circumstances when Ex-pat Aussie, Ursula Van Bree (who has lived in California, USA for 9 years) was looking after one of the trade stands at the World Cup final at Las Vegas in April this year. Her area was situated just opposite the stand for Debbie McDonald and she observed the great people skills and genuine interest that Debbie has for people and their horses. Ursula thought, "I wonder if Debbie would like to give some clinics in Australia, so she stood in the queue for an autograph and asked Debbie how she felt about a trip down under?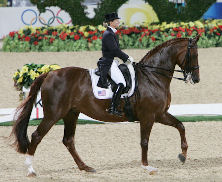 Ursula said, "I was very pleasantly surprised by Debbie's enthusiastic response and almost immediately I rang my sister Jacqui and we started to plan immediately, to have Debbie come and give clinics to Australian riders. She has such a down to earth manner and is very popular with all levels of riders and people who love the sport of dressage ... I was confident that her charm would make her an instant success with Aussies."
Right - Debbie McDonald and Brentina at the 2008 Beijing Olympic Games - Brentina is loved by all Dressage fans and her image has been made into a Breyer model horse.
Below right - "Pocket Rocket" Debbie McDonald at the first day of her Australian clinics.... who said you have to be 6 ft tall to look good on a horse???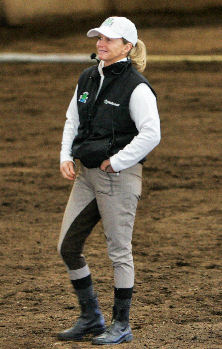 Even though they live on opposite sides of the world, the sisters Van Bree share a love of horses and keen interest in dressage, so the pair began making plans to meet up in Australia in September 2009 at their Debbie McDonald clinics. They have done a great job and are to be commended for taking on such a big job.
Jacqui said, "Thank goodness for the Internet and e-mail, we would have spent thousands of dollars on phone calls making arrangements if we were doing this a few years ago. Anyone who has tried to conduct a clinic will understand that there is lots of work for the organiser/s and as it was just Ursula and me, we have found it a huge undertaking. Fortunately Debbie has made it a pleasure and we have had help and support from the various people who own the venues we are using in Australia."
I was very pleased to be able to cover the first day of Debbie's Australian trip at Julia Battam's beautiful Balmoral Equestrian Centre in Narre Warren East. (near Harkaway). It is a lush 'green belt' area and it was nice to be able to show ab international visitor an attractive landscape which is so ideal for horses. Balmoral is well set up for keen riders ... and spectators ... as it boasts a viewing area with floor to ceiling glass wall and a sound system so that none of the message is missed, and this makes a very comfortable spot on a cold wintery day.

Merrilyn Hamilton-Smith
Victorian Dressage Selector

Jean Dart my lovely neighbour
and fan of Tyntynder!
The weather on the morning of the 3rd was really beautiful. but the big black clouds rolled in, mid afternoon and it rained heavily, even though it was only for a short time. The lighting in the indoor became very difficult and gloomy so the later pictures are not so good.
| | |
| --- | --- |
| | |
| We nearly got 4 seasons in 1 day! | |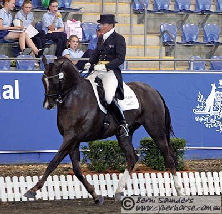 The first rider was Victorian State Dressage Coach Mary Hanna on her imported Jazz gelding Tango V. She rode early as she was also riding her new boy Umbro later in the day. I spoke to Mary about her ride on Tango and she was beaming. (Right - Mary and Tango are pictured at the Sydney International Equestrian Centre)
"He went really well and Debbie helped a lot with the piaffe and passage. We did counter flexion exercises to loosen him and his back was soft and free. It is nice to work with a trainer who follows the same schooling system and can help with the work that you do each day and use to prepare the horse for the specific exercises. I cannot wait to ride again later today!"
I travelled from Woodend with my lovely neighbour Jean Dart who was particularly keen to be on time to see her friend Maria Gleeson's horse Tyntynder. This horse was one that Debbie would have been interested to see as he is by Brentano 11 - the same sire as her WEG & Olympic mare Brentina.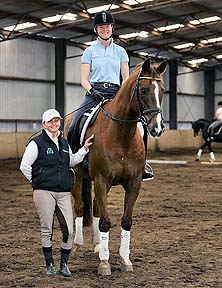 Maria had her coach Katie Boyes ride the horse so that she could take in the ideas that Debbie McDonald suggested so that she has a better understanding of how to progress his work and improve the Medium level movements that she is doing at her current level of competition. Maria has done a great job as she and the horse are learning together and this is a difficult thing for all riders as we have to rely on good instruction to know whether we are on the right track with the new movements. Tyntynder showed some nice work and Debbie was encouraging. She helped Kate to control the footfalls and control the horse's shoulder. They used the counter flexion exercises to make him supple and carry weight with his hind legs. "Get him through ... and do not let him stall" appealed Debbie. This produced much better self carriage and everyone was happy with how Kate and Tyntynder finished off in their session.

Tyntynder, Kate and Maria

Kate Boyes on Marie Gleeson's
Tyntynder - same sire as
Brentina - lovely horse!
It was only at the end of the day that Debbie's unbelievable work ethic and commitment, became obvious! She started teaching at about 8ish and went through til after 6.30 - her afternoon lessons were as enthusiastic and helpful as the morning ones and it was a remarkable effort for a person who was probably jet-lagged and tired.
The next combination to go two good dressage mates - Vicky Roux and Sandra Butorac. Sandra came over from Tasmania where she lives and was fortunate to be able to ride Vicky's second gorgeous horse Laurier - a stallion by Farmer. Vicky rode Pasa Doble by Jet Set D. This horse made lots of friends and fans when campaigning in the young horse classes some years ago - Vicky said, both of the horses are young at heart as their education has not progressed as well as she would have liked. She is a mum of 4 ... and this often gets in the way of progress with the horses. The shared lesson was a great idea as both riders were mounted on horses that could not have given their best for the entire time and the breaks in between allowed everyone to regroup and observe. Debbie asked Sandra to keep Laurier's haunches out and to use the arena walls to help control straightness... then turn his nose to the outside with haunches in. It was easy to see that Debbie is a 'stickler" for exercises which help the rider to gain control over each part of the horse's body - outside shoulder, inside shoulder, outside hind leg and inside hind leg ... throughout the day she came back to this basic principle and helped to get the right exercise for each rider and horse combination. Then Vicky worked on much the same program with Pasa Doble - both of these horses would be welcome in my paddock!

Vicky, Debbie and Sandra

Above - Pasa Doble

Left Laurier - Above the Outdoor Arena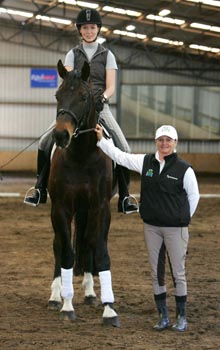 The next rider was Susannah Buckley on her lovely 5 YO gelding, CJP Feiner Days, by Feiner Stern and from CJP Florianda by Flemmingh (pictured right).
Looking back at the 1st day of the clinic, this horse was the most dramatic improvement by the end of the lesson. To begin The brown gelding did not show a great deal of looseness and elasticity ... Debbie used counter flexion to develop balance, straightness and obedience and adds that young horses need to be shown the way, through transitions. "With 3 and 4 YO's I work with the walk and trot and use transitions within the paces Trot forward and back and almost walk ... when the balance at the trot is better, the same exercise can be done at the canter." Debbie warned that riders must be careful if the horse is running as this is hard to correct without the use of too much hand and too much hand is not good and the faults caused are hard to fix. The main objective of the work through the transitions is to develop balance and lightness of the forehand. "The horse must be sensitive and the riders leg light, as using the leg all the time creates a dead response ... but there are not set rule, I teach all horses and riders as individuals!" she said in this lesson.
Susannah Buckley on her 5 YO Feiner Stern gelding. He was bred by
Chris Ardron and Jason York from CJ Park Warmbloods ... a lovely type!
You might still catch the ...
Western Australian Clinic Information
Clinic Location: Brookleigh Equestrian Centre
1235 Great Northern Highway
Upper Swan, WA 6069
Phone : +61 (0)8 9296 0018 Fax : +61 (0)8 9296 0014
Email - info@brookleigh.com.au
Clinic Dates: Friday 11th September 2009 - Sunday 13th September 2009 Start time: 8am each day.
Audit fee: $20 per day (pre purchase) $25 (at door)
Directions - Brookleigh is located in the beautiful Swan Valley, just 30 minutes drive from Perth City and 15 minutes from the International and Domestic Airports.
The entrance to Brookleigh is just 10 minutes north of Midland. on the left hand side of the Great Northern Highway.
For further information contact Jacqui
Debbie McDonald Tour - Australian Web Site
You can see much more of Debbie McDonald @
the wonderful site Dressage Training On-Line
Debbie's NSW Clinic is being filmed for inclusion on this great site