Hanoverians Shine at NSW State Dressage Championships.
by Kirsty Phillips
The superb facilities at AELEC provided the backdrop for many wonderful performances by some of the county's leading dressage combinations, most notably by a number of Hanoverian warmbloods. Watching these performances, it was easy to understand why the Hanoverian horse has won the "Best of All" Trophy, awarded by The World Breed Federation for Sport Horses, every year since its inception and why many of the world's top riders chose to ride a Hanoverian. During the week-end Hanoverian bred horses shone and dominated the placings at the Championships, with the following major results being awarded to registered Hanoverian horses:
Novice Championship – sponsored by Everything Equine and Equissential Champion: Summersby – John Potter (NSW)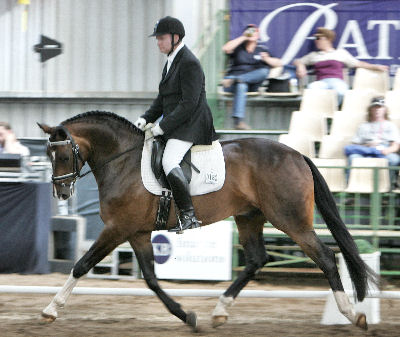 John Potter on his beautiful import Summersby
winners of the 4 YO class at DWTS in 2008
Elementary Championship – sponsored by Sportaloosa International and IAHP Champion: Lauries AS - Tor van den Berge (Qld)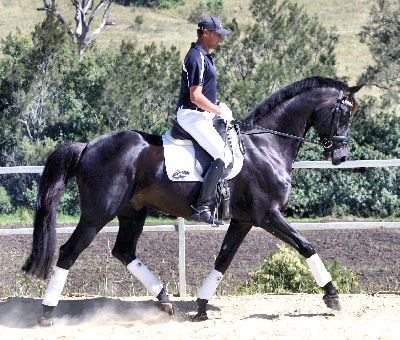 Lauries As pictured with Tor in a training session at
Que Sera Farm in Biddaddaba Queensland.
Medium Championships – sponsored by Lowes Petroleum and Gow-Gates Champion: Lauries AS - Tor van den Berge (Qld) Equestrian NSW Advanced Championship Champion: Gitane – Jenny Gehrke (Qld)
Gitane and Jenny Gehrke
Parbery Performances Horses Prix St Georges Champion: Viviano - Robbie Soster (NSW) National Buildplan Intermediate I Championships Champion: For Joy – Kaz Roe (Qld)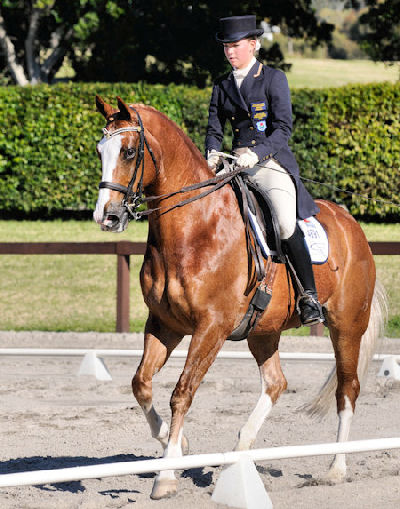 Viviano and Robbie Soster Pic with thanks to
Toni Venhaus and Equestrian Australia.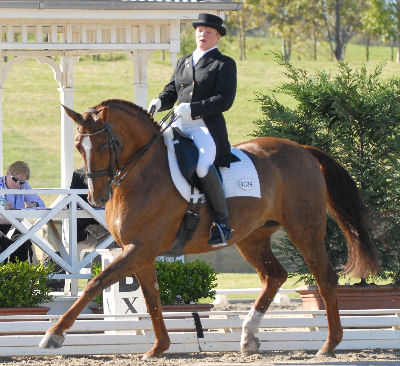 For Joy and Kaz Roe (Qld)
National Buildplan Inter II Reserve Champion: Fishermans Friend - Tor van den Berg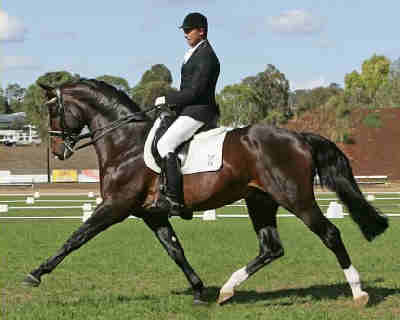 Fishermans Friend and Tor van den Berg
step out in style at a Queensland competition.
(Qld) Capricorn Soiltex Grand Prix Freestyle Reserve Champion: Jaybee Alabaster - Rachael Sanna (NSW)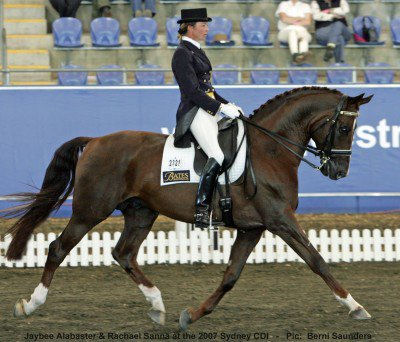 More 4 Horses Grand Prix Special Championships Champion: Jaybee Alabaster - Rachael Sanna (NSW)
Visit our web site for other exciting news and Hanoverian activities.
www.hanoverian.org.au