Amy Graham
... life in Europe !!
by Caroline Graham (mum)
Amy has had so many people interested in her European adventures, it is difficult to communicate with them all individually, so she has filled me in on the main items of interest ... and asked that we get the news out to everyone through Cyberhorse.

Her trip has been a wonderful experience so far, with so many to thank. Bates Saddles have been so helpful and supportive so a special thankyou goes to them.

Right - Amy's dog Jamie is a "rescue" dog & has quickly become a devoted companion.

Amy has settled well into her new life & has now shifted to Belgium & lives at Berkenbroek Stud. This is a breeding barn specialising in artificial breeding, with stallion collection & embryo transplant facilities as well as first class training facilities with a synthetic fibre outdoor arena, indoor arena, horse walkers and trail rides through the woods (it is certainly different to ride through acorn & silver birch woods rather than a Mallee scrub !!). Amy has moved to this location as she has started training the stud's young horses in exchange for her own horses feed & agistment. She is able to live in her truck at these stables so has no additional living/rent costs. She has quickly helped us to reduce costs - which is fantastic. The stables are truly a multicultural environment with riders, grooms and owners from Belgium, Sweden, Netherlands, France, Mexico, El Salvador, Libya, Italy, South Africa, UK & of course Australia, all represented in the daily activities. It makes for some interesting conversations ... with English most definitely NOT the main language!

Amy considers herself very fortunate to have maintained her great relationship and sponsorship by Bates and is riding, training & competing her own 3 horses exclusively in her Bates saddles. The level of support from Bates has been outstanding was highlighted by a recent situation where we realised that Baloubet's saddle was no longer a perfect fit due to his increased muscling above the shoulder. Poor fitting saddles make for poor performance and Amy was very concerned.

A phone call to Emily at Bates Australia was the answer - Emily responded in double quick time and called the Bates agent in the Netherlands. They had a new gullet sent immediately and it arrived the very next day, so, problem solved! Having the opportunity to train & compete in the Bates saddles has certainly been a key factor for Amy's improving performance at an international level and she is gratified to find that many of the top riders are also riding in a Bates.



Above - Beezie Madden on Authentic in her thrilling final round at
the Beijing Olympic Games - she has been a key influence in the evelopment of features in the fabulous Bates Elevation jumping saddle - http://www.batessaddles.com/elevation/index.htm
Amy rides in a Bates Elevation and admires the success of Beezie Madden who has been so successful on many horses at top level.

Amy has quickly made some good friends and has a support system that is helping her to adjust to her new life. Her "boss" Michel (Belgium) works with her on the young horses and Amy is riding up to 10 horses, ranging from 4 to 8 year olds. These horses are regularly jumped at mid week competitions at a great facility in Neeroeteren. I am reassured of her dedication to this career when she looks at a paddock of 30 x three year old colts and is excited about training them !!.
Her "fellow riders" Lele and Simone (Italy) & Ryan (South Africa) all seem to help each other at competitions.

As I write this Amy has just phoned to let us know that three trucks and 15 horses have just left Berkenbroeck on their way to Arezzo, Italy for 2 weeks. This is only 3 days after their return from Auvers in France. She now has a new groom, Stefan (Nederlands) who I am sure will fit in really well as he has worked as a professional competition groom for some time.

Right - Amy, Teresa & Hannah ready for action at Moorsele - proudly representing Bates Australia.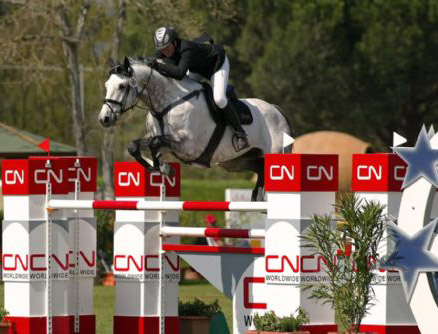 Amy and Bella Baloubet jump 1.40m at Arezzo, Italy.
Since June 2009, Amy has competed at Gera (Germany), Berveelde, Wisbecq, Neeroeteren , Herselt , Bonheiden & Moorsele (Belgium), Roggel (Nederlands), Auvers (France) which are all 2 & 3 star competitions. This means that her classes are all at the 140-150cm level. She is now feeling very comfortable at this level and is keen to gain starts at higher levels where her ranking, or international invitations will allow.

During September & October Amy has an exciting line up of competitions, with Baloubet entered in the World Young Horse Championships in Lanaken. Amy was thrilled to receive an invitation to the World Cup qualifier in Triploi, Libya. She has accepted and she will fly with the horses to Tripoli in early October.

Amy's main goal before the end of March 2010 is to gain her Certificate of Capability (COC) to enable her to enter the selection series with hopes for a place on the Australian Team for the World Equestrian Games in Kentucky 2010. As Baloubet is still a young horse, Amy is not sure yet if he will be ready for Kentucky, however she is aiming to be eligible for selection trials and if things continue to go well, she hopes to be at WEG.

Amy will come home for a flying Aussie visit in November before returning to Europe for the winter indoor competitions in December & January. At this stage her program has her settling horses in at Mechelen on Christmas Day ready to start competing on the 26th December. I think she can have that one to herself, as I was told the outside temperature will be around -15 degrees C.

We plan to return to watch her compete at the start of the outdoor season in Portugal & Spain in February 2010.

Thanks again to Bates and all of Amy's friends and well wishers. It is a very big deal to be away from home and working so hard, but the experience Amy gains will be with her and she hopes to bring it back and share with the up and coming riders of the future.

She would like to thank Cyberhorse for sharing her news and keeping everyone up to date.

Caroline Graham

The ring side bar & relaxing Jacuzzi at Berveelde. Certainly a little more "up market" than most of our Australian competitions!

A young horse competition at Neeroeteren


Amy's car, bike, truck (her home) & her stables

Amy's stables at Berkenbroeck
in Belgium

The "secretary tent" at Auvers
in France

The front of stables at competitions identifies the rider & country