2009 VDC INTER CLUB TEAMS CHALLENGE
SATURDAY 8 AUG 2009
Pictorial Report - Page 1
Story and pictures Berni Saunders
The second weekend in September marks the early days of the new competition season and has for many years been the date set aside for the very popular Victorian Dressage Club's Inter Club Teams Challenge. This is a time to mix fun with the serious business of good dressage performances. Most Victorian Dressage clubs are represented and each of them set up a table and hospitality area in the gallery of the magnificent Werribee Park indoor arena. Above is Australian Olympian and instructor Marg McIvor and VDC President - the extremely hard working and very popular Marge England.

The relaxed atmosphere and friendly format means that even though the competition is 'serious' everyone makes time to say hello to old friends and catch up on the latest news. Pictured right is Lou D'Elia on Frederici and Reiner Kramer on Anastasia Romanov who exchange greetings as they prepare to compete.

The host club went all out to make the day fun with Tania and Carol hamming it up in fancy costume ... and lots of laughs. It was a great day and we all thank the VDC for their hospitality and effort to put on the show.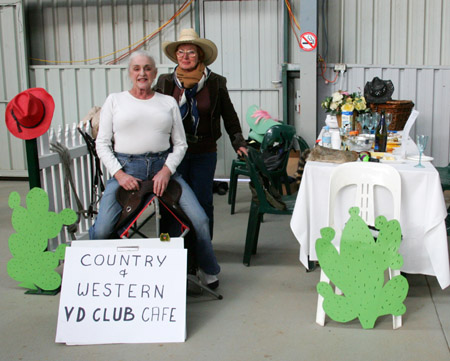 Above - Carol and Tania with the VDC's western theme - hee ha!
Below - The trophies for the VDC's Inter Club Teams Challenge
set against the back drop of the huge indoor arena.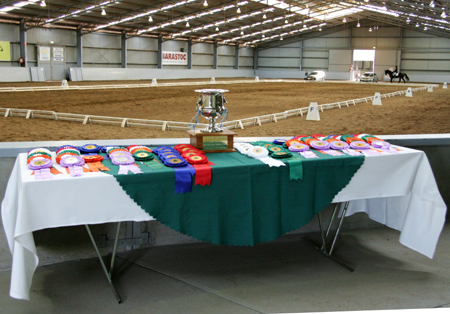 The VDC also ran an open Dressage event and as I was judging the Intermediate 1 and 11, I was not able to take photos in all rings.

I would like to say that it was a real thrill to officiate in the Inter 1 and judge Maree Tomkinson's wonderful mare Diamantina. WOW - what a girl ... she heralds a new era for Australian dressage! Not all riders would be able to manage her electric temperament but she and Maree have a great understanding and Maree says, "This is all part of her personality - the good thing is, she has her little exhibition and show off, then settles to do her best work - it is not a problem when she then gives me such fabulous expression, who am I to complain?"

It is not often that Australian judges give 75% and in Ring 2, A Level judge Rosemary Dalton did just that - very exciting for the sport!
| | |
| --- | --- |
| Diamantina - Above and Right | |
The event featured another highlight as we saw Victorian State Coach Mary Hanna and her wonderful Dutch bred gelding Tango V return to competition after a spell. Tango has had a virus and Mary was keen to take all precautions to ensure his complete recovery, so he has missed some major events in recent times. Tango showed us all with his Grand Prix win, that he is back on track and ready to challenge for a spot at the World Equestrian Games in Kentucky 2010. Tango and Mary are pictured here at SIEC at the National Championships. Mary said, "The entire Statene Park team is very proud of him, he is a super horse and it is great to have him back on track!"

Above a few members of the
Berwick Dressage Club

Fred Hoevenaars and Marie Gahan

Heather Gee and Sylvia McLachlan

The Westernport Dressage Club Team

The Trophy Table

The Western Victorian Dressage
Club - a great time was had!

Yarra Valley Dressage Club

Susannah Clarke and Marg England
Page two and three of this report includes some of the horses who took part on Teams Challenge day, Saturday the 8th August 2009 and helped to make the day special - they are featured in alphabetical order of the horse's name.