Don't Miss Debbie's
Clinics for Riders and Spectators
Story and Pictures Berni Saunders
With the horse's birthday just past ... and the start of a new competition season, most dressage enthusiasts are all fired up and looking forward to the springtime competitions.

The need for sound preparation of dressage horses has been highlighted and confirmed each year since the introduction of the Young Horse events 10 years ago ... and correct basic training principals flow through to sustainable and progressive work in order to reach FEI level.

Listening, watching and learning from those with the scores on the board - and vast proven experience - is part of the personal development of riders and trainers. Unfortunately Australian's have limited opportunities to take in training concepts and ideas from the best in the world as many of the Elite Clinics conducted by the EA closed to spectators. This is a unique opportunity to observe this special lady working with Australian riders and their horses. Debbie promises clinics that ordinary riders can relate to and learn from.

Debbie McDonald will be in Australia in September 2009 to give a series of rider clinics ... and spectators are most welcome. She has a similar background to many Australian riders, who fit their passion into the demands of a 'real' live with a family and other duties to juggle. She can relate to our challenges and is known to be a rider friendly instructor with great communication skills and a special gift for getting her message across.

Check out the dates and be sure to put a day aside to catch Debbie in your state. I will be getting to Balmoral to meet the lady herself and hope to see support for her clinic - we need people like this sharing their knowledge and experience with Australian riders!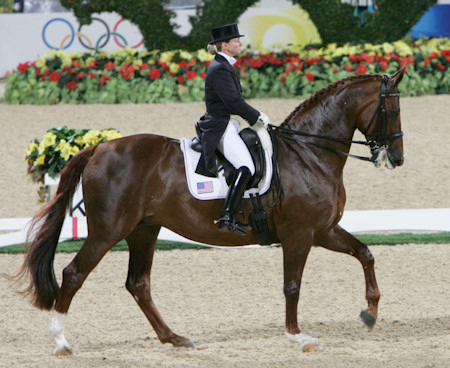 CLINIC DETAILS
Victoria
Clinic Dates: Thursday 3rd September 2009 - Friday 5th September 2009
Balmoral Equestrian Centre
299-305 Harkaway rd, Narre Warren North 3804
Melways Ref: 109 G5
website: http://www.balmoral.info/
email: contact_balmoral@hotmail.com
New South Wales
Clinic Dates: Monday 7th September 2009 - Wednesday 9th September 2009
(Following directly after the NSW State Dressage Championships)
Australian Equine and Livestock Events Centre
503 Goonoo Goonoo Road, Tamworth, NSW 2340
website: http://www.aelec.com.au/
Western Australia
Clinic Dates: Monday 7th September 2009 - Wednesday 9th September 2009
Clinic Location: The Venue is still to be determined
Please check back soon for updates.
All places are limited - so book early to avoid disappointment
For further information or Clinic Application Form
contact Jacqui