Meet Queensland's Jodie Williamson -
Current Australian Barrel Racing Champion
Story by Berni Saunders
It is a great honour to introduce Jodie Williamson (pictured right) to Cyberhorse readers. Rodeo and Barrel Racing riders are not our usual subjects, but I warmed to Jodie's enthusiasm and snapped up the chance to share her amazing story.

Jodie grew up with horses, and riding was a big part of her early life. She now lives in Mareeba Queensland and juggles her horses with a 'real' job!

Jodie works for a company that produces salt and mineral licks for cattle and she found this an interesting education. The experience has helped her to better understand the importance of nutrition and trace elements in the diet. She said "While cattle have different requirements to horses, I know that incorrect feeding and/or mineral deficiencies can be the difference between success and failure ... healthy animals are what it is all about!"

"Home" is Jodie's stud and training property where she breeds, raises, breaks and trains her Quarterhorse/Stock Horse cross horses. She said, "I breed them to sell, but hate parting with them, so many of the youngstock stay onfor much longer than I ever intended."

"I have concentrated on breeding the respected 'Jesse James' bloodlines and also favour a stallion called "Lynks Little Pet" so most of my horses are predominantly from these families." Jodie explained.

She added, "I have 21 horses (golly is it that many???) including competition horses and some younger ones coming on. 8 brood mares and youngsters from 8 months old, up to breaking in age ... and I will have 2 new foals in the 2009 season."

"I started riding when I was 6, this means I have been riding horses for 26 years and have had success at a number of competitions and horse events. When I was growing up I was a bit of an all-round 'sports nut' and did quite well in other sporting events which included Team Penning, various horse sports and campdrafting. I started competing in at rodeos in 2001 as a member of the Australian Bushman Campdraft Rodeo Association - ABCRA (N.Q ZONE) and the Central Rodeo Cowboys Association - CRCA. My main Association is ABCRA (NQ ZONE). I also compete in some CRCA rodeos that are dual affiliated with the ABCRA." Jodie told Cyberhorse.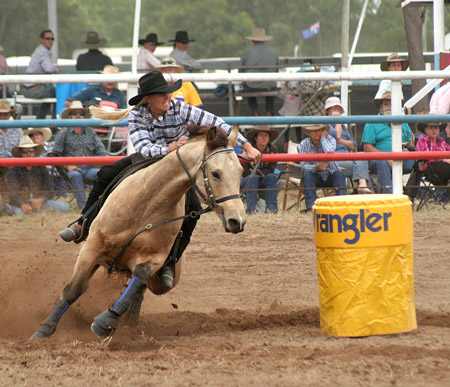 Jodie and Danny - a great partnership!
Some of Jodie's achievements are:

2004 ABCRA (NQ ZONE) Most Improved Cowgirl of the year

2004 ABCRA (NQ ZONE) Runner up Barrel Racing Champion

2005 ABCRA (NQ ZONE) Runner up Barrel Racing Champion

2005 ABCRA (NQ ZONE) Runner up All Round Champion Cowgirl

2006 Winner of the Mailman Express (Mt Isa) Quarter Horse Sprint Race (On our horse "DANNY")

2006 ABCRA (NQ ZONE) Barrel Racing Champion

2006 ABCRA (NQ ZONE) All Round Champion Cowgirl

2007 ABCRA (NQ ZONE) Barrel Racing Champion (Current Title Holder)
2007 ABCRA (NQ ZONE) All Round Champion Cowgirl (Current Title Holder)
2007 CRCA Barrel Racing Champion (Current Title Holder)
2007 CRCA All Round Champion Cowgirl (Current Title Holder)

2009 ABCRA Barrel Racing Champion.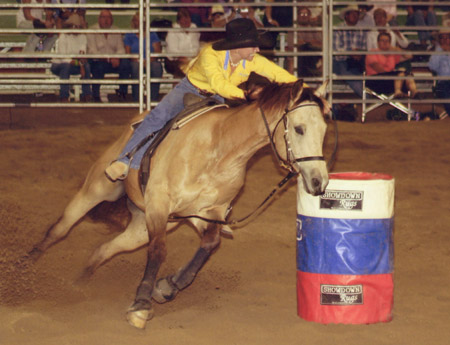 Jodie and Danny during their Championship run at
Tamworth in January 2009 where they were
crowned the Australian Barrel Racing Champions!
She has been invited to many of the prestige events up and down Australia and Jodie said, "Sadly I have not been able to attend many as the distance, cost and other commitments have been impossible to juggle."

"Being awarded the Australian Barrel Racing title has been a lot of hard work, with long hours and many kilometers travelling to events in Queensland and NSW during the 11 month campaign to win the title, so, for the next few months in 2009, my horses will have break ... and for me it will be a change of pace and the chance to put something back into the sport I love so much. I will do this by conducting some Barrel Racing Schools in North Queensland."

"I have being training other "up and coming" competitors and their horses to coach them to succeed in the sport of rodeo. The kids love to learn and with guidance, many of them will become champions. It is a great way to give young people an interest that requires commitment and dedication! If they want to be successful, they have to work hard and learn their lessons!"

"My schools will teach everything they need to know about Barrel Racing and this will include caring for the performance horse, feeding, foot care, fitness, basic horse husbandry and putting in the systems and training that is needed right up to competition day"

"I can speak from personal experience when I say that Pryde's EasiFeed has helped me achieve the number one position". I am so PROUD to be sponsored by Pryde's. I would like to thank the Pryde's Team for helping me with the feeding programs that I have found to be the key to success. From the time I switched to Prydes feeds, I have found that my performance horses are thinking a lot more about their events - they are really fit and keen - and they have given me the consistency I need to win. They are all glowing with good health - it is amazing how Prydes EasiFeed has made a difference to ALL my horses."

"Many young hopefuls have never had advice on how to feed and they have never had a balanced diet explained. They will probably do like me and use the Prydes interactive diet sheet on-line, but this way they will know that it is right and they will have their horse as good as he can be - that's all you can hope for."

"My horses get a mix of various Prydes Feeds! I use a base diet of BioMare Cubes for all of the horses on the farm and then add EasiResponse, plus No 3 or 300 Pellets depending on the individual and the work we are doing. Barrel racing demands instant energy and you cannot win if the horse runs out of 'gas'!

Jodie said she would love to introduce the horses who helped her to be a champion - and they are:

Barrel Racing Horses

"Danny" Reg Name: LHB Jessies Golden Oak

"Sam" Reg Name: LHB Southern James

"Gift"

Break Away Horses

"Sam" Reg Name: LHB Southern James

Steer Undecerating

"Dustin" Reg Name: Dustin Roper

Jodie hopes to become a National Champion in the sport of Rodeo and to keep new horses coming along which will help her to stay on top in Barrel Racing and to achieve future goals. She hopes that her schools and clinics will help the young hopefuls of the sport to understand what it takes to win and put in place some of her winning strategies.

Good luck to Jodie and her students of 2009.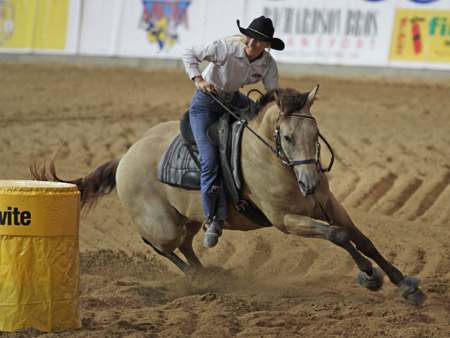 Jodie and Danny show the style that makes Australian Champions.
Prydes Nutritionist can custom make diets to meet the specific needs of your horse - (this was a great help to Jodie Williamson)

For more information on Prydes Feed click here