German Road Trip - Part 1
by Kelly Bauer

Australian dressage rider and school teacher Rachelle Wilson (pictured right) and I have been friends now for quite a few years. We met at Barbara Burrow's Silverdene Warmblood Stud and Dressage Centre in Lyndhurst, Victoria. Silverdene was home to our horses, my work and where Rachelle taught some of her dressage pupils. Who would ever have believed that this equestrian and agistment centre could have led to such great horsey adventures which have taken us to the other side of the world!!!

In 2006 Rachelle was coming to Germany to work for Hubertus Schmidt and at that time I was working at Ulla Salzgeber's stables. We were going to meet up and go to the World Equestrian Games in Aachen, but sadly my dad passed away in July, so I was at home in Australia in September and not able to get to WEG. Luckily though, as Rach was still on the right side of the world and working for Hubertus, she still got to go ... and not only as a spectator as first planned, but as the groom for Hubertus Schmidt and his wonderful chestnut mare Wensuela Suerte!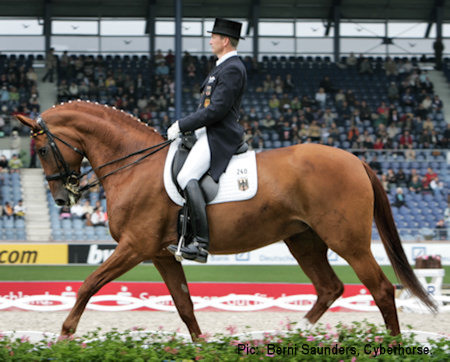 Hubertus Schmidt riding Wensuela Suerte!
So, as we missed the opportunity to do a little road trip together in 2006, we finally got around to it following Aachen in 2009.

We thought it might be a little interesting to share some of what we did on our trip with you…

Sunday 5th July dawned a beautiful sunny morning for the last dressage showdown of Aachen in 2009. Having seen yet another American victory, I raced back to the press room to send some photos and the news of Steffen Peters hat-trick back to Cyberhorse.

Without even having time to realise my first Aachen experience was over, I was sitting on the Deutsche Bahn heading to Dusseldorf airport to meet my road trip buddy… Rachelle Wilson.

Knowing that Rachelle would be on holiday in England with her partner for several weeks, we had decided to make a mini German road trip while she was over this side of the world. So Rach boarded a flight from Birmingham (UK) and we met up in the arrivals area of Dusseldorf airport. We found our hire car, and having worked out how to change the Navi from Danish to English, we were on the Autobahn and heading to Gronau on the border of Germany and Holland.

The first stop on our road trip was to visit Kris Dedoncker. We had both met Kris in 2005 when he was riding Capone for the Belcam Int. auction.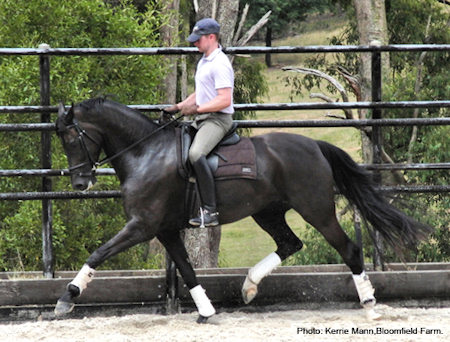 Kris Dedoncker riding Duchess in Australia.
This lovely De Niro mare was imported from
Germany ... and is campaigned by Judy Smith
Kris has a beautiful stable facility ideally located in the North Rhein Westfalen area. This area of Germany is a serious horse region so there is always a show on somewhere close by.

The facility includes a beautiful, light and airy indoor arena, a spacious outdoor arena, paddocks, a covered walking machine and two areas of spacious stables. Kris' business is training and competing young horses through to FEI, and assisting people to find their next superstar, either being one of his horses or elsewhere.

Kris has been riding some of the Bloomfield Farm stallions for their DVD's and photos for some years. Most recently Kris held his first clinic at Bloomfield Farm earlier this year. He is also heading back to Australia in September for his second clinic which he tells me is already fully booked!

When we arrived on Sunday afternoon, there was a pony stallion being worked in the arena. It is rather unusual to see a pony at Kris' but the owner has big ambitions for this little man. She is hoping he will qualify for the Bundeschampionate later in the year, so he is with Kris in preparation. It was also interesting to see a couple of Aussie ladies have horses in Kris' stable at the moment. One of the two, a four year old chestnut gelding by Florestan I out of a State Premium Mare, will be making the long journey to his new home in Australia shortly.
After a good chat and a cuppa, we were planning to head a few minutes down the road to Enschede in the Netherlands where we would stay with my cousin overnight. It is very important to remember that although you are just travelling down the road, you are going into a new country. If you have only a German Navi (as we did)… beware as it does not work over the border!! Crossing into the Netherlands we were not able to find any streets, and had to follow signs to the train station where my cousin came to rescue us!!