Just a Two Days Until the QLD Festival of Dressage gets under way!
This Saturday, 18 July, is the day eagerly awaited by the organisers, spectators and participants of the 2009 QLD Festival of Dressage.
Ring-side seating is sold out and pre-sold tickets have now closed with unprecedented numbers! If you missed the opportunity to pre-purchase your tickets, DON'T WORRY as you can buy tickets on the day at the main entry gates. Gates open at 8.00am. With 17 Ridden Demonstrations, 10 Educational Seminars, freestyle displays and the much anticipated Master Class with Carlos de Cleermaecker, the ticket price of just $20 for adults and $12 for children (5-12yrs) represents exceptional value for money!
Sadly the organisers have had a last minute withdrawal from Roger Fitzhardinge - and he will be missed by all. Fortunately the success of this event is uppermost in the mind of all supporters and participants, to this end, well respected FEI Rider, EFA Dressage Rider Representative and Equine Nutritionist, Liz Owens has stepped in to "officially" fill the gap.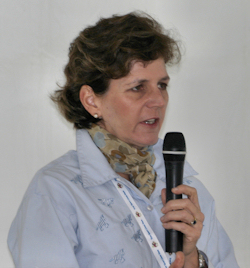 Liz has participated at this event since the inaugural Festival. She is an accomplished speaker with a very sound background in the sport of Dressage. Originally from Western Australia where Liz rose to fame on her Trakehner gelding "My Learned Friend" she continued her success on the wonderful Trakehner Stallion "Legal Tender"!
Now based in Queensland, Liz will be better known for her accomplishments on her Remi Stud bred mare Class Action. Liz is pictured above - Pic by Tracy Mayhew.
Remi Stud will have their two wonderful imported Licensed Hanoverian stallions Fishermans Friend and Lauries As at the Festival and you can see them on display ridden by Tor Van Den Berge from Que Sera Stud.