| | |
| --- | --- |
| | STATENE PARK |
Great News for Victorian Dressage
story by Berni Saunders
I recently spoke with Victorian Dressage Coach Mary Hanna who has just returned from an overseas trip with her popular and capable student, Holly Stansfield-Smith. Holly rose to prominence when she partnered her charming Trakehner gelding Malachite (Copernicus/Regal Quartet) and made her way to FEI as a junior (pictured right).

Holly and Mary covered many miles in Germany and Holland looking at dressage prospects and returned home very pleased to be bringing back two lovely horses which will be sure to strengthen the overall quality of the sport.

Mary said, "As the State Coach, I am only as good as the riders and their horses! There are lots of great riders, but they need to be partnered by the right horse in order to progress and lift the sport.
I am very fortunate to have made lots of friends and establish a broad base of contacts when I have been on overseas training or competition trips. I am thrilled that we were able to find the perfect horse for Holly and I can see her taking the next step with this talented Don Schufro mare. Diva Royale has been successful in her early career ... she has a beautiful temperament and really super movement. Out of 246 candidates considered for qualification for the 2009 Oldenburg elite mare show in Germany, 49 mares were selected. Of this top 49, Diva was in the top 10 with all scores of 8 and above."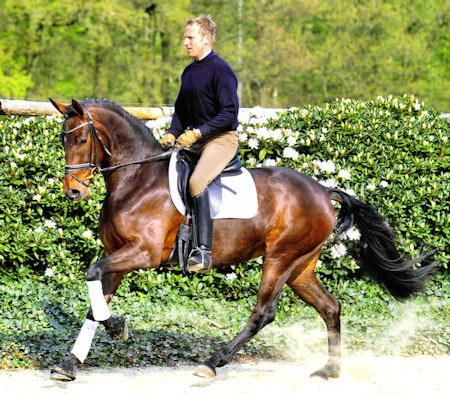 Diva Royale, with Johannes Westerdarp.
Mary added, " I am also pleased to have purchased Umbro, he is currently working at Advanced and I hope to start him at Prix St Georges soon. "Umbro is 8 years old and very much reminded me of Limbo, he is responsive to the leg and has a great attitude. He has been ridden by the young Dutch rider Dominique Fillon, who trains with Anky - this is a great start and it is nice to know that the "basics" have been well established!"
"Umbro will make it three "Jazz" horses in our competition stable, he will join my Grand Prix gelding Tango V and Gitte's exciting 3 YO colt, Gitte is very pleased with him and is just finishing his breaking in and early work in readiness for some early competition experience. The bay colt is a very flashy mover ... as you know... and we are all excited about his debut."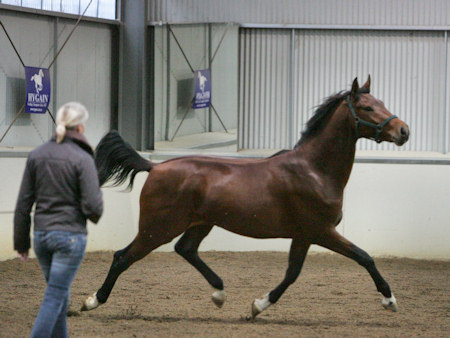 Mary Hanna "free lunges" Gitte Donvig's flashy 3 YO colt by the legendary
Dutch stallion, Jazz. He has wonderful balance and the hind leg
engagement that is noted as the determinate of good dressage potential.
(Pictures taken in May 2009 by Berni Saunders)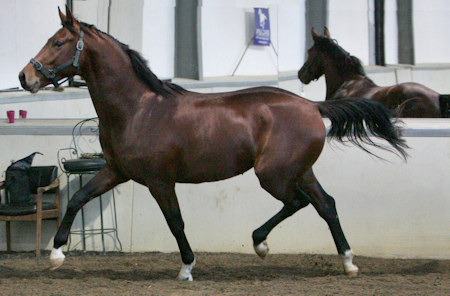 Mary said, "I have started to compete on Shiraz Black and he has progressed up the grades very nicely. Gitte has done a really good job with him - I guess their results together are proof of this! Shiraz recently had his first start at Medium level and his wonderful canter make the changes a joy - I cannot wait to get up to showing his talent in the higher grades - the canter is so important! Shiraz had a fantastic stud season in 2008 with many early bookings for the coming season. He is a real asset to the sport with pedigree and performance equal to the best in the world, we are proud to have him here at Statene Park."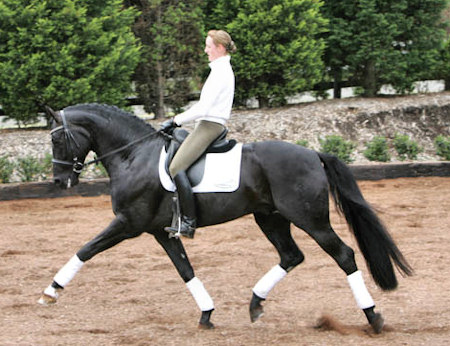 Shiraz Black and Gitte Donvig at Statene Park
To visit the web site, click here