THE HANOVERIAN HORSE
SOCIETY OF AUSTRALIA
Members & Friends Learn Much from
FRITZ FLEISCHMANN
Story & Pictures by Berni Saunders.
The first two weeks in July have been pencilled into the diaries of Hanoverian owners, enthusiasts and their friends as the Hanoverian Horse Society of Australia have put in place a visit by the respected trainer and Coach Frits Fleischmann. Fritz is a licensed Pferdewirt (Bereiter) from the German FN. Fritz was a top German Young Rider and member of the German National Young Rider Team. While Fritz was on the National Young Rider Team he was coached by German Olympic Team Coach - Holger Schmezer. For 10 years Fritz trained with and rode exclusively for Olympic Gold Medallist Hubertus Schmidt - considered by many to be the best active rider/trainer in the world at this time. For 5 of those 10 years Fritz was also Hubertus's head rider. Fritz has ridden and trained horses from the FEI Young Horse classes to Grand Prix. He currently holds his Gold Medal from the German FN, an honour only achieved by few FEI riders.

The Fleischmann Clinics were arranged as a service to Hanoverian members (and friends) to ensure that Hanoverian horses in Australia receive top quality training and practical guidelines to help the owners get the most from their purpose bred, performance horses ... and I caught up with Fritz and HHSA's Treasurer (and Hanoverian owner) Gayle Maule (right) on Wednesday 8th July 2009 at Glenbrae in Wandin in Victoria. The indoor arena is now dated and the natural lighting inadequate for taking pictures. Photos were very difficult but I hope they give an idea of the horses and their achievements on the day.

Fritz had already given his Queensland Clinic and was feeling the contrast in temperature from the glorious Northern Winter 24 degrees to Melbourne Winter when the mercury struggles to get to double figures.

I only got to see 4 combinations and loved watching Fritz at work. His lessons were intense, mentally stimulating and challenging. Fritz put a lot of energy and effort into the delivery and at times his enthusiastic gestures were a helpful way to make his points understood.
Fritz Fleischmann gave every lesson his full attention and worked in
close proximity to the riders and horses, he took the trouble to
explain his ideas and where possible 'show' what he wanted!
His message with all riders was the importance of the outside rein. I watched as, time and time again, he was able to free up the horse's inside shoulder by encouraging the rider to let go of the inside rein and control the horse with the inside leg to the outside rein.

I was particularly impressed with the result of this lesson with Hayley Gilbert's talented Jazz mare Odiana K - who gave the most beautiful demonstration of shoulder in and half pass with NO inside rein and only a supporting guide to outside rein and the inside leg as her cue to stay flexed and forward.

Hayley was beaming and why not it was work for 8 or more.
Instructor and coach Jenny Crowley was riding a client's
Dressage Pony and the improvement was evident.
Fritz lesson delivery was quiet and clear - he was able to gain each rider's confidence and his lessons were not intimidating - he seemed to get good results from very young and inexperienced horses such as Hayley Gilbert's wonderful new import. He is a 5 YO gelding with the Hanoverian sire De Niro on the sire line and from a Weltmeyer mare - it does not get much better, but Hayley knows that in order to give her beautifully bred youngster every chance at success, she needs help to structure his education and ensure that the improvements are based on good basic training.

Hayley's mum Lyn (proprietor of The Riders' Shoppe) was listening carefully to Fritz and felt that his advice would help Hayley in the first stage of establishing the work which should carry through to the more advanced movements.

Pictured right is Lyn and Mal at The Rider's Shoppe stand at a recent competition.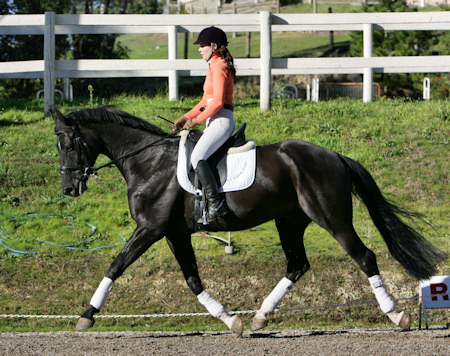 I have included this larger picture of Hayley's beautiful young horse
as they prepare for their lesson in the outdoor arena at Glenbrae. In the lovely
winter sunshine, his elastic trot and gleaming coat make a wonderful picture.
A picture tells a thousand words and in this case, the pictures of Hayley and her lovely 5 YO gelding working with Fritz is everything you could ask to see from a horse having his 8th ride since arriving in Australia. Well done to all.

Jenny Cowie on her 15 YO gelding Freedom, by Dutchman. Jenny said, "He is a good boy when he gets going, but impulsion and energy are always a problem. Fritz was able to help me to get the horse off the leg and a little more responsive!" I commented on the improvement towards the end of Jenny's lesson and we both agreed that having Fritz training on a regular basis would be great for Australian riders and their horses.
Fritz was a demanding instructor (as you would expect from his CV) he wanted the riders to think AND try, but he also explained his exercises and what the rider should be striving to achieve. He made corrections that allowed all horses to show their strengths. Hayley Gilbert had her second ride for the day - the lovely imported mare Odiana K by Jazz. Odi would be a difficult ride for many, as she is very sensitive, very talented and seems to know when the rider gets it right. Hayley is the first to say that the mare can sometimes "try too hard" and while the efforts are appreciated, they are not always welcome in the competition arena.

Hayley said, "Things have really improved lately and Fritz was able to reaffirm that I need to work on rhythm and 'less is more' ... Odi can do it all, I just have to ride well enough to keep the energy and rhythm in balance. Our marks are improving and it is very exciting to be embarking on our first season of Grand Prix. I found Fritz great and hope that he will come back to Australia soon."

Lyn Gilbert said, "I could really see that Fritz was working on Odi's self carriage - the half passes were lovely, so easy and this allowed her to show her talent,"
Odiana K and Hayley Gilbert
Fritz finished his Victorian Clinic at 4 PM and was straight off to Tullamarine to begin his NSW lessons. He was very popular with the riders and made a positive impact with the horses that I saw. I have also received feedback from a few other riders ... and it is all good!! We hope to see Fritz Fleischmann 'downunder' again soon.
Fritz Fleischmann demonstrated a "rider's feel" in his instruction and on many occasions his posture and gestures were what made the words meaningful and helpful - he gave great lessons, much appreciated by horses and riders!!!
If you want to join the HHSA or purchase a
horse of the "winningest" breed ... Contact
The Hanoverian Horse Society of Australia
G.P.O. Box 2039 Brisbane QLD 4000
Ph: (07) 4054 5463
email hanoverian@hanoverian.org.au
Visit the web site for other exciting news and Hanoverian activities. www.hanoverian.org.au