June 26th to July 5th
Day Five Report by Kelly Bauer (Germany)
Steffen Peters & Ravel win the Kür…

The last starters in the Deutsche Bank CDIO Gand Prix Kür were Steffen Peters and the Ravel. They had a tough job ahead of them as they entered the arena. Anky and Salinero were the second last starters and finished their solid test with a score of 84.5%

Above and Right
Steffen Peters and Ravel
Victorious ...
However there was no problem for this mighty pair today. For the third time in the Dressage stadium the American flag was raised in their honour.

The unbeatable pair scored 85.66% for their wonderful Kür and it was enough to take the lead from Anky and secure their third title in Aachen this year. They also take home the big prize from Deutsche Bank of €30,000

Steffen Peters may be coming to Australia in November 2010 to be part of Equitana. I hope this happens as he is a popular clinician with a huge following of enthusiasts.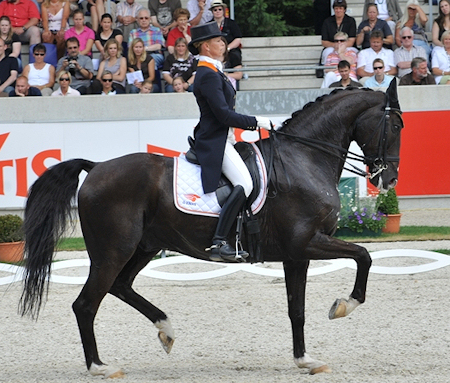 For results from the Kur click the link below
http://results.chioaachen.de/resultpage09/DRE/D10.asp
Team Results can be found at the link below.
http://results.chioaachen.de/resultpage09/DRE/D4.asp

Individual results from the Grand Prix CDIO http://results.chioaachen.de/resultpage09/DRE/D2.asp
Kelly Bauer's Library of Stories
Day 3 Herzruf's Erbe injured….

Aachen Day 4

Go to Kelly Bauer's Lingen 2009 Update

Go to Kelly Bauer's Weisbaden 2009 Pictorial Report

Go to Kelly Bauer's Report from Pferd International 2009

Go to Kelly Bauer's Weisbaden 2009 Pictorial Report

Go to Kelly Bauer's Report from Pferd International 2009