June 26th to July 5th
Day Four Report by Kelly Bauer (Germany)
Saturdays Dressage at Aachen…

MEGGLE CDIO Grand Prix Special

The American National Anthem rang out as the American flag was raised for the second time in the Deutsche Bank Dressage Stadium in Aachen. Fitting seeing as it is the 4th July! 
Winners of the Grand Prix Steffen Peters & Ravel (USA)
In what was another beautiful display of elite dressage, Steffen and Ravel shone in the warm Aachen sun as they danced their way through their test scoring 76.917% and received €8600 prize money.


Anky Van Grunsven and IPS Salinero

When asked what his thoughts are going into the Kur tomorrow Peters said that he saw Anky and Salinero's Kur in Rotterdam, so is aware what they are capable of! He hoped that he and Ravel could produce their Las Vegas form ... then it will be a very close competition. So stay tuned!!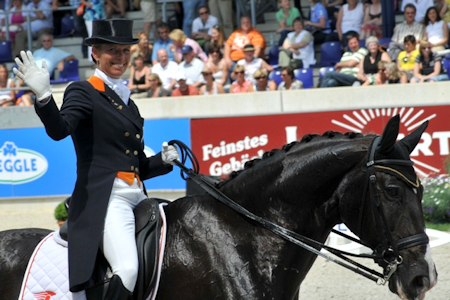 Anky Van Grunsven and IPS Salinero acknowledge the crowd.
2nd was Anky Van Grunsven and IPS Salinero were determined not to be 5th again today. In a much more relaxed test, today only a few minor errors upset the score and took the lead from them. With 76.583% they were only 0.334% away from the leader.

3rd was Hans Peter Minderhoud and Exquis Nadine managed to keep the Germans out of the top three places with a score of 74.500%. The lovely mare Nadine is in fine form at the moment and together this pair is doing a great job in the competition.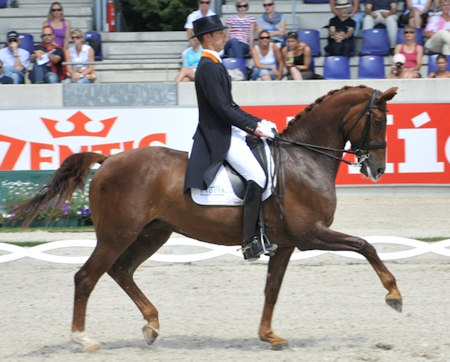 Peter Minderhoud and Exquis Nadine
Team Results can be found at the link below.
http://results.chioaachen.de/resultpage09/DRE/D4.asp

Individual results from the Grand Prix CDIO http://results.chioaachen.de/resultpage09/DRE/D2.asp