June 26th to July 5th
Day Two Report by Kelly Bauer (Germany)
Day two of Aachen began with what was sure to be another hot day… as I left the hotel in shorts, a singlet and shirt, I began to think it would turn out to be too many items of clothing as the day progressed. I was right.

The Havens Pferdefutter Prize, Grand Prix CDI

The Dressage kicked off this morning at 9:30am with the Havens Pferdefutter Grand Prix CDI.

I was interested to see how today's competitors faired after the many rounds that were spoiled yesterday with little mistakes or miscalculations. I found Tinne Vilhelmson-Silfven warming up the 10 year old gelding Favorit outside and was very impressed with him. He was relaxed, swinging, and looking very impressive. However when he entered the Deutsche Bank Stadium, the clapping frightened him and he took off. Luckily after a few hairy seconds he was back under control and found his way into the ring still a little shaken.
In many of the CDI Grand Prix tests there was generally a lot of tension evident in the walk tours, but also silly mistakes by both horse and rider meant some disappointing tests. However there were also some very nice tests in the mix… an interesting morning of dressage!

The winners of this class were Nathalie Zu Sayn-Wittgenstein and Rigoletto. The lovely gelding by Rubenstein I x Rossi looked super relaxed, energetic and sensitive to his rider. Their test today was a delight to watch. Without mistakes, and with many highlights they scored 72.128% and take home €3200 in Prizemoney.

Nathalie Zu Sayn-Wittgenstein and Rigoletto
2nd Place went to the Dutch rider Hans Peter Minderhoud and his Oldenburg gelding Exquis Escapado. Perhaps without the error in the transition from passage to canter this pair may have had the win, however it was not to be today. Their score of 71.745% and €2000 prizemoney was well deserved.
3rd place went to the Swedish rider Tinne Vilhelmson-Silfven and the lovely chestnut gelding Favourit. They were the first pair in and Tinne had a tough job to settle Favourit before getting him into the ring, after he bolted. However this pair did a fantastic job and this is a very promising horse who may just need a little more big arena experience. They scored 69.362% and take home €1400.

Part 2 of the TESCHINKASSO Grand Prix CDIO began at 2pm on Thursday. Again, it was going to be an interesting competition following the first part of this test on Wednesday.

The first pair to compete was Anne Van Olst and Exquis Clearwater from Denmark. Sadly however, as I was watching the pair warm up, Clearwater knocked himself while trotting and was instantly lame on the front off fore. Then after some minutes he looked ok. However, the pair entered the Deutsche Bank Stadium, did a lap at walk and advised Frau Verbeek-van Rooy that they withdraw. The crowd were a little stunned, but happy to see a rider taking full responsibility for the soundness of her horse.

There were a few minutes pause before Ulla Salzgeber and Herzruf's Erbe entered the Deutsche Bank Stadium. The start of their test was very impressive, however as the test went on Herzi's lack of 'Big Stadium' Grand Prix experience and several little errors let this pair down.

Anky & Salinero also produced a less than expected result. Anky later said that Salinero was on edge. The tension evident right from the start, with a fidgeting Salinero in the halt and a break in the first extended trot, it was tough going for the pair.

Of the 16 horses in this half of the test there were several standouts among the field.

The horse to wake the crowd up was Balagur. The grey 19 year old Russian stallion grabs your attention immediately with his unusual looks, and his amazing piaffe. This horse is a piaffe machine!! In a movement which most horses struggle, Balagur looks like he would happily dance the piaffe all day long!

By far the biggest stand out was Steffen Peters and Ravel. Following their success in Las Vegas, they again produced a fantastic test that flowed beautifully from start to finish and was full of expression. Not only did the crowd like this pair, so too did the judges. Awarding the pair a unanimous 1st place with a score of 77.830% this score put them 5% ahead of second place and they received €6500 prizemoney.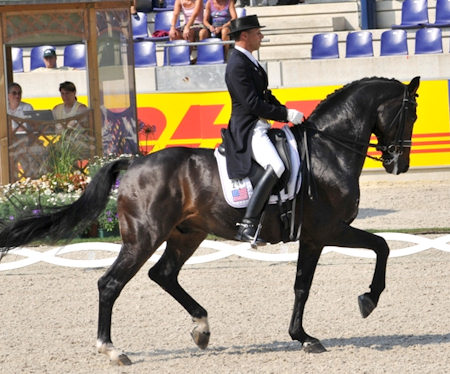 Above and Below Steffen Peters and Ravel.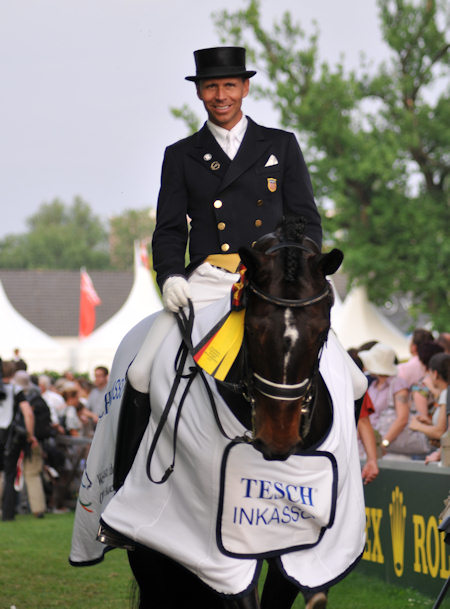 2nd went to Hans Peter Minderhoud and Exquis Nadine. The 14 year old Nadine looked completely at home in the big stadium despite this being only her second show this season. The pair had one error in the transition from passage to canter and ended up with 72.468% and €4000 prizemoney.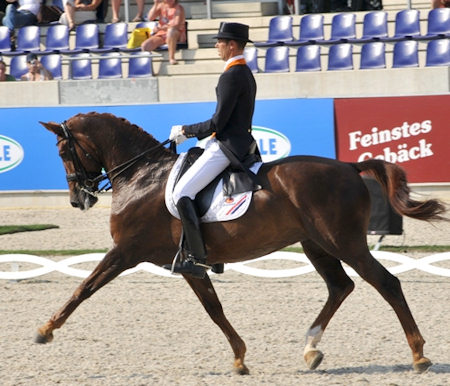 Peter Minderhoud and Exquis Nadine

3rd went to the Alexandra Korelova and Balagur (right at the Presentation Ceremony) This was an interesting test, with scores ranging from two 10's in the piaffe tours, to 5's for their walk. The crowd were very happy to see this pair awarded third place with 72.043% and they received €3000.

Balagur is a crowd favourite who has had a couple of significant career changes on the way through to his well earned respect for his piaffe. Balagur started out as a police horse before entering the circus - now, A top international GP star!!



Alexandra Korelova and Balagur

Team Results can be found at the link below.
http://results.chioaachen.de/resultpage09/DRE/D4.asp

Individual results from the Grand Prix CDIO
http://results.chioaachen.de/resultpage09/DRE/D2.asp