June 26th to July 5th
Day One Press Conference Report by Kelly Bauer (Germany)


GRAND PRIX CDIO Press Conference

Following the completion of the TESCHINKASSO Grand Prix CDIO today a press conference was held with Steffen Peters, The Netherlands Team, The German Team and the British team represented by Richard Davison (the team and Emma Hindle.

One of the most pressing issues in the sport at the moment is of course the doping case involving Isabell Werth and Whisper. When asked about his reaction to the handling of this case Sjef said" What Germany is doing to one of their best ladies in sport is terrible. The Germans are killing Isabell for a mistake the vet made. Isabell's only mistake was to trust her vet. Personally I hope that more people give Isabell the support she needs and deserves and not continue killing her.

The Dutch Team- The winners!

When asked if he was happy with the result of his team today, Sjef said half the team did well and the other half needed to do better and overall the level was not so good today. But it will be written in history that the Netherlands won! (Sjef Jansen pictured right)


Hans Peter Minderhoud was very happy with Nadine and their result. "This is only her second show for the season. She is very brave and always tries to do the best she can"

Anky said she had mixed feelings, happy that she was on the winning team, but disappointed in herself. She said she would have liked to have ridden better but Salinero was very nervous and so it was hard for them today. "I am a better trainer today than rider" joked Anky.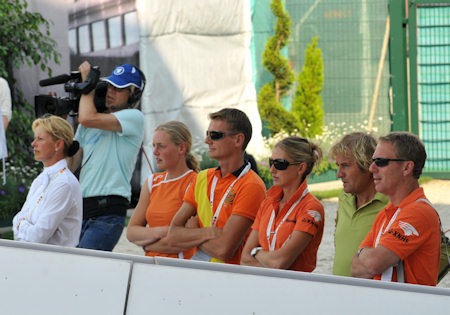 The Netherlands Team
The German's…

The Germans also had mixed emotions when it came to results. Of course as a team they were happy to be second, but small mistakes and inexperience took the lead away from them.

Ulla said that Herzi found the Deutsche Bank Stadium very daunting as this was his first time in such a big arena with such a big atmosphere. She said she thinks she could have helped him more and that there were too many little errors today. But she hopes to improve in the next test!

Alexander Matthias Rath and Heike Kemmer also both conceded that they had too many errors, but that they thought their scores were ok considering. Ellen Schulten-Baumer said it was tough to be first horse in the test today, and that she was very happy with their test but thought perhaps the scores were not so good for her today.

The German Team
The British…

The Brits were represented by Emma Hindle and Richard Davison in the press conference. Davison said that this is the 3rd Nations cup for England this year and they are constantly changing the team combinations.

Davidson said "Carl did his best performance and he has only been riding this horse for a year. Laura had a difficult ride yesterday. Bigwood and Wie Atlantico are a new combination, but he is a real quality horse that with a little more time they will improve."

Emma Hindle was very happy and also very proud of her efforts in her test. She said that Lancet was tired and going into the test she did not have a good feeling. But she is very proud that going into an international Grand Prix, in such a stadium that she was able to do such a good job. Although at the end of her test she was a little scared that she had not done well enough to give the team the score they needed to take out third place." However their 70.426% managed to put the Brits in front of the Danish team.

Peters on winning the Individual Grand Prix

The winner of the Individual Grand Prix CDIO was Steffen Peters.

Steffen said the big question everyone was asking in the US was "do you really want to go to Germany , into the mouth of the lion?" to which he responed "Lets do it"!

Peters admits there were high expectations after Las Vegas & a little more pressure to perform. But Ravel made it easy today. He was very relayed and sensitive to the aids. I didn't have to push him hard, he made me look good!"

When asked about which Kur he and Ravel will be performing here in Aachen he said the same one as in Las Vegas. However he does have plans for a new, perhaps slightly more difficult Kur for 2010.

Team Results can be found at the link below.
http://results.chioaachen.de/resultpage09/DRE/D4.asp

Individual results from the Grand Prix CDIO http://results.chioaachen.de/resultpage09/DRE/D2.asp
Kelly Bauer's Library of Stories
Aachen Day 1

Go to Kelly Bauer's Lingen 2009 Update

Go to Kelly Bauer's Weisbaden 2009 Pictorial Report