June 26th to July 5th
Day One Report by Kelly Bauer (Germany)
PRIX ST GEORGES

At 10 o'clock this morning the Dressage kicked off in Aachen with the Preis der VUV-Vereinigte Unternehmervebande Prix St Georges.

The international field of 14 competitors did a superb job to get through their tests in such a big arena, with so many spooky things to look at and people starting to enter the stadium. A few horses were a little tense but they were overall very brave and with some very experienced riders to avert diversion, they managed to sail through!

The winner of the Preis der VUV-Vereinigte Unternehmervebande Prix St Georges was Brigitte Wittig riding Blind Date ()pictured below)

Wittig and the 7 year old Hannoverian mare by Breitling W x Donnerhall produced a lovely test, full of highlights and that flowed beautifully from start to finish. They scored 73.474% and take home €1000 in prizemoney.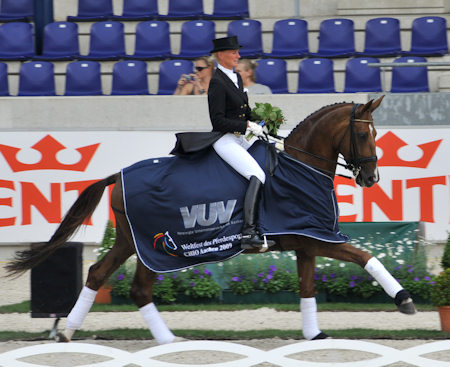 2nd went to Hans Peter Minderhoud (below) and the lovely bay stallion Florencio. This lovely horse is 10 years old and by Florestan I. Together this pair produced a score of 72.105% and take home €600.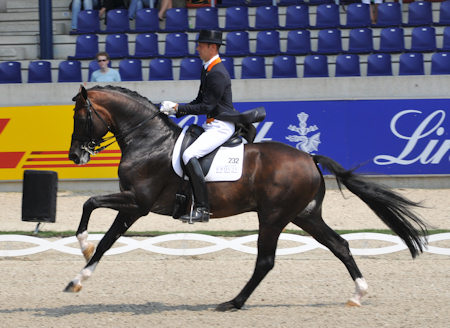 3rd was Alexander Mathias Rath and the 11 year old chestnut gelding Weltmeyer junior with a score of 71.789%

GRAND PRIX CDIO

As the day rolled on and the sun got warmer, the Preis der TeschINKASSO Grand Prix CDIO competitors started entering the warm up arenas for part one of this competition of the Nations Cup Dressage.

There were several horses that found the atmosphere a little daunting and were began their tests quite tense. Many settled and found comfort and produced decent tests, while others fought tension and made little mistakes.

Following the completion of the first part of this test, the leader is Heike Kemmer for Germany with Bonaparte (below) on 70.723%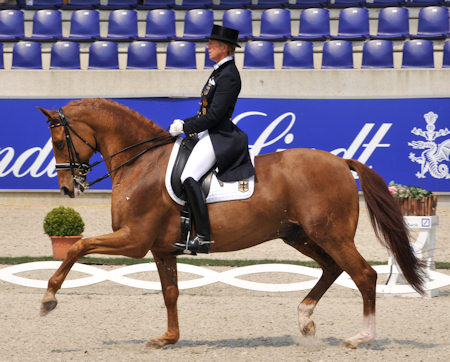 2nd at the moment is Tinne Vilhelmson-Silfven and Solos Carex representing Sweeden with a score of 69.957%

3rd place is Andreas Helgstrand with Tannenhof's Carabas representing Denmark with 69.064%

The two aussie ladies competing today Lyndal and Hayley (pictured below in the warm-up ring) did good jobs to get through their tests with some minor hiccups.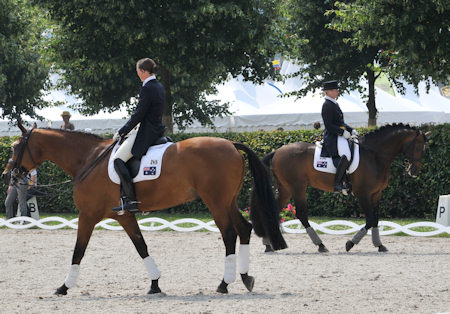 Hayley Beresford and Relampago de Retiro finished up 12th with 63.489%

Lyndal Oatley and Potifar in 14th place with 61.745%.

Sadly for Patricia Scharli her 14 year old gelding Conterno was uneven in the trot tour and were eliminated.

The second part of this test will be held tomorrow with most of the big guns entering the arena to battle it out for the title… with Salzgeber, Hindle, Max-Theurer, Van Grunsven just to name a few, things are sure to heat up in the Deutsche Banke Stadium tomorrow!

SHOW JUMPING

The Aussie jumping for Australia today was Edwina Alexander and she and Isovlas Itot du Chateau were placed 5th after a jump off in the Warsteiner Prize. They take home €3000 for their efforts!!
Kelly Bauer's Library of Stories