Comes to Australia
Story and Pictures Berni Saunders
Like so many dressage riders, I can really relate to Debbie McDonald and therefore admire her fantastic achievements on the wonderful Hanoverian mare Brentina.
September 3-13, 2009 will be a special time for all Australian horse enthusiasts particularly those with a passion for dressage. This remarkable rider, mum and mentor, will be visiting us to train in a series of Australian Clinics which are detailed at the foot of this page. She is sure to bring her knowledge of training from youngsters right to the top, preparing for the Olympics and World Equestrian Games and other top level events.
Debbie is an 'ordinary person' - just like most of us and manages to keep her riding and family life in balance. She is well respected by her peers and is a popular instructor and clinician in the USA.
Debbie's Australian clinics represent a great opportunity for riders and enthusiasts to take part and learn from Debbie. Here is some background and interesting information to introduce this special visitor.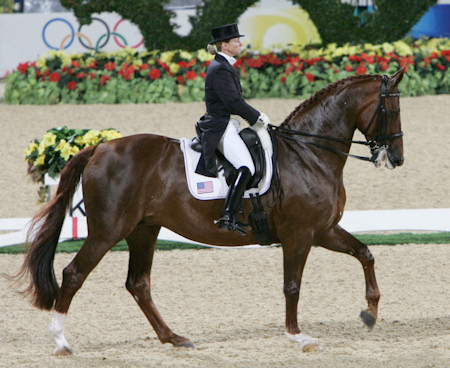 Debbie didn't grow up in a horsey family which makes her background quite different to most of the top riders and competitors. She got addicted to horses after a visit to her uncle's Kansas farm, and convinced her parents to buy her first pony for $800 under the condition that she would pay for his keep. In her pre-teen years Debbie found a gaited horse trainer in her hometown in Idaho, she worked as a groom and cleaning stalls to pay for the ponies agistment.
At age 14, a scary turn of events drove Debbie to Bob McDonald's hunter/jumper farm. One day when Debbie went to turn her pony Flanigan out, she discovered a strange man in his stall beating him. She went running for help and ran into a young trainer and her future husband, Bob. She captured his attention that day and he hired her to clean tack and groom horses. From there, she started training and selling young green horses and worked her way up.
From Jumping to Dressage
Debbie actually started in show jumping but after a serious fall in which her horse somersaulted over her breaking ribs, rupturing her spleen, and fracturing a vertebrae in her neck, Debbie had a change of heart in jumping big jumps. It was Bob, her husband who encouraged her to give dressage a try. Debbie wasn't so sure although she loved riding, the accident scared her and with a young son in the picture (Ryan) she decided to give it a try instead of giving up riding altogether.
Debbie got her big break at a show in Las Vegas when she won a catch ride on an entered horse and whose rider couldn't attend and they ended up winning every class entered.
The owners of that horse were Parry and Peggy Thomas of Idaho. They also own Brentina and Debbie trains and coaches at their farm, but they are more than just the owners of Brentina, they are her family. "If they had not come into my life, I never would have had the opportunities I've had," she said.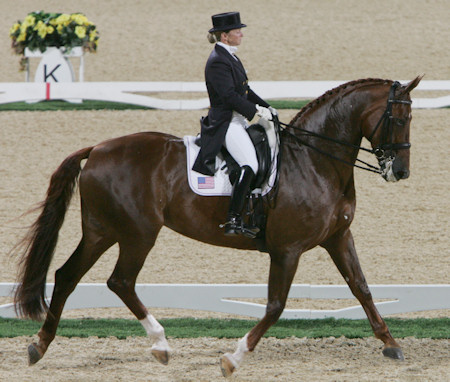 Debbie and Brentina's Career
Debbie and Bob went to an auction in Germany in 1994 looking for a promising horse; one sensitive enough to recognize and respect Debbie's small five-foot-tall frame. It was love at first ride when they found Brentina, they bought her right away, and from that point on, McDonald and Brentina have had a wonderful and successful relationship.
"From day one I can't even remember having an argument with her," she said. "She just got better and better; she always wants to work with enthusiasm."
She and the now 18-year-old mare have had a long and outstanding career together including
- Team silver and team bronze at the World Equestrian games 2006
- Brentina was named the 2005 Farnam/Platform USEF Horse of the Year.
- Third place at the 2005 World Cup
- Wins at the 2004 and 2005 U.S. Grand Prix Freestyle/Championship/U.S. League Finals
- Team bronze in Athens at the 2004 Olympics
- In 2003 the World Cup championship (first American rider to do so).
- 2003 Bayer Festival of Champions and the U.S. Equestrian Team Grand Prix Championship
- Both Individual and Team Gold medals at the 1999 Pan American Games
- Debbie was named Equestrian of the Year by the American Horse Shows Association (now the USEF) in 1999.
- Also named Female Equestrian Athlete of the Year in 1999 by the United States Olympic Committee (USOC) .
Debbie and Hanoverian mare Brentina have had an incredibly successful 14-year partnership, and are rated the most decorated US horse and rider team. Whilst there are many riders out there that have won just as many, if not more, titles and wins to their name, it's has been with a variety of horses.
BRENTINA
Brentina is by Brentano II, who was Hanoverian stallion of the year in 2003 and was second at his stallion testing. He has produced several impressive offspring, such as Barclay and Barclay II, Bone Dea II, and he is the dam-sire of Poetin. Brentina is a full-sister to the stallion Barclay II.
She is now retired from competition with the official ceremony taking place at the 2009 World Cup Finals in Las Vegas USA.
Brentina's Statistics
Foaled: 1991
Color: Chestnut
Markings: Star, sock off fore, half-stocking off hind
Sex: Mare
Breed: Hanoverian
Breeding: by Brentano II, out of Lieselotte (by Lungau)
Breeder: Wilhelm Rethorst from Badbergen, Germany
Rider: Debbie McDonald
Owners: Parry and Peggy Thomas
Brentina was sold to Peggy Thomas for 150,000 Deutsch Marks at the 1994 October Elite Auction in Verden. She was originally intended as a mount for Peggy, but as a young horse, Brentina threw Mrs. Thomas off and McDonald kept her as a ride. The mare has since had incredible success at the international level in dressage, becoming one of the most successful U.S. horses in history, mainly due to her excellent work ethic and the partnership she shares with her rider.
In 2003, Brentina underwent surgery to correct a breathing problem, caused by a paralyzed windpipe, that restricted air intake to 30% of normal capacity.
After a mild tendon strain at the 2004 CDI*** in Dortmund, Germany, McDonald and the Thomas' decided not to compete the mare in the upcoming Athens Olympics selection trials. However, due to their #1 standing in the USEF Grand Prix Rankings, and after a recommendation by Klaus Balkenhol, the U.S. Dressage Team Coach, the Committee on Selections of the United States Equestrian Federation added her to the short list for the Olympic Games.
Brentina was also named to the 2006 World Equestrian Games team. She completed the team competition, finishing with a very good score and helping the Americans to a bronze medal. However, her rider felt a few tentative steps during the extended trot, and decided not to ride in the individual competition, fearing it might be a sign of injury and another ride might lead to serious injury. After a full work-up in the States, scanning the tendon, the veterinarians found and diagnosed the injury as a strain, and treated it with A Cell. Brentina fully recovered and went on to compete in Beijing at the 2008 Olympics, unfortunately with no medals to complete the collection.
Brentina has also been made into a Breyer horse model.
CLINIC DETAILS
Victoria
Clinic Dates: Thursday 3rd September 2009 - Friday 5th September 2009
Balmoral Equestrian Centre
299-305 Harkaway rd, Narre Warren North 3804
Melways Ref: 109 G5
website: http://www.balmoral.info/
email: contact_balmoral@hotmail.com
New South Wales
Clinic Dates: Moday 7th September 2009 - Wednesday 9th September 2009
(Following directly after the NSW State Dressage Championships)
Australian Equine and Livestock Events Centre
503 Goonoo Goonoo Road, Tamworth, NSW 2340
website: http://www.aelec.com.au/
Western Australia
Clinic Dates: Monday 11th September 2009 - Wednesday 13th September 2009 Clinic Location: The Venue is still to be determined
Please check back soon for updates.
All places are limited - so book early to avoid disappointment
Follow link to download application form
For further information contact Jacqui