Jaybee Farm
Auction
6th June, 2009
Report & Pictures
by Tracy Mayhew


There was an enthusiastic crowd that showed up for the Jaybee Farm Auction held at Mt Berryman on Saturday, June 6. People were there to see some quality horses and no doubt, hoping to pick up a bargain or at least a good horse at a good price – and they weren't disappointed.
For those 'not in the know', Jaybee Farm is a 300-acre boutique warmblood breeding property based near Laidley in Queensland. Owned by John and Bev Edwards, they have been breeding successful competition horses for over 30 years.

Above - John Edwards
Left - Bev Edwards
The stud currently stands three stallions: the stunning chestnut Jaybee Alabaster (Alabaster (Ger) / Gloria (imp) whose numerous championship wins include the Grand Prix at the Pacific League Final of the World Cup in 2008.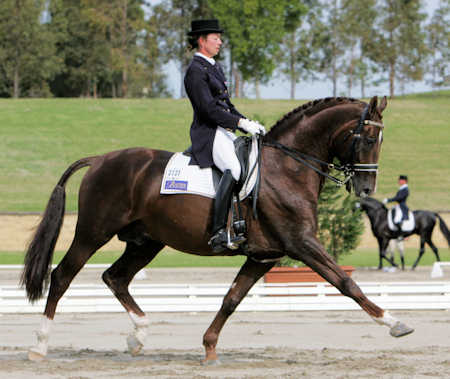 Jaybee Alabaster
Aachimedes (Aachen (imp) / Domedin) is one of the most successful sires of dressage horses in Australia and whose progeny are competing and winning up to Grand Prix.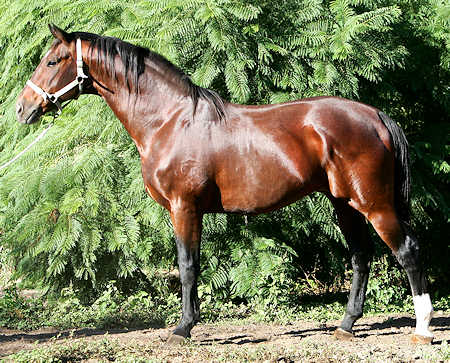 Aachimedes
And the stunning black stallion Carbine (Carbid (Ger) / St.Pr.St. Wenzel Princess), whose youngsters are now making their mark in competition arenas around Australia.
| | |
| --- | --- |
| | Carbine |
The property was a hive of activity when I arrived. The horses looked a treat and waited patiently tied-up while they were inspected by prospective purchasers. Luckily the weather was perfect to hold the auction and catching up with Bev, she said, "This is a genuine auction of quality horses as we need to make a bit of room.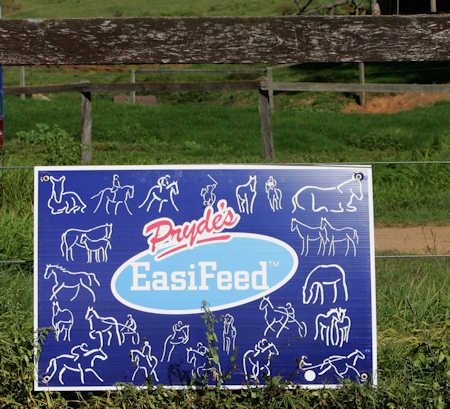 No guessing why the horses looked so good - Prydes Feeds
Bev said. "It is a great feed - for this number of horses, I need a feed that
tops up the pasture on the property and gives the mares and youngstock what
they need to grow well and reach their true potential. EasiResult is terrific
for the working horses and BioMare is the feed for broodies and youngstock."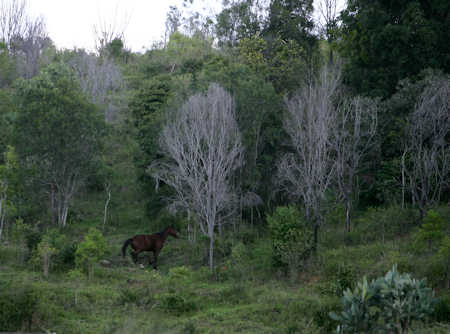 Views of the stunning mountain range which surrounds the property - pictures
taken at different times of the day. With the good wet season in 2009
the 300 acres look their best and have lush green feed. All of the youngstock
at Jaybee Farm grow up with good feed and hills to enhance their development.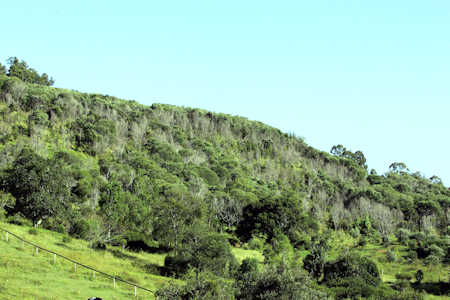 "I would particularly like to add a couple of very special thoroughbred mares to expand the percentage of Hanoverian registered stock we have, as I am running on a very special yearling colt, Jaybee Alto, by Alabaster (Ger) out of Jaybee Desiree, a half sister to Jaybee Alabaster and by Don Schufro (Ger). Desiree was Premium Hanoverian Mare for 2006 and Best Hanoverian of the 2006 Tour. She was also campaigned by Tor (van den Berge) up to Elementary and created a lot of interest wherever she went.


Above -

Desiree & her 2008 Colt


Left - Desiree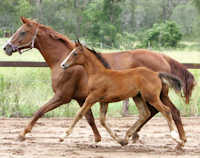 "We will put Jaybee Alto up for licensing as a 3 y.o. and would like to have some mares to put to him that year. Most of our Hanoverian registered horses are related to him as they are the family of our imported mare Gloria by Glorieux out of a Grundstein 1 elite mare." Sounds like Bev and John have yet another seriously gorgeous young stallion to keep an eye out for! Pictured right - Gloria with her stunning 2005 foal ... doesn't she 'stamp' them?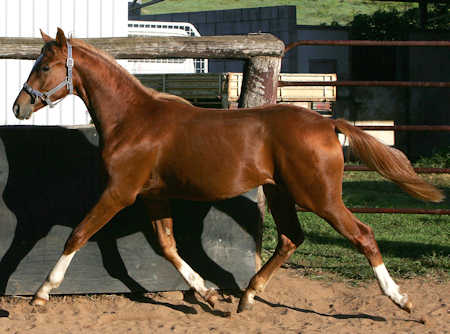 Jaybee Alto
After the parade of stock in hand and lunch catered by the local polocrosse club who sold some 40 dozen hamburgers, not to mention the cakes, drinks etc ... it was on with the show!
The Auctioneer, Bill Hallas did a great job getting the bidders fired up and getting what he could out of a somewhat recalcitrant crowd.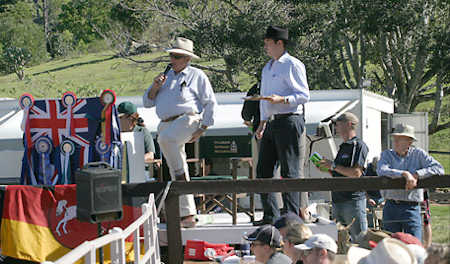 The Auctioneer, Bill Hallas.
Lot 1. JAYBEE WENDY – Sold $8700 (Above)

Wendy is a beautiful silver white mare by the immortal Weltmeyer (Ger) out of Jaybee Silver Sky, and was sold in foal to Carbine again. Wendy's first foal, Jaybee Clousseau (Carbine) is now a 4 y.o. and it just so happens that I'm the lucky owner of him. I'm absolutely thrilled with Clouseau who is going superbly with his brilliant work ethic and a temperament to die for! Yes, I did bid on her even knowing that I don't have the time or room for her, but I gave it a go. Congratulations to Christine who bought this stunning mare!


Lot 2. JAYBEE ALAPINKI (right) – passed in

Alapinki is a lovely chestnut filly out of Jaybee Wendy (Lot 1) by Jaybee Alabaster.

She has a very sweet nature and is big moving and very correct in her paces.

Lot 3. JAYBEE GIORGIO (right) – Sold $5,100

A very attractive gelding by Gymnastic Star (imp) out of a beautiful mare Silky Princess xx (Lot 22).

This young ridden horse showed a lot of balance and has a promising future ahead of him.

Lot 4. JAYBEE LOUELLA – Sold $7600

One of Jaybee Farm's most successful show horses. This lovely big broodmare won her class at Sydney Royal six years in a row and was competed to Advanced Level by Bev.

Lot 5. JAYBEE CHARISMA – passed in

Charisma, a 2 y.o. filly out of Louella (Lot 4) has her mother's sweet nature and stunning movement. She is a tall, rangy filly with very impressive movement. She is by Carbine and when she matures and starts competing, will no doubt cause a stir in the dressage arena.

Lot 6. JAYBEE CULTURED – passed in

This is a daughter of the Swedish Olympic medalist, Cardento 933, son of the immortal Capitol 1. She was presented in foal to Carbine and would make a very interesting proposition to a showjumping interest.

Lot 7. JAYBEE LOUISA - $7500

Standing only 15.2hh, she was black and beautiful. She is by Jaybee Leuwin (Bev's FEI competition stallion) and obviously has his wonderful calm temperament and free moving action.


Left & Above - Jaybee Lordly

Lot 8. JAYBEE LORDLY (above) – passed in

This is a stallion-quality weanling colt and I must apologise to John and Bev for the not so great photo of him as it doesn't show just how stunning he really is. Lordly is by Lord Sinclair out of Jaybee Colleen, another one of Jaybee Farm's successful competition mares.

Lot 9. JAYBEE JUBILEE – passed in

This chestnut mare by Jet Set D is a true all rounder who showed some lovely flat work, but is also apparently very capable over jumps too.

Lot 10. JAYBEE A'DORO – passed in

I'm sure Bev was relieved that this beautiful golden palomino was passed in as he's currently her riding horse. Bev said he has a placid, kind nature and was a perfect gentleman to take out to competitions where he achieved some very high scores.

Lot 11. JAYBEE COQUETTE – Sold $13,500

This filly by Carbine attracted some strong bidding as she has the movement, confirmation, quality and pedigree. She was sold to a successful phone bidder who will undoubtedly take her onto a successful competition career.

Lot 12. JAYBEE ADELAIDE – passed in

This is a very interesting showjumping proposition owing to her Imperial Seal (NZ) dam line. She was presented in foal to Vivant (imp), the current Australian Showjumping Champion and would've been an ideal purchase by a showjumping interest.

Lot 13. JAYBEE ADORA – Sold $4600

Adora is a AWHA Main Stud Book mare who has foaled every year since she went to stud in 1998. She has produced both jumpers and dressage horses including Jaybee Cruise, Jaybee Callista, and Jaybee Jazzbo. She was sold in foal to Carbine.

Lot 14. JAYBEE VEGAS – passed in

Vegas is a stunning bay mare by Australian Showjumping Champion, Vivant (imp). She has top shopjumpling lines which include Skyhigh (imp) and Athletico (Ger) who combines the pedigrees of the world-famous Alme Z and Calypso 11.

Lot 15. JAYBEE ARRIVERDERCI – Sold $8300

She is a big, bold chestnut mare who showed great paces and a wonderful temperament. The rider said she is quiet and forward to ride and she behaved impeccably.

Lot 16. JAYBEE ALLEZ – sold $5600

Allez is by Athletico (Ger) – the highest scoring showjumping colt of his year at the Hanoverian Stallion Performance Test. Out of a Skyhigh (imp) mare, this filly represents some of the best showjumping lines in the world and at this price, was a very astute purchase!

Lot 17. JAYBEE ABBY – Sold $7100

Abby was another bold moving mare under saddle who represents three generations of warmblood breeding including Aachimedes, Warrantor (imp) and Ludendorf (imp).

Lot 18. JAYBEE ALMAZ - $3750

This mare offered the showjumping breeder a unique opportunity to secure a beautifully bred showjumping mare. By Athletico (Ger) out of Jaybee Skippy by Skyhigh (imp) she has impeccable pedigree.

Lot 19. JAYBEE ALICIA – Sold $6000

Alicia is a home-bred daughter to Jaybee Louella (Lot 4) and Alicia herself has breed some very beautiful and athletic foals, including licensed AWHA Stallion, Jaybee Leuwis.

Lot 20. JAYBEE LOCKYER – Sold $4100

Lockyer is a very attractive black gelding with flashes of chrome. He is by Alicia (Lot 19) and a full brother to Jaybee Leuwis.

Lot 21. JAYBEE ALTIMATE – Sold $5300

By Jaybee Alabaster, he is a half brother to one star eventer Jaybee Carobus. Showing his movement in the arena, his future looks very bright indeed in either dressage or eventing.

Lot 22. SILKY PRINCESS xx – Sold $3200

This is a dual classified mare by Hanoverian/thoroughbred sire, Silky Baby. She had two babies in the auction, Lots 3 (Giorgio) and 23 (Angelica), so the proof of the quality foals she drops could be seen.

Lot 23. JAYBEE ANGELICA – Sold $4500

This is a very attractive bay filly by Aachimedes. She showed very athletic movement and was bought by a Queensland FEI rider. It will be very exciting to see her out and about in a few years time.

Lot 24. JAYBEE CRACKER – Sold $4400

This super chestnut gelding by Carbine is a half brother to Jaybee Aquarius, currently competing in dressage with a young rider. He was bought by a very excited Vivienne Tonscheck, who plans to event him.

Lot 25. JAYBEE ASTON – Sold $2500

A really international showjumping pedigree including Athletico (Ger) and Skyhigh (imp) makes this smaller gelding very interesting to an ambitious teenager or small lady rider.

Lot 26. JAYBEE CASANOVA – Sold $3700

Another foal out of Almaz this time by Carbine, Casanova is a stocky fellow with good bone and showed some ground-covering movement.

Lot 27. JAYBEE ALIDOR

This lovely big filly is by Alabaster out of Jaybee Harlow, who goes back to Chico D'oro. She is a half sister to showjumping stallion Jaybee Amigo and B Grade showjumper, Jaybee Camelot.

Lot 28. PERSIAN ANNE xx – Sold $1000

This grey thoroughbred mare was an outside lot and was presented in foal to Aachimedes.

Lot 29. JAYBEE AGLOW – Sold $2900

This smaller horse would make a potential future pony dressage star as she has "the movement maker" Aachimedes in her pedigree. At this price, no doubt there's somebody's happy daughter out there!
Even though the prices didn't skyrocket, which wasn't expected owing to the dismal economic climate at the moment, John and Bev were very pleased with the auction results and Bev was probably even more pleased to get to keep her beloved riding horse, A'Doro!
Jaybee also sold a service to Carbine to successful bidders Sandy and Ron Patterson, who are great admirers of Carbine. The service fee, which realized $1400 was very kindly donated to the polocrosse club by John and Bev.
Catching up with Bev a few days after the auction she said, "We sold 25% of the herd which gives us room to do what we want to do. Those young riders who bought the cheaper horses are fit and athletic young people, who could probably never have afforded such well bred competition horses unless they were prepared to develop them themselves, and I can see these horses in the hands of these riders adding to our reputation in the future."
Congratulations to the happy purchasers, John, Bev and all the hard-working team at Jaybee Farm. A special mention should go to the riders to presented the horses so well – well done Robyn and Pip and the rest of the team, you all did a fantastic job!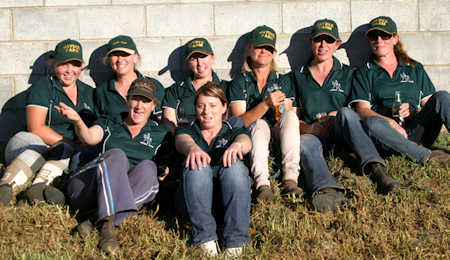 The Jaybee Riders and Grooms for the Sale.

Sale Preview - The Why go to Germany Sale

Sale Preview- Jaybee 10 Years at DWTS