Melbourne 3DE is a highlight on the Australian Eventing calendar for all horse enthusiasts - in particular the spectators and competitors who set aside the Queen's Birthday Weekend each year to take in the joys of this especially well run and picturesque competition at Werribee Park in Victoria.

The event carries greater importance every second year when it comes under the Australian Eventing Selector's watchful gaze as they seek to name a team for either the Olympic Games or the World Equestrian Games. For this reason, the Melbourne 3DE attracts the best combinations from Australia, NZ and Asian countries.
The event is designed to challenge the horse and rider combinations at One Star, Two Star and international, Three Star level as well as a Junior One Star competition. The demands of all three phases are not experienced in regional horse trials, so become the true test of the best horses and riders ... along with the best training and preparation practises.
Although the dressage and showjumping phases are much the same at each event, the endurance or cross country phase has additional fences, over a longer and more demanding course. The good health and fitness of the horse is vital and diet is a key considerations in the preparation for success at an event of this importance.
Tania Harding and her homebred Warmblood cross gelding, Jirrima Variety Show (Festy to his friends) share some insights about their preparation which resulted in a fantastic 5th placing in the IRT CCI 1* event. There were 68 horses listed in the program to take part in the One Star class - so 5th placing represents a truly commendable achievement for both horse and rider.
This is Tania and Festy's second attempt at a 3DE and Tania was able to draw from the experience of the previous year's attempt and made some changes to their preparation stategies.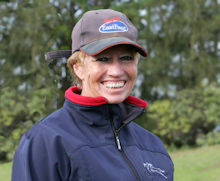 Tania and her proud mum Kay (pictured wearing her Pryde's cap as she watched Tania on CC day) breed Arabian horses and Arabian crosses at their Jirrima Performance Horse Stud at Walla Walla via Albury. Both Kay and Tania ride and they have a special soft spot for their wonderful chestnut stallion 'Arundel House Zermat'. This proven "all rounder" has successfully competed up to Advanced level dressage, he is graded Novice Eventing, Zermat has been a 'back to back' Australian Champion in Dressage, Sidesaddle, and a Top Five placegetter under Saddle at Arabian Championship shows. He has his AHSA Supreme Roll of Merit and is also a Multi Supreme Champion Halter and Saddle horse. A highlight in this illustrious career came in October 2000 when he was part of the Australian Paralympic Dressage Team at the Paralympic Games which followed the Sydney Olympics. He partnered Judy Hogan from Western Australia.
Zermat is just over 15.2 hands high and Kay said, "Festy towers over most other horses on the stud, but never throws his weight around - he is always respectful ... particularly of Zermat!"
Jirrima Variety Show is a very tall gelding standing an imposing 17.2hh - it would seem likely that he would have some physical advantages over the higher jumps on cross country day and in the final showjumping round. However, it was fitness and stamina that Tania gave the most consideration, as she planned for her Queens Birthday weekend appearance.
Apart from the road work, dressage and show jumping training sessions, Tania felt that she needed some wide open spaces - preferably with hills - in order to produce the perfect athlete with the soundness needed to finish three days of gruelling competition. She was very grateful to have been given access to a neighbour's property (10km up the road) where she could take advantage of the sloping hillside gallops to really build up good wind to give her horse the aerobic fitness necessary to complete the taxing Ewan Kellet designed track through the Werribee Park Mansion grounds. At home, she only has flat country to work on and so it is not so easy to clock up the kilometres and to get the horse's heart and lungs working at the capacity that builds the required level of fitness. By incorporating this hillwork, Tania was able to able to build strength in a way that minimised the wear and tear on his legs.
After the presentation ceremony I spoke to Tania and she said, "I did a lot of things differently this year and I am thrilled to see that carefully planning has produced a very fit, strong and competitive horse - we have it all ahead of us now!"
Tania went on to say, "Good feeding is a must in this sport and I had to consider the extra kilojoules that would be needed for the intensity of the endurance componant of this competition. I preferred to go with a 'slow release' energy feed, as a 'hot' horse is unable to concentrate will blow all chances on day one in the dressage phase! Festy was placed 11th after his dressage, one place ahead of Australian Olympian, Megan Jones on Westbury Park Irish Grove. Tania said "I would have liked to be in the top 6 after day 1, but I knew that we were well within reach if I stuck to my training plan. I was confident that Festy was up to the job."
Tania and Kay work closely with Prydes Feeds and took up the recommendations that came from the on-line custom diet facilty (see below). Festy needed an increased energy and nutrient content which delivers 'cool' energy to ensure that he remained in peak form over the three days of competition ... and I had to be sure that that his diet was nutritionally balanced and sistainable over the many months leading up to the competition.
The base of the diet that Tania fed her horse was Pryde's EasiRide, a balanced compressed pelleted feed ... with the bulk provided from the addition of lucerne and oaten hay. She explained, "With the increased work demanded in the couple of months leading up to the Melbourne 3DE, we added a sweet feed to Festy's diet - Pryde's EasiResult which he found delicious and this encouraged him to eat up and take in the extra kilojoules needed for the hillwork and long kilometers that he was doing regularly. With this special mix he was "firing on all cylinders" but still very obedient to ride. Not only was he energised for his work but seemed to recover from intensive sessions very quickly and remained happy and relaxed in this tough and demanding training regime - it has been a pleasure to work with him and every day was fun. I often ask myself ... is it the good feed or is it the good horse - I guess it is a combination of both!"
"I can honestly say that without the support of Pryde's and their fantastic feed products, we would not have had such a successful campaign this year. Jirrima Variety Show's dressage was the best he has done! After the cross country round, he came back to the stables very alert and fresh, one would think he had not been out on course!
There was not a blot his copy book ... a clear round showjumping on the final day saw him finish on his dressage score and 5th placing overall ... from a very high quality field, I am over the moon." Tania enthused.

Thanks to Prydes feeds, Jirrima Variety Show looked a picture of health at the final presentation ceremony and Tania looks forward to moving up the grades to take part in the Three Star class sometime in the future.
Tania concluded, "I would like to thank my wonderful horse, my mum Kay, Prydes Feeds and our many fans ... without a great support team, success is not possible and not nearly so much fun. oh yes, thankyou to Cyberhorse for telling our story.