Saddleworld Geelong is the proud Sponsor of Mary Hanna & Gitte Donvig from Statene Park on the Bellarine Peninula.

Store principal Philip Porter is also forging a partnership with Mary in the design and launch of the exciting new EVOLUTION Dressage Saddle.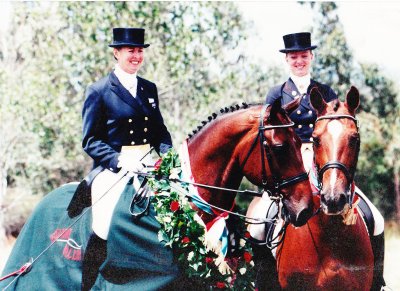 Mary and Gitte riding together at Hidden Valley.
Philip Porter is the owner of Saddleworld Geelong and he told Cyberhorse, "My background as a Saddler started back some 15 years ago where I learnt my trade from two of the best saddlers in the country ... Paul Buckland and Peter Horobin."

"Further to this I have enhanced my knowledge of Saddlery, working for 3 years with a Barnsby trained saddler and then spending further time with the HRH, Head Master Saddler to the Household Cavalry. I have been extremely fortunate in the experiences I gained working along side these great tradesman, it entailed building saddles for leading International riders, along with the saddles for the Pentathlon at the Sydney Olympics (2000) including a tailor made saddle for one of our Australian disabled riders. I have also made a number of saddles for the Garryowen competitors which required craftsmanship to the most exacting standards. I have also made countless made to measure saddles for customers who had special requirements for themselves or their horses. I understand well that to be a good rider you must have a comfortable and happy horse and a correctly styled and fitting saddle is a key factor to the success of astute competitors."

"Saddlery and horses are a significant and special part of my life. I have been riding, competing and along with my family breeding horses for as long as I can remember. This knowledge has also given me a deeper understanding of the riders needs. The study of confirmation, Types and movement of horses is fundamental in delivering a customized saddle."

" I am extremely exited about the new model saddle I have been designing with Mary. The "EVOLUTION" has a new state of the art tree combining synthetic with gel inserts in the seat supplying the ultimate position flexibility and ante concussions for both horse and rider. The new EVOLUTION is fully adjustable combining the finest leather and designee giving a riding experience second to none. I hope to be able to provide some more information and photos soon." Philip added.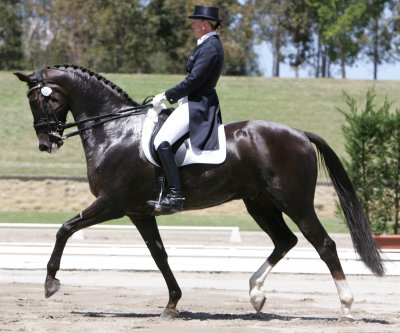 Mary Hanna on her talented Jazz gelding Tango V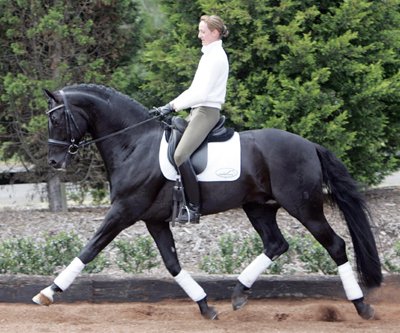 Gitte Donvig on the stallion Shiraz Black. He was the 2008 and 2009
Champion of Champions at Dressage & Jumping With the Stars.