Day 2 of the Dressage at Munich looked doomed for some nasty weather. The day dawned with rain, clouds, wind and although it was a mostly dry day, some of the competitors for the Grand Prix Special and the Masters event got drowned!
The Grand Prix Special was underway at 11am.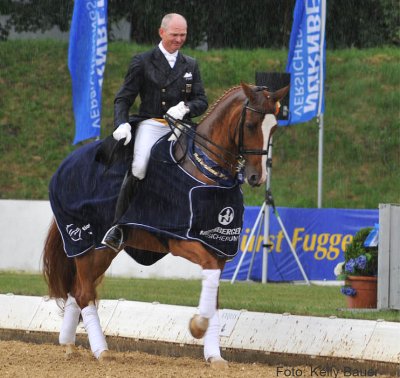 Hubertus Schmidt and Donnelly (above and below) 3 shone today. Producing a lovely test with only a tiny hiccup in the changes into and out of the canter zigzag. The test was lovely and the pair took the lead together with 71.625% ... although they did get very wet in their prize giving!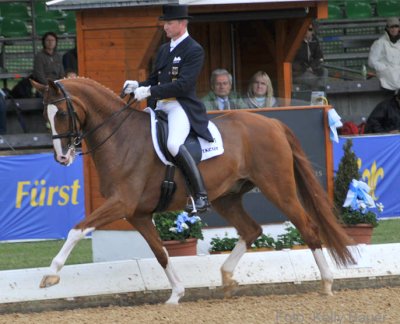 2nd place went to Susanne Lebek (below) , improving both her score and placing from the Grand Prix yesterday. Together Susanne & Potomac 4 produced a good test worthy of their 70%.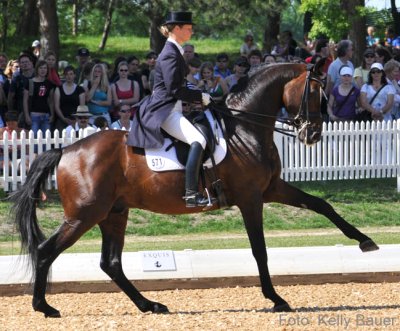 3rd place with a score of 69.375 % went to Victoria Max-Theurer and Falcao 12 (below). Producing another good test, they also improved their scores and placing from yesterdays Grand Prix.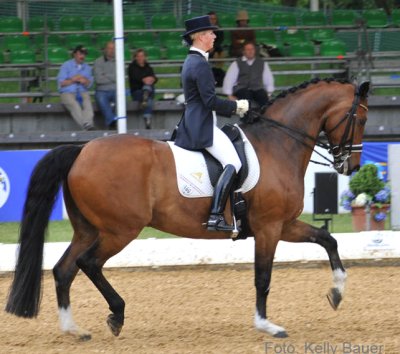 4th place with 68.125% went to Catherine Haddad and Maximus JSS (below). This is an amazingly powerful horse with great impulsion and expression.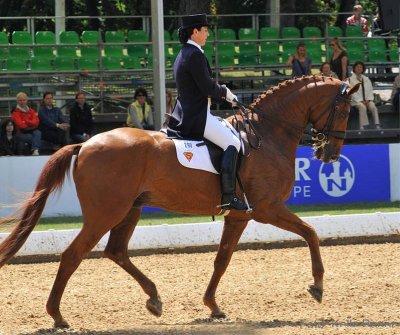 5th place with 66.958% went to Hendrik Lochthowe and Rubin Royal 3 (below). This lovely stallion by Rhodiamant is a pleasure to watch.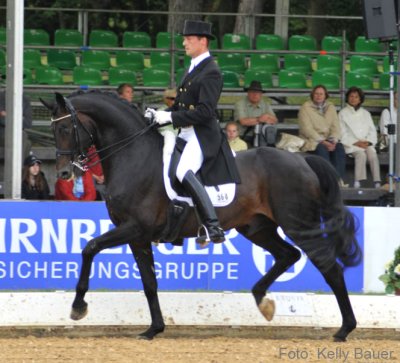 The winner of the Grand Prix yesterday, Ulla Salzgeber and Wakana (below) had a little confusion in the passage with the mare wanting to make canter a little glitch in the one tempis. Sadly this was enough to see this lovely pair slip back to equal 7th with 65.883% today.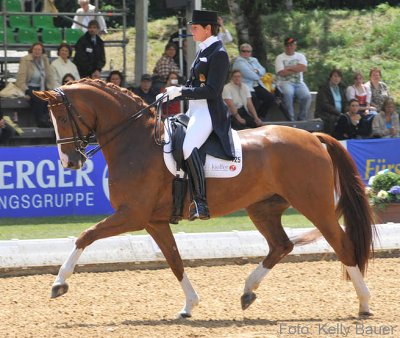 The Exquis World Dressage Masters Series
Today was the first event of this series here in Munich. This is a new concept in dressage with a series of four "Masters" competitions to be held at shows in Palm Beach, Munich, Cannes and Hickstead.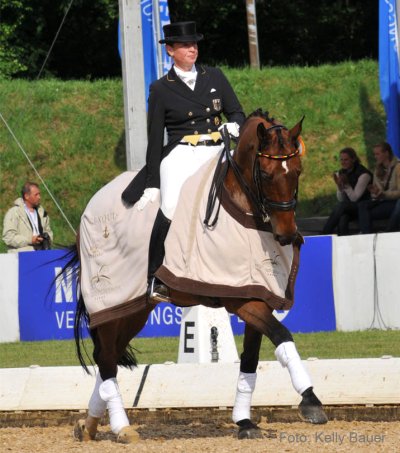 The winner today and in a league of their own was Isabell Werth and Satchmo (above and below) It was very clear that they deserved to be victorious. Producing a fault free test with a score of 77.915%, they were a safe 5% ahead of second place.