ACE is ACE
Story and Pictures by Berni Saunders
I was recently in Queensland and made a point of finding the time to meet the imported black stallion Lauries As - he is better known to his friends as Ace ... and getting to know him was an "ace" experience for me!

What a gorgeous, soft and cuddly boy he is ... you can see by the expression in his big brown eyes, that he is a people loving horse with a temperament to "die for"!

I caught up with "Ace" at the beautiful Que Sera Stud in Biddaddaba, an area in the Gold Coast hinterland that is home to many of Queensland's performance horse breeders. Que Sera is situated on quite large acreage and the entire spread is protected from the weather by rolling hills at the front and back of the property - it is a stunning setting with great potential to become a showpiece for Australian and International visitors. Tor and Mel Van Den Berge are the Stud Managers and Tor said, "We love it here and are very proud of the progress we have made with this start up venture. The paddocks, yards, fencing and other facilities are coming along well and there are lots more plans on the horizon. The owners Jim and Kay are great to work with and have ambitions to make the stud a state of the art equestrian centre!"

There are two main stable blocks at Que Sera - one houses Lauries As' mate Fishemans Friend and he has a room with a million dollar view!

The new boy at Grand Prix watched as Lauries As worked. He seemed to be checking out 'the opposition' he will face this stud season! Fish (pictured right) seemed to be taking it all in and stood so very calm and relaxed as the riders and horses came and went down the path to the arena.

Lauries As really impressed me with his lovely nature and gentleness, he was so nice about being saddled for his work session with Tor. On this occasion he had myself, his owner Cheryl O'Brien from Remi Stud, Mel and another interested onlooker all in his box doing something ... he loved the attention! I was almost expecting to hear him purr. There was no sign of the usual stallion nippiness - he was delightfully well mannered.

Tor hopped on and rode down to the arena. What a lovely sight, not only is this horse beautiful, he can move and shows a decided liking for the work. It struck me that so many people who breed to OS stallions miss the opportunity to see them in their home environment or at competitions. Temperament and a lovely disposition are highly heritable traits and everyone wants their foal to be kind and obliging.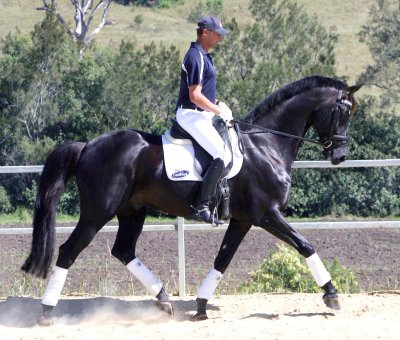 Above and Below Tor and Ace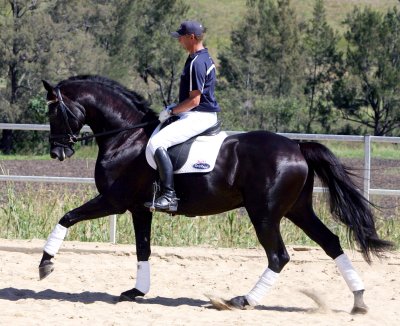 I asked Cheryl O'Brien (right) to tell me more about Ace and she said, "He is by the very well respected Hanoverian sire Lauries Crusader and his dam - Pik Lady - was awarded a 1i Premium at the Ratje Niebuhr Show in 1994. She has also produced two other successful dressage horses, Rubina S and Rubin S (both by Rohdiamant). Not only does "Ace" have 3 sensational paces, but he scored a perfect 10 for his temperament at his performance test ... you can see why, can't you Berni?"

Cheryl went on to explain, "Lauries Ace was awarded Premium Stallion status at his Hanoverian Licensing in 2004 and he won 6 Elementary Level Dressage competitions in Germany. He also qualified for the 5 YO Bundeschampionate (Young Horse Championships) in 2007. He brings his superb modern bloodlines and the very highly regarded Lauries Crusader dynasty to Australian breeders - it will be exciting to see the impact this will have, upgrading the Australian Hanoverian and performance horse gene pool."

Tor has been riding Ace for a few months and already it is clear that they have a lovely relationship.

The young stallion performed a couple of 'no fuss' changes, lengthened his strides in both trot and canter and showed me that he is certainly one to watch for the future.

I asked Tor to tell me about Ace's Prydes diet, he said. "Based on the recommendations that came through when we filled in the interactive diet sheet, Ace gets a combination of EasiResult and EasiResponse. I find that the EasiResponse delivers energy over the entire work session ... both Ace and Fish do really well on this diet and have the same energy and bounce at the end of their work as they had when we start out - this is really important on competition day! After the preparation and travelling to an event, I don't have to think about the warm-up or worry that the horse might become flat ... this is not an issue ...now that they are on EasiResponse, it is great."

"I would also like to thank Lyn Gilbert from The Riders' Shoppe for introducing me to the fantastic German Sommer saddle. You can see how well it fits Ace ... this is 'my edge', I feel totally in synch with the two stallions in this saddle" Tor enthused.

Mel and Tor were very excited to announce that they will be parents before the end of the year. Mel said, "It is not showing yet (patting her tummy) and I am sure that motherhood will slow down my riding ambitions for a while. I am still riding at the moment and after the baby is born I will be back in the saddle as soon as possible - I am sure I will miss it to much to stay away for long. We are very excited about the baby and cannot wait to be parents."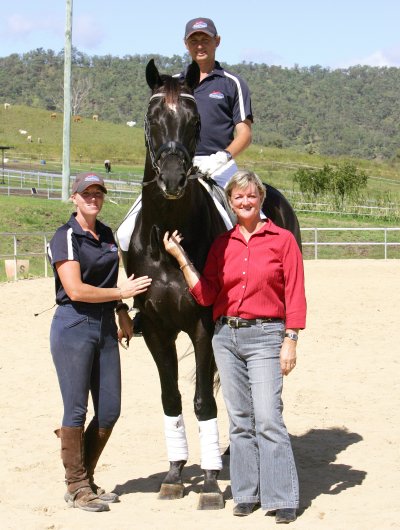 Mel Van Den Berge and Cheryl O'Brien stand up
next to Lauries As (Ace) and Tor Van Den Berge after
the training session in April 2009.
For stud enquiries or a current sales list ... you can phone Cheryl on (07) 5465 1960 or 0409 653 384 or contact her by e-mail