Fishermans Friend steps out at Grand Prix
at NAGS, Nambour 19th April 2009
Report by Berni Saunders
No one would dispute that Australian dressage enthusiasts are seeing unprecedented progress in the sport ... and real prospects of our top combinations challenging for a place on international podiums along side the best in the world.

It was only a few short years ago when we were markedly behind the winners at international level. Now, the globalisation of the sport along with the commitment of many breeders and riders to purchase the best horses and bloodlines - particularly stallions, has given us exciting competition horses and helped to significantly upgrade the gene pool which has improved home bred horses to take Australian dressage forward and 'raise the bar'.

Congratulations are in order to Queensland's Remi Stud on the recent Grand Prix debut for their stunning stallion Fishermans Friend, ridden by Tor ven den Berg who is based with wife Mel at Que Sera Stud at Biddaddaba. Fish performed his first Grand Prix test at picturesque Nambour showgrounds at the Northcoast Active-riders Group Inc (NAGS) competition held on the 19th April, 2009 ... and scored a very commendable 62%.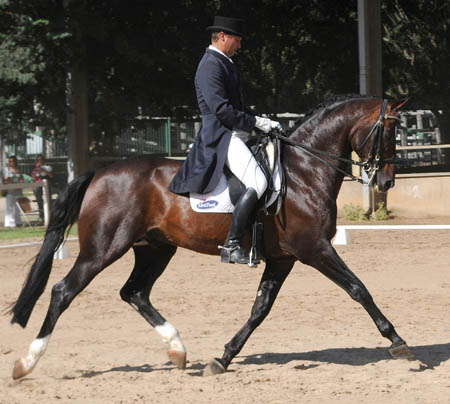 Fishermans Friend & Tor Ven den Berg - elastic and free in the extended trot
I spoke to the owner of Fishermans Friend, Cheryl O'Brien from Remi Stud at Laidley in Queensland and she said, "We could not be more pleased. Fish is only 11 years old and has been with Tor for 2 years. At that time he was competing at Medium level and Fish's progress to the top says much about his trainable temperament and athletic ability. He finds most of the work well within his scope and we have time on our side to see him truly competitive in the top events in the near future - it is all good!"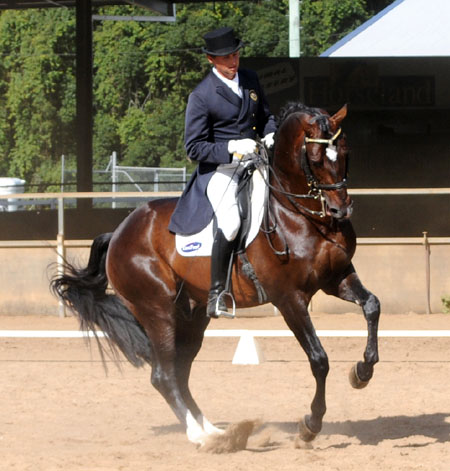 Lightness and self carriage in the Canter Pirouette.
Cheryl added, "There was something very special about this stallion right from the start. I am very pleased that he is not only progressing with his own dressage career but he has put some sensational youngsters on the ground - this is the real test for a stallion. I am very pleased that more and more Australian breeders are realising the importance of seeing a stallion out competing - before they make a decision to send their mare to stud. A large number of breeders are riders, looking to bred a special horse to go on with. In this case, temperament is very important and can be the factor which makes the exercise a success or failure for them. When considering the purchase of Fishermans Friend and also our recent import, Lauries As, temperament was on the top of my wish list."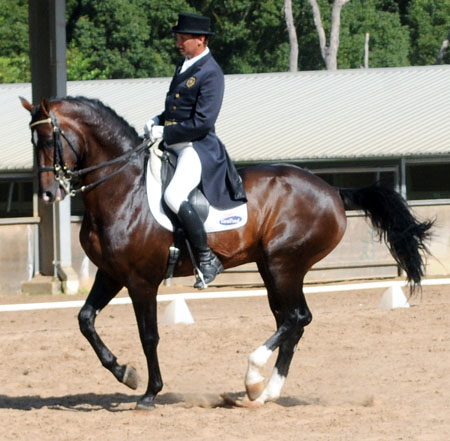 Energetic "sitting" steps in the piaffe
"I am very proud of Tor and Fish they make a great combination and it is very satisfying to see them make it to top level dressage - and in such a short time! It is great to have Fish being trained in Queensland, not too far from the stud. He is very happy and seems to love his box with a view right out over the arena and paddocks at Que Sera." Picture right Fish in his hillside stable.
"We have some more competitions scheduled for the Queensland winter season and will be taking part at the Sydney CDI very on the second weekend in May. Fish will be representing the Hanoverian breed in Australia and people can find out more at the Hanoverian Horse Society's stand. The Society is sponsoring the Young Dressage Horse classes and German Hanoverian rider Joern Kubelke is the guest judge. We are finding that more and more Australian riders are realising that the depth of breeding and success at the highest levels of dressage and showjumping have made Hanoverian horses a sound choice for riders looking for the best." Cheryl said.

Tor told me that he had to give full credit to this wonderful stallion, "He is great, I am so lucky to have the ride on him. I ride in a Sommer Saddle and I could not do it without the secure feel and precise influence that it gives. It fits the horse perfectly and allows his shoulder to move freely.

I also should mention the diet of my horses - Both Fishermans Friend and Lauries As are fed Prydes EasiResult and EasiPerformance. EasiPerformance is a great competition feed as it provides slow release energy - the horse is the same after 45 minutes of quite hard work as he is at the beginning of a session. This is important! With many energy feeds, the horse gets a quick hit and this can make them difficult til they let down ... and then you run he risk that they fade and you have nothing left to work with. I stick with Prydes feeds as I know I can count on it." Tor concluded.
You can phone Cheryl O'Brien on (07) 5465 1960 or 0409 653 384
or contact her by e-mail if you want to know more about
Fishermans Friend.