EQUITANA Asia Pacific 2008
EQUITANA - ALL STAR CLINIC
Guy McLean talks to Richard Weis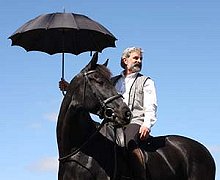 What do they have in common and where do they differ. The All Star Clinic is a unique gathering of experts in 7 disciplines - all coming together, under the same umbrella to share ideas.
Each discipline involves it's own unique and particular ways of doing things in order to achieve its specific goals from the ascetic of dressage to the practical skills of chasing a ball, a beast or leaving the rails up after jumping them!In this clinic veteran presenter, Richard Weis, will use the best horses and riders available in each discipline in order to uncover and demystify the essential elements ... from selecting the horse and gear. The demands of modern equestrian sport means that most disciplines rely on purpose bred horses and expecially designed and manufactured equipment. Richard will also explore the specific training and riding techniques which make each aspect of each discipline quite unique.
Richard Weis, the All Star Clinician reported in on the plans for this very special part of Equitana 2008 and said, "I just had a great talk to Guy McLean about his involvement in the All Star Clinic. These Ozzies are a humble lot. He is very excited to be part of such an All Star event. Hasn't anybody told him he is one of the best horsemen around? I don't know anybody who gets better cooperation form a horse; you have too, to get out in huge crowds and huge atmosphere with out a saddle and bridle. Is it just my memory playing tricks or did I see him standing up on the horse he started in the Way of the Horse Competition cracking a stockwhip. The horse was standing on a blue tarp itself trying to believe an hour or so earlier it was wild. Needless to say he won that title."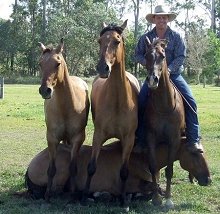 Richard added, "Guy has a very fresh take on training. He reckons the reason he rides is 'he wants to feel better than he can on his own legs, stronger, faster, and braver more powerful more manoeuvrable. The horse he'll ride in the All Star Clinic Quietway Spinabbey gives him that feeling plus. Guy hasn't found a movement from any discipline they can't do together without a saddle and bridle. My mind completely boggles. I can't wait to see the look on Andreas Helgstrands face when our Ozzie bush poet mate pulls off a line of tempi changes and a few canter pirouettes. I suggested we pop Andreas for a feel of Spinabbey bridle-less and saddle-less but Guy didn't think that was such a good idea!"
"Guy tells me he wants to be able to do everything from every different discipline. When he sees a movement, he wants to teach to the horse so that he works out which foot needs to be controlled in order to achieve that movement. I'm hoping he'll show us just how to be able to control that foot in such a very precise way, I'm sure he'd love to; he's constantly looking for ways to make it better for the horse, mostly by educating the owners/trainers."
"I met Guy at the first Equitana in Melbourne in 1999 when he had his famous stallion Nugget. The horse was lying down - as cool as can be - in a frantically busy warm up arena. I thought that Nugget's submissive confidence was truly amazing until I started to learn what Guy has been able to achieve with a string of horses since - it is nothing short of miraculous!"
"To me, Guy McLean is an Australian national treasure and I am very proud to think that he will be part of the All Star Clinic and we can showcase his talents to a wider audience of Australian fans and through this clinic, the rest of the world."
Richard summarised by saying, "We are in for some lively entertainment and fantastic insights from this diverse group of experts who have established themselves as the leaders in their chosen field."
there are only few seats left so book ASAP
for the Equitana All Star Clinic on
Sunday 23rd November 2008 at 1.30pm
A rare opportunity NOT to be missed.