EQUITANA Asia Pacific 2008
Dressage Program
See Australia's Best Dressage Horses in Action
Story and Pictures Berni Saunders
The judging panel consists of:
Uwe Spenlen (Germany), Alison King (Hong Kong), Helen Hughes-Keen (New Zealand), Mary Seefried (Australia) and Susie Hoevenaars (Australia) will officiate what is hailed to be, the most exciting Dressage competition conducted in Australia. The huge crowd at Equitana allows the sport to be introduced to a wider audience and everyone who steps in to watch our best international representative and the up and coming future Olympians, will marvel at the quality of the horses, talent of the riders and sheer majesty of their indoor performances.
Sicca van Schaardenburg from Equitana said, "The new Royal Melbourne Showgrounds venue has been a real hit with the competitors as it gives them room to warm up and care for their horses without having to worry about confined spaces and limited access to the warmup arenas and other facilities. All of the people involved with the organisation of this event are delighted with the response for the important participants - the horse people and we know that the spectators will love it too!"
The competition is an all important qualifier for the World Cup Dressage final which will be held in Europe next year. The three international visiting judges have all been to Australia before and clearly have a soft sport for us and our riders.

Uwe Spenlen



Alison King




Helen Hughes-Keen




Mary Seefried


Dressage
Judging
Panel.



Susie Hoevenaars
The dressage program is as follows
Wednesday 19/11 – at a time to be confirmed – arena familiarisation
Thursday 20/11 at 4pm – The Riders' Shoppe Inter I Freestyle
Thursday 20/11 at 5:30pm – Trot up for the IRT & IRT Insurance CDI-W
Friday 21/11 from 6:30 am to 8:30 am – arena familiarisation
Friday 21/11 at 3:00pm – IRT & IRT Insurance Grand Prix
Saturday 22/11 at 7:00 am – Music practice
Saturday 22/11 at 7:30 pm – IRT & IRT Insurance Grand Prix Freestyle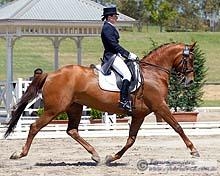 Lyn Gilbert from The Riders' Shoppe (below right, holding a Sommer Saddle) told me that she was delighted to be part of Equitana and even more pleased to be part of the Dressage competition. She said, "I wanted to support the Intermediate 1 class as my daughter Hayley Gilbert is taking part on her imported mare Odiana K." (by Jazz and pictured right).
Lyn added, "I recognise the importance of the Equitana competition as it will be a huge atmosphere and a very special event for everyone. We know that there will be lots of spectators and I am sure that this gets close to the feel of the bigger International events.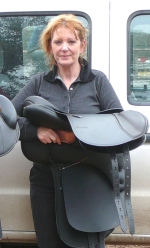 "I am very excited to be able to showcase Australian riders and their wonderful horses to Philipp and Renee Sommer (from Sommer Saddles) who will be here to help us on The Riders' Shoppe stand. Visitors to Equitana will be able to meet part of the family behind the famous saddle making company in Germany.
Renee's family established Sommer Saddles 1965 and today, the manufacturing processes employed in their Germany factory harks back to the traditional craftsmanship that has been handed down through the family's long and respected involvement in manufacture of top quality leather goods. Renee & Philipp will be able to answer your questions & provide information on the beautiful Sommer Saddles at Equitana stand 97. We are looking forward to introducing them to Australian enthusiasts, we are certain that our guests will be impressed with the development of the sport in Australia and just how knowledgeable our riders are."
The Riders' Shoppe Intermediate I entries are:
| | | | |
| --- | --- | --- | --- |
| 1 | Caroline | Coleby | William II |
| 2 | Caroline | Wagner | W S Nevada |
| 3 | Hayley | Gilbert | Odiana K |
| 4 | Samantha | Bartlett | Gershwin E |
| 5 | Rozzie | Ryan | Jive Magic |
| 6 | Shanon | McKimmie | Don Shiraz |
| 7 | Brett | Parbery | Welthill |
Sorry no pic of
Don Shiraz

The IRT CDI-W - The following horses and riders have been accepted:
| | | | | |
| --- | --- | --- | --- | --- |
| 1 | Pauline | Carnovale | Clifton Court Luccini | |
| 2 | Charlotte | Pedersen | Come to Me | |
| 3 | Rozzie | Ryan | DP Christopher | |
| 4 | Sue | Hearn | Duntroon | |
| 5 | Rachael | Sanna | Jaybee Alabaster | |
| 6 | Kerry | Mack | Mayfield Pzazz | |
| 7 | Nadia | Coghlan | Northern Campion | |
| 8 | Blas | Lago | Northern Hector | |
| 9 | Kate | Taylor-Wheat | Oscar B | |
| 10 | Heath | Ryan | Regardez Moi | |
| 11 | Mary | Hanna | Tango V | |
| 12 | Lesley-Anne | Taylor | Weltklasse | |
| 13 | Denise | Rogan | APH Romarn | 1st reserve |
| 14 | Warwick | McLean | Chiaretto | 2nd reserve |
Many of these combinations recently took place at the Horseland/EFA National Dressage Championships and witnessed a spectacular freestyle event where Heath Ryan rising Regardez Moi was the victor by the smallest of margins -just .100 of a percent, from Rachael Sanna riding the new kid on the block Jaybee Alabaster. Mary Hanna won the Grand Prix event and so the three will meet again and ensure that the competition will be hot and the horses beautiful. If you missed the Nationals, be sure to catch the international dressage event at Equitana.



Clifton Court

Luccini




Come to Me




DP Christopher




Duntroon


Jaybee Alabaster



Mayfield Pzazz




Northern Campion




Northern Hector




Oscar B




Regardez Moi




Tango V




Weltklasse




APH Romarn




Chiaretto
General Entry Tickets
will get you in the door to see the competitions,
displays, education and 100's of retail stalls
with your favourite items and lots of new releases
avoid disappointment ... don't not miss Equitana 2008.
Click Here to go to the Equitana Web Site

Plan your Equitana Experience before the day
as there is almost TOO much to see.