EQUITANA Asia Pacific 2008

All Stars Clinic - a very exciting concept

The All Star Clinic is a very novel concept where you will see 7 Equestrian Disciplines under on umbrella.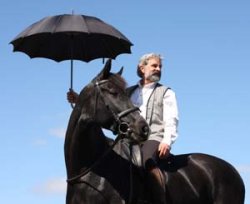 Richard Weis examines what these various disciplines have in common, as well as how they differ. The All Star Clinic is a unique gathering of experts in Dressage, Showjumping, Reining, Campdraft/Cutting and Polo.
This session aims to illuminate some major points to give a multi disciplinary understanding of the points of similarity and the points of difference. You can expect to come away knowing the how to recognise a spin and a pirouette along with a roll back. It will be explained why quarter horses don't usually take on dressage and warm bloods are not known for their talent as cutting horses or polo ponies.
I caught up with Richard to ask him how his plans are progressing and he said that he was talking with Clinic participant Chris Chugg this morning (5th November, 2008) and this is how their conversation went.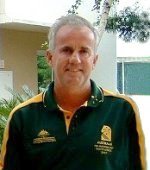 Richard said ... "We all know Chris Chugg (right) as a showjumper. Four times Australian Champion( most recently in 2007 and again in 2008) but when I talked to him this morning I realised I was talking to a man with an enormously eclectic equestrian background. He's evented successfully, had a hit of polo in the Philippines where his backers come from and rode quarter horses and Appys as a kid when his mother Bev Edwards (arguably the most successful warmblood breeder in the country today) was importing Racing Quarter horses and show Appoloosas.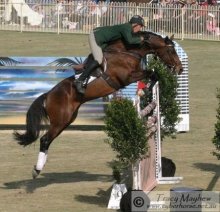 I asked Chris what he would bring to the All Star Clinic. He talked mostly about the type of horse he chooses, the workman like thinking horse that makes a good showjumper. He was very clear a good showjumper needs to be a thinker and that his stallion ASB Vivant would work a plastic bag if one blew in his yard. A bit like a Quarter horse might have natural cow sense. This is the horse he had as reserve in Hong Kong, who won the Australian Championship a week before he left for Europe on the Hong Kong campaign, and then won it again three weeks after arriving home again. That was a very impressive story. The horse came out of quarantine on the Tuesday, drove to Canberra on the Wednesday and won the Grand Prix both on Thursday and Friday. He had Saturday off and came second on the Sunday to take out overall winner, 5 rounds and no rails down.
Pictured above is Vivant and Chris at Elysian Fields, Queensland in 2007 - Pic Tracey Mayhew, Cyberhorse.
I tell you I can't wait to see Vivant and I will. Chris is very keen to show him off at the All Star Clinic. He reckons he is a horse that could have been successful in any field.
Chris explained that Showjumpers don't need to be fit like an eventer. They work normally between 25-45 minutes a day and seldom jump. Chris uses interval training in a fairly forward style on his four acre sand arena. The horses end up with changes, pirouettes, and beautiful self-carriage. Bev would be pleased. This training ensures he can be brought to a fence on his back end.
ASB Vivant (Belgian Warmblood) is owned by Michelle and Mike Barerra. He was chosen out of three hundred stallions. That is an art in itself! I hope Chris will share a bit of what he saw in the horse that made him stand out. As Helen Chris's wife told me 'Chris and Vivant are really a perfect combination, competitive, talented and extrovert!"
All Stars Clinic
in the Grand Pavilion, on Sunday 23 November, 4.30pm.
This is a separately ticketed event and is not to be missed.
Click Here to go to the Equitana Web Site

Plan your Equitana Experience well ahead a
s there is almost TOO much to see.