EQUITANA Asia Pacific 2008

All Star Clinic
Review by Berni Saunders
The All Star Clinic is a very novel concept where you will see 7 Equestrian Disciplines ALL under the one umbrella!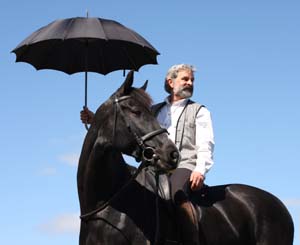 Richard Weis examines what these various disciplines have in common - as well as how they differ! The All Star Clinic is a unique gathering of experts in Dressage, Showjumping, Reining, Campdraft/Cutting and Polo.
This session aims to focus on some of the major objectives and to give a multi disciplinary understanding of the areas of similarity and the points of difference. You can expect to come away knowing the how to recognise a spin and a pirouette along with a roll back. It will be explained why quarter horses don't usually take on dressage and warm bloods are not known for their talent as cutting horses or polo ponies.
I caught up with Richard to ask him how his plans are progressing and he said that he had recently been talking to reining star Warwick Schiller and was very excited to have him as a guest at the All Star Clinic.
Richard said, "Warwick comes across as a very thoughtful, innovative intelligent and passionate horseman. I spoke to him with some specific questions about reining and how he goes about training horses for the fast work that is what makes the sport so special? As you know, I come from a dressage background so personally, I'm most interested to do my research about the non dressage elements of the all Star Clinic. Warwick will bring some very interesting and challenging perspectives to the session, especially for us dressage folk - who can sometimes become 'tunnel visioned' about our very systematic training guidelines and riding style. Warwick told me that reining started at a time when the ranchers got together in an arena to show off the athletic ability of their horses. From there it developed into a competition where finesse, showmanship and individual style have become the important goals and are the qualities prized by judges, riders and spectators alike. Reining is very exciting to watch and was a very popular event at the 2006 World Equestrian Games in Aachen Germany!"
Richard told me that Warwick articulates eloquently with a very psychological approach. He said that his philosophy is to ... change the horse's mind, not his body ... and allow the horse do the wrong thing, so it can be corrected and become a lesson that teaches something in the longer term. Warwick never uses his aids to stop a horse from doing something, he only asks his horses to do various things!
Richard said that the All Stars Clinic is a very unique concept and that preparing to head up the clinic has forced him to delve into the 7 different disciplines. He has found that the riders have a lot in common and share the same aspirations for lightness and harmony – the terminology may differ - but the aims are very similar. Each training method will give the audience some special insights about how they achieve these lofty goals.
Richard was very interested to hear a solution when Warwick talked about often encountered problem of a young or green horse, falling in on the inside shoulder, on a circle. Warwick's approach was not to use the inside leg to try to stop it ... rather to let the horse fall on it's inside shoulder … then correct it by making the 'wrong thing' hard to do and the 'right thing' easy! Richard said, "It was really good common sense and I could see how a horse would respond to the positive messages that come from Warwick's training methods. I am sure people are going to love this approach!"
Richard added, "Something I always admire when I see western trainers working, is how well they break tasks down into simple logic so that horses are associating one idea … with another idea and … another idea. Warwick insists that he will never ask more of a horse than the horse knows how to give."
"When we think of reining, we all think of the thrill spectacular slide stops and the fast spins. Warwick insisted these things would never be possible if the horse was not trained to want to do them and that they are the product of a very systematic step by step training program."
Richard and I agreed that the more we see of reining the more we can understand why some people say it is simply "dressage done fast". I am sure that the All Star Clinic will be a real eye opener and lots of fun.
You'll learn about different riding styles and training techniques and you never know - if our luminary participants are brave enough, we just might see some horse swapping.

Be sure to book your ticket for
Sunday 23rd November 2008 at 1.30pm
You can learn more about Richard Weis by following the link.
Click Here to go to the Equitana Web Site

Plan your Equitana Experience well ahead a
s there is almost TOO much to see.