EQUITANA Asia Pacific 2008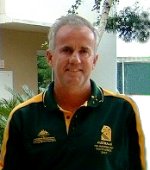 Sydney's Chris Chugg, 48 (pictured right) has won the Australian Jumping Championship for the second consecutive year riding the 11-year-old Vivant.
He tested his skill against 270 riders on 600 horses culminated in a total of 2,840 entries at Exhibition Park, Canberra for the four-day show held from the 9th - 12th October.
The win was the ultimate homecoming for Vivant, who was released from quarantine the Tuesday prior to the Championships. Vivant had returned from 4 months in Europe where he and Chugg had vied for Olympic selection and were named as the Jumping Team Reserve.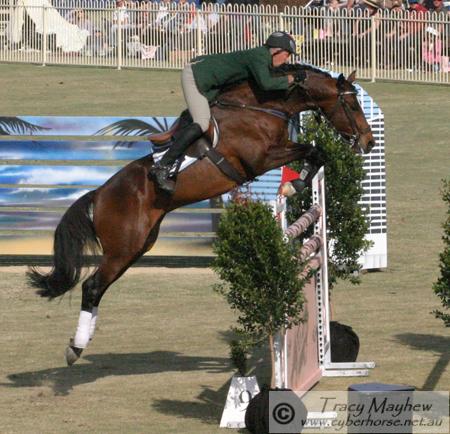 Chris Chugg on Vivant
Chris said, "He really matured from his time in Europe, he went away a young Grand Prix horse and has come back a real Grand Prix horse. After the exposure to the big shows and the international arenas I feel I could front up to any class in the world on him now."
Chris' very proud wife Helen said, "We were understandably chuffed at Vivant's performance. He is only 10 years old and being European, he is a May foal and won't really turn 11 til January 2009 on European timing. We plan to do the World Cups in Wodonga, Shepparton and of course we are really looking forward to Equitana and performing at the fantastic new venue."
More frequent flyer points are on the horizon for the well travelled stallion. Chris plans to compete him on the American circuit next year in preparation for the 2010 World Championships in Kentucky.
"This horse will continue to mature and improve for the next 15 months and with some 4 and 5 star shows under his belt he could be very competitive at the World Games in Kentucky 2010 and also at London in 2012," said Chugg.
Chris Chugg has dominated the sport of Showjumping for a long time and many of the founding Diamond B showjumping mares are producing the future stars at his mum, Bev Edward's Jaybee Farm in Queensland.

You can also visit Chris and Helen's Diamond B Farm web Site.
Chris will be riding in the World Cup Showjunping Event and also presenting the Showjumping Clinic -on Saturday (22 Nov), at the Bates Outdoor Arena at 1.30pm.

Catch Chris and the other participants at the All Stars Clinic
in the Grand Pavilion, on Sunday 23 November, 4.30pm.
This is a separately ticketed event and is not to be missed.
Click Here to go to the Equitana Web Site

Plan your Equitana Experience well ahead a
s there is almost TOO much to see.