Turf Monthly

Turf Monthly in conjunction with Equitana Asia Pacific and Leonard Joel Australia is proud to announce the 2008 renewal of the acquisitive Turf Monthly Equine Art Prize.

Following on from the success of the 2005 event which drew in excess of 140 entries, Turf Monthly will again be running the competition and curating the exhibition as part of Equitana Asia Pacific. The Turf Monthly Equine Art Exhibition will be staged at the main entrance to the CopRice Grand Pavilion, giving it great exposure to the vast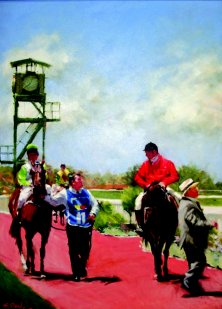 of crowds entering and exiting the CopRice Grand Pavilion. We will also have more space which means more entries and, for the first time, the inclusion of sculpture as a medium. As well as being included in the General Equine Art Prize, sculpture will also have its own award category.

Prize money for this acquisitive event includes a first prize of $4000.
Pictured right is a previous winner.
A further initiative for the 2008 event will be the inaugural Leonard Joel Australia Equine Art Auction to be held on site during Equitana Asia Pacific. The judges for the Turf Monthly Equine Art Prize will each select ten artworks, including the winners of each section, which will make up the catalogue for the auction. Reserves will be set at the artists' sell price.
Here are some great examples of previous entries. Get your creative side going and enter this fun event and perhaps you could open doors to getting commissioned work in the future.
For further information contact Liam Ferguson from Turf Monthly
phone: 0413 750 303 or email \n liam.f@turfmonthly.com.au



Click Here to go to the Equitana Web Site
© Cyberhorse 2008 Cyberhorse