EQUITANA Asia Pacific 2008
Clayton Fredericks gives an Eventing Clinic
and takes part in the "All Stars Clinic"
Story and Pictures Berni Saunders
All Australian Eventing enthusiasts are thrilled that Clayton and Lucinda Fredericks will be in Australia later this year. The Fredericks have been a dominant force in the sport of Eventing and seem to be sharing the limelight on the winner's dais.
The couple work hard behind the scenes and are tapped into the need to raise the profile of the sport and answer critics regarding safety issues and the importance of a sound preparation. They both speak of the hard work behind their success and the need to have horses property fit and well prepared to ensure safety and success. There is no doubt that individually ... and as a couple, they have been great for the sport of Eventing - and Clayton has shown that his beginnings as a show rider in Perth has given him a sound and solid background.
Clayton has an enviable record as a champion junior rider. When he was growing up in Western Australia he won the show rider of the year award on 10 separate occasions. His love of horses and passion for getting it right, has continued on and Clayton has become one of the most respected participants in equestrian sport at Olympic level.
Clayton, Lucinda and their daughter Ellie will be visiting Australia later in the year and Clayton will be a special guest at Equitana (Nov 20-23rd) and will give an Eventing Clinic, in the Bates Arena, on Thursday 20 November, 9.45am.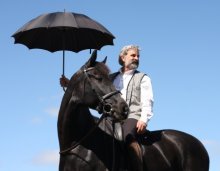 Clayton will also be a part of Richard Weis' "All Star Clinic" where 7 riders from different disciplines "come together under the same umbrella"! Clayton and the other 6 riders - who are well respected as experts in their field - will work with Richard to identify the things that are the same as well as the things that make them different. This will be a fascinating way to see a very different side of Clayton (and the other riders) in the Grand Pavilion, on Sunday 23 November, 4.30pm. This is a separately ticketed event and is not to be missed.
Clayton will no doubt, also share the experiences of a fantastic year, and talk about the work and preparation behind the many wins and outstanding places that he has had at recent competitions, with his fantastic horse Ben Along Time.
We are all very proud of Lucinda and Clayton who both made a huge contribution to the Australian Team Silver at the recent Beijing Olympic Games in Hong Kong and they surely the were the 'golden couple' of the Games. Although strictly speaking Clayton and Lucinda were riding as individual medal contestants and yet their team spirit - from both a personal viewpoint and that of Australia, was very evident at presentations and in the press conferences.
Clayton shows his style at the 2008 Olympic Games in Hong Kong
Left he makes the water jump look easy and right in the SJ final.
The Fredericks are very professional and their talent, knowledge and hard work preparing for the top international events and their attention to detail is evidenced in the success that they are currently having.
Clayton and Lucinda share their individual and team achievements
at the 2008 Beijing Olympic Games - they were in the
Australian Silver Medal winning team - pictured below
from left: Rob Hanna (Chef d'Equipe, Shane Rose, Sonja Johnson,
Megan Jones, Lucinda Fredericks and Clayton Fredericks.

Clayton continued his winning run when he and Ben Along Time recently came in first at the HSBC FEI World Cup Eventing Final. You can look up more about the Fredericks on their web site www.teamfredericks.com
Clayton and Lucinda have a number of special engagements booked while in Australia. They will be appearing at the Royal Perth Yacht Club for a "night on the couch" on 10th November and then they will be attending the Adelaide 3DE, prior to coming down to Melbourne for Equitana.
Eventing Clinic with Clayton Fredericks
in the Bates Arena, on Thursday 20 November, 9.45am
is included in the general admission program.
All Stars Clinic with Richard Weis
in the Grand Pavilion, on Sunday 23 November, 4.30pm.
This is a separately ticketed event and is not to be missed.
Click Here to go to the Equitana Web Site

Plan your Equitana Experience well ahead a
s there is almost TOO much to see.