EQUITANA Asia Pacific 2008

All Star Clinic
Review by Berni Saunders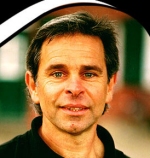 The All Star Clinic is a very novel concept where you will see 7 Equestrian Disciplines under on umbrella.
This highlight of Equitana will be hosted by Melbourne based clinician and instructor Richard Weis (Pictured right, pic by Thomms Lehman, Germany) and he will work with 7 of the most respected and talented riders and trainers in the world. This innovative concept offers a rare insight to the differences and similarities of the styles of riding and methods of training and should be a must for all those with a thirst for knowledge or even just a degree of curiosity.
| | |
| --- | --- |
| Andreas Helgstrand | Clayton Fredericks |
The participants will be ...
1. Dressage Andreas Helgstrand

2. Show Jumping Chris Chugg

3. Eventing Clayton Fredericks

4. Reining Warrick Schiller

5. Training Guy McLean

6. Cutting/Campdrafting - to be announced

7. Polo - to be announced
| | |
| --- | --- |
| Guy McLean | Chris Chugg |
I was fascinated about this concept, as so rarely do we get the chance to see the various disciplines and skills compared in any meaningful way. The All Star Clinic is a rare chance to do this and as Richard pointed out, it is not being done with any sort of competitive theme, it is about horsemanship, skill and harmony. Even though the style of riding and each horse's way of going may be different, the good riders share in common - good judgement and the feel to make correct decisions, instinctively.
I asked Richard how did the concept of having all the different disciplines get together and show their stuff ... at one time came about?
Richard answered, "Sicca Schaardenburg (Equitana's Education Co-Ordinator) extrapolated on a concept we were working on for 2007. When she ran the idea past me and invited me to run the event I was over the moon. As you know I love presenting - the bigger the audience the better. But I also think every discipline has a specific piece of the jig saw, and that cross pollination is a very healthy for the industry."
I felt that I should get some ideas about what people could expect to get out of the All Star Clinic? What Richard had to say was very interesting. "There will be more diverse knowledge in that arena than I've ever seen assembled. All of the participants have agreed to speak and show, openly and honestly, how they train, and how they've got to be world leaders in their field, the gear they choose, what sort of horses they like working with etc. The audience will be able to compare the disciplines and to understand the points of similarity ... and the points of difference."
I wanted to know how the Clinic will be structured and Richard said, "We are still working on the exact format - I want to keep a few surprises - and it will be a collaborative effort. I'll be getting to know the Stars and trying to learn a little bit about each discipline and then we will try to find the best way for each Star to show his stuff. I imagine we'll start with each giving a short demonstration. I've got some ideas of how to have them working together so we can see 7 disciplines in front of us, challenged by some tricky little movement games. I'd better not give too much away until I run it past the All Stars! I can guarantee it will be a spectacle and lots of fun."
This is sounding like fun and I said to Richard that he could be sure that the audience will have lots of questions ... will there be room for discussion?
Richard went on to say, "We will be packing as much into the time we have as possible, so question and answers will probably be limited, but it is the intention to try and get as many questions answered as possible. It would be much better for me if the clinic were so crystal clear, that questions were answered in the way the session will be structured ... before they are asked."
It will be a wonderful opportunity to learn more about 'other' disciplines and to tap into the ideas and methods of some pretty special horsemen, I think that this event is a real Equitana highlight. I am looking forward to it very much. See you there!"
You can learn more about Richard Weis by following the link.
Click Here to go to the Equitana Web Site

Plan your Equitana Experience well ahead a
s there is almost TOO much to see.