EQUITANA Asia Pacific 2008
Breeders' Village
Review by Berni Saunders

The Equitana Asia Pacific "Breeders' Village" will give horse enthusiasts a unique opportunity to learn more about most popular breeds ... as well as some of the rare specialist breeds that have a following in Australia.
The new 'horse friendly' venue has given the event organisers more scope to include special features and many more horses which is sure to appeal to the wider community of horse lovers. The 'Breeder's Village' gives students, horse owners, trainers and riders the chance to talk to the breeders and learn more about their favourites.
Most of the major breed and performance stud book administrators will be taking part and will have representatives and breeders to show stallions, mares and young stock ... and to answer questions. It is a wonderful opportunity to learn more about the different breeds and also how the organisations which control the breeding guidelines are supporting their fans, owners and studs.
This is a list of some of the rare and special breeds which will be at Equitana - you can go to the Equitana web site to find out more about these breeds.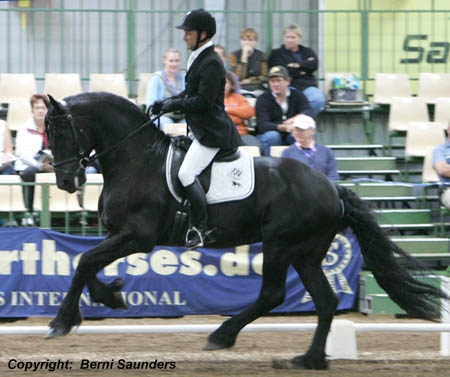 See the magnificent Dutch Friesian horse
they are making their mark in competition classes
Picture by Berni Saunders.
| | |
| --- | --- |
| Friesian Horses | Gypsy Horses |
Andalusian Horse Association

Australian Pony Stud Book Society

Australian Quarter Pony Assoc.

Avalon Stud

Double C Appaloosas

Gramayre Friesian Horse Stud

Gypsy Horse Assoc. of Aus

Highland Pony Society of Aus.

Irish Draught & Sport Horse Soc.

ISSA/Swedish Warmblood Assoc.

Peruvian Paso

Mb Quarter Horses

Moorooluck A.S.H. Stud (stock horses)

Morgan Horse Assoc.

Narrawin Stud

Surry Springs Gypsy Cobs and Southern Gypsies

The Waler Horse Society of Aus.

Welsh Pony & Cob Society

Haldane Icelandic Horses

Australian Haflinger Horse Breeders Assoc.

Cayuse Sportalousas

Coffin Bay Pony Association

German Riding Pony

Australian Sports Pony Registry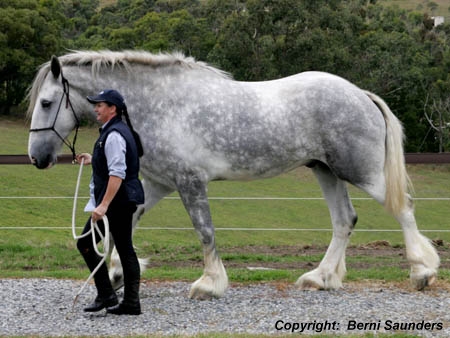 Shire Horse, Meet Noddy the World's tallest horse
Noddy stands 20.2 hands high makes him the world's tallest horse - he is
so cool and laid back ... and does not know what all the fuss is about!!!
Picture by Berni Saunders.

The Shire horse is one of the rarest horses in the world. There are less than 90 Shires in Australia, with the total numbers worldwide only in the thousands.

he Shire horse originated in England. The earliest record of a Shire Horse was in 1066 just after the Norman Conquest of England. Shires were used throughout English history to carry the heaviest of armoured knights into battle and to haul the heaviest of loads around England, while also working on the land. In the 1900's, the Shire was close to extinction due to a combination of events, the depression, the coming of the tractor and truck industries and the cost of housing and feeding such huge horses.

Shires are the worlds tallest breed of horse, with stallions usually standing up to 18.2hh. The most common colours are black, brown and bay with white feathers at their hooves. Grey is rarer in the breed, while roans and chestnuts are not acceptable.

Luscombe Nodram or "Noddy" stands over 20.2hh. Noddy's grandsire, Ladbrook Invader was the World's Tallest Living Horse back in the 1980's standing then at 19.2 hands as an adult. Noddy certainly has inherited his sire and dams genetics and he has a wonderful temperament.

One trait which the breed is renowned for is its very gentle and docile nature. They have truly earned the title "the Gentlest of the Gentle Giants."

Do not miss the Breeders' Village and your opportunity to meet these very special horses and people.

Click Here to go to the Equitana Web Site

© Cyberhorse 2008 Berni Saunders