EQUITANA Asia Pacific 2008
Georgia Bruce says ...
Goodbye Paralympics and bring on Equitana!
All of Australia is enormously proud of our Paralympic Team ... and horse lovers are aware of just how much was involved, getting our horse and rider representatives to Beijing. I was very disappointed that I was not able to stay on for another month to cover the Para's, so it is wonderful to have some news 'straight from the horse's mouth' ... so to speak.
Our duel Bronze winning medallist , Georgia Bruce has sent this information as part of her Equitana Preview and says that she is looking forward to November as another fantastic highlight of 2008. Georgia will be at the new Melbourne Showgrounds Equitana Precinct November 20-23 and will be sharing some of her experiences with fans. She recaps her Hong Kong adventures as follows ...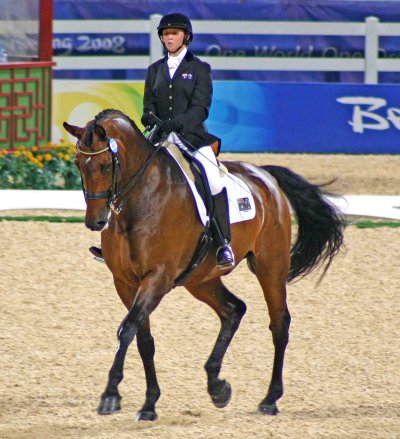 Georgia struck up a great relationship with
Caroline Leuitenant's wonderful Victory Salute
Hi Everyone,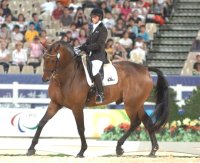 Well the Paralympics are over. What an experience!...it has really been amazing. Thank you so much to everyone who helped get me here. I feel so lucky to have been able to live my dream. I am still on cloud nine...but at the same time, completely exhausted from it all.
Pic right - Georgia and Victory Salute show their style in the Shoulder in right.
The Australian Team went to from Hong Kong to Beijing for 4 days, to attend the closing ceremony. It was awesome to walk out with the rest of the Australian Athletes into the birds nest stadium.
It was also great to soak up some atmosphere in the main
athletes village in Beijing. The "Village" is more like a small city, comprising of several blocks of highrise buildings closely guarded by men with machine guns.
We got to do some site seeing, climbed the 'great wall' and saw the forbidden city and went to the markets.
Two of the Australian horse owners stayed behind in Hong Kong to look after the horses. Terrina Fairbrother from WA, who owns Northern Griffin, and Liz Wright-Smith from Victoria
who owns Yarra Valley Mount Batton, these two wonderful ladies looked after Sam while I was away.
I am now back in Hong Kong. There are four of us here looking after the horses, who are in quarantine until the 29th of September when we all fly back to Sydney. We then have three weeks quarantine in Sydney before I will be able to get home.
Sam is happy and well.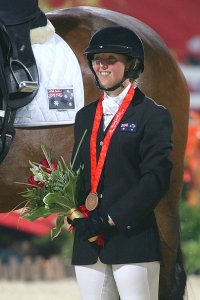 We are riding to and from the stables on bicycles, it is only a couple of kilometers and it is easier and faster than trying to catch a taxi here. The horses are all having a holiday, because we cannot ride them in quarantine. We have access to a round yard and some grass to give them a walk and a pick. They probably all needed a holiday after such a major effort.
Pic right ... Georgia receiving the Bronze medal for her Freestyle ride.
At the moment there is a typhoon off the coast here, it is predicted to hit Hong Kong tonight at around 8pm.
I think the horses will be fine, as all buildings including the stables are solid concrete as they get a lot of typhoons here.
Thanks again for all your messages of support and encouragement. Better go now and wait for the typhoon.
from Georgia
Australian Paralympic Equestrian Team Results
Warm Up Test
Grade 1A
Jan Pike & Northern Griffin 61.76% (7th)
Team Test
Grade 1B
Nicole Kullen & Nikshar Nomination 60.235% - (6th)
Grade 1B
Grace Bowman & Yarra Valley Mount Batton 58.235% - (7th).
Grade 3
Sharon Jarvis & Applewood Odorado 62.923% - (5th)
Grade 4
Georgia Bruce & Victory Salute 67.571% - (3rd)
Individual Championship Test
Grade 1A
Jan Pike 60.00% - (9th)
Grade 1B
Nicole Kullen 59.905% - (11th)
Grade 1B
Grace Bowman 56.286% - (15th)
Grade 3
Sharon Jarvis 69.200% - (4th)
Grade 4
Georgia Bruce 68.258% - (3rd Bronze)
KUR (Freestyle to Music)
Grade 1A
Jan Pike 65.555% - (9th)
Grade 1B
Nicole Kullen 66.110% - (4th)
Grade 1B
Grace Bowman 61.611% - (12th)
Grade 3
Sharon Jarvis 69.446% - (7th)
Grade 4
Georgia Bruce 74.319% - (3rd Bronze)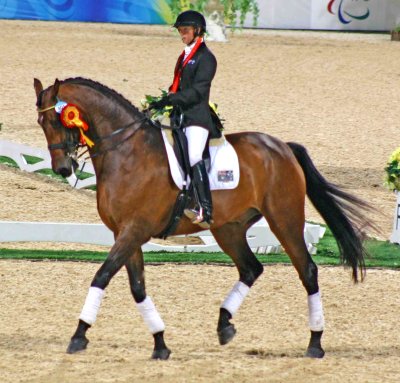 Georgia and Victory Salute (Sam) proudly
ride their lap of honour ... Go Aussie!!!
Click Here to go to the Equitana Web Site

Plan your Equitana Experience well ahead a
s there is almost TOO much to see.