EQUITANA Asia Pacific 2008
Carlos Tabernaberri -
A Special Brand of Horseman
Review by Berni Saunders
Carlos was born in Argentina and lived there until the age of 15 years. He grew up seeing the traditional Gaucho way of breaking in horses - the methods and traditions are still practiced to this day ... and according to Carlos, are very hard on horses and often see them 'broken in' with a broken spirit.
Although Carlos is a self-taught horseman, he has a love of horses and made a 'moral contract with horses' that if he ever was going to handle and train horses, it would be done using methods based on understanding and trust - the opposite of what he saw when he was growing up in Argentina.
As a result of his love of horses and the pledge to find better ways of training, he has carved out a career using his own special brand of horsemanship which comes from the heart and uses his unique gift of communication with horses. Carlos says, "I consider the horse in mind ... body ... and spirit!"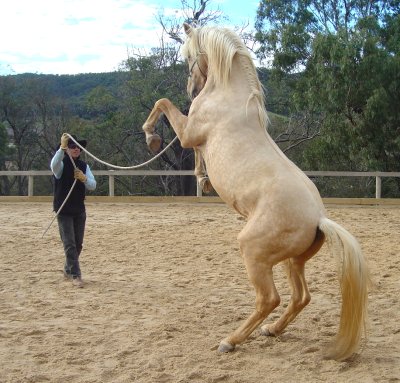 The stallion Aramis - day 2 with Carlos
"Just because man is considered a predator to the horse, it does not mean we should have a predator-prey relationship - we have gone past this relationship. I have learned from observing horses in the herd environment, that they are different to what most humans believe ... and most professional "horse people" teach! I have set about to take my lessons from the horse and base the lessons that I teach to horses and people on the things that horses understand and the way they best learn." Carlos explained.

Horse "in the pocket" long and low on the lunge
"It has to make sense to the horse before it can make sense in a human". added Carlos.
There is so much involved if we are to progress this way of thinking and work with the horse's nature Carlos said. The subject is so vast that I have written a book and produced a DVD titled - " Through The Eyes of The Horse".
Carlos has been greatly influenced by the harmony and beauty which has made Spanish Classical training a horse the model of so many of the notable 'Masters". He says, "The development of the physical and mental exercises that builds into the finest examples of this method are based on trust and understanding and do not destroy the horse's confidence or damage him physically, by asking for too much or for too much, too early in the training process."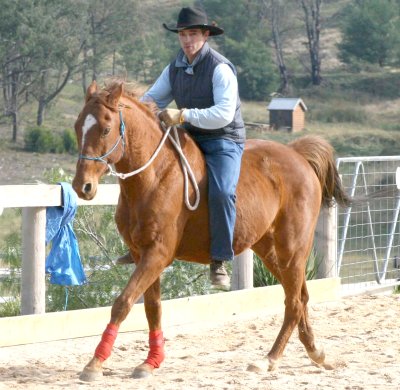 Larry shows a canter depart which comes from
harmony and willingness not a bridle and spurs.

"I work my horses very little, but very productively, they enjoy their training and because there is no pain, they are willing to come to each training session with enthusiasm and keenness to learn." Carlos told me.

"This gives you an insight in a nutshell," Carlos added. "I am looking forward to being part of Equitana Asia Pacific in November, where I will get the chance to show many people that there are alternative ways to go about most things with horses. I have found that even 'difficult' horses respond well to the opportunity to work with people rather than for them!"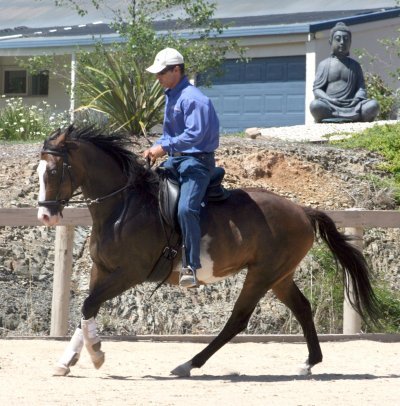 Working on soft 'bitless" collection
Do not miss the opportunity to see Carlos and witness his very special way with horses ... it will challenge many of the traditional ideas and open new pathways of communication with horses.
You can learn more about Carlos & "Whispering Acres"