EQUITANA Asia Pacific 2008
Rapport in Training
'Dressage from the ground up'
Report by Berni Saunders
Victorian based horse trainer and riding clinician Richard Weis will be conducting a number of interesting demonstrations for the enthusiast who is looking to develop more than a "master and servant" relationship with their horse. Richard will demonstrate and talk about "Rapport in Training" on the opening day of Equitana - Thursday the 20th November, at about 1 PM. Look in the program for further information.

By applying sound dressage principles to liberty exercises, lunging and in-hand work, he has established techniques which enable him to communicate with his horse, achieve co-operation and obedience and an ability to work with goodwill and harmony. Richard says, "This method of training creates a sound and healthy relationship with the horse and is more than just the physical relationship!"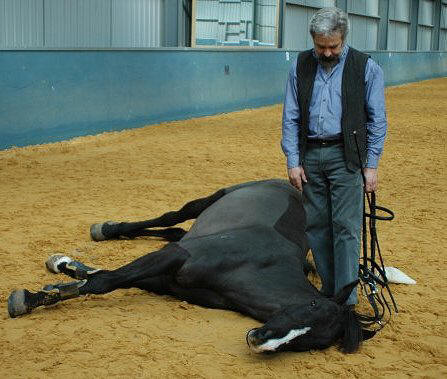 Ming shows complete trust in Richard
Richard has spent much of his 30 years working with horses developing his unique style of communicating and training … what he can show you will create a huge impact. He says, "I have spent so much time fathoming training horses and the issues of communicating with them effectively and without resorting to force or gadgets.

"My horses – Ming and Chello - a mother and son, Oldenberger team, have enthusiastically embraced this journey of discovery with me and it is as though we 'speak' without words. It is a very rewarding experience and the methods can be shown and taught to anyone who loves their horse enough to take the relationship a step or so beyond just riding" Richard explained.
Richard's demonstration will be a "first" for him. While he has taken part at every Equitana Asia Pacific show since 1999, this is a first time he has worked with his horses.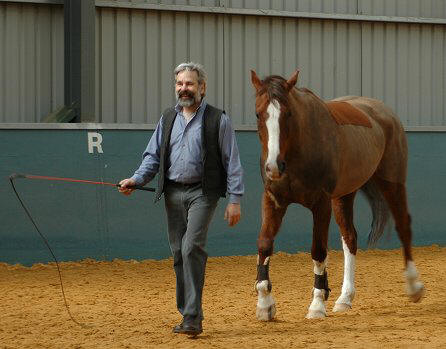 Chello has more that he wants to show ...
The November 2008 appearances of Richard, Ming and Chello represents many years of 'relationship building'. Richard said that this demonstration will not go into the more advanced aspects of his training as he wants to keep it simple and hopes that many people can get started with some new ideas and a more satisfying and rewarding association with their equine friends …. What an adventure!" You can learn more about Richard by following these links.

http://www.dressagetechnique.com/

Click Here to go to the Equitana Web Site

Plan your Equitana Experience well ahead a
s there is almost TOO much to see.