EQUITANA Asia Pacific 2008
Australian Paralympian Georgia Bruce
tells us about the lead up to her
Bronze Medal rides in Hong Kong.
story told to Berni Saunders
Georgia Bruce has had an action packed 12 months to make her dream of riding in the 2008 Paralympic Games in Hong Kong, come true. Following this event Georgia will be in Melbourne for Equitana Asia Pacific where she looks forward to sharing her Paralympic experiences. She gave me a run down about the weeks leading up to her Bronze Medal ride. Georgia says ...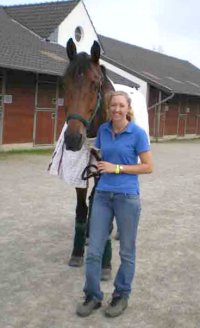 We had our last day training at the Hufendiek's place on the 18th August. Sam (Victory Salute), Carolyn Lieutenant and I headed to Aachen on the 19th Aug.
where we were n quarantine for 8 days. Aachen is about 4 hours away by truck. It was a huge relief that we did not have to fly to England for quarantine. This will make it much easier on Sam, and also on us too!
Sam and I have been doing intensive training in Germany, unfortunately we were not able to get to the competition in Reisenbeck. Sam's shoes were left on for a week or two longer than usual so that the shoeing would fit in with the timing in Hong Kong. Aachen has had a lot of rain (it is the "City of Water") and the ground was too soft and his feet were too long and we felt it was too much of a risk for his legs. After his feet were done, we have been riding through test movements with instruction from Carolyn. Things have gone quite well in this part of our preparation and I can thank many members of my support team for their assistance. Above Georgia and Sam at the Stable block in Aachen.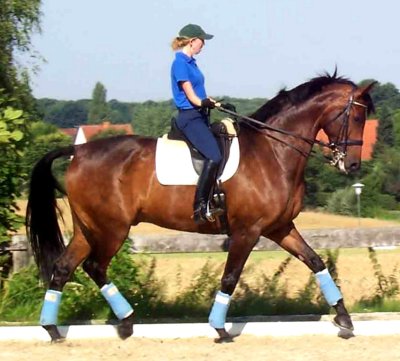 Georgia on Victory Salute (Sam) in Germany
At the quarantine station in Aachen there were horses from twelve other countries and they were also be flying to the Paralympic Games in Hong Kong.
We were able to train whilst in quarantine and this final week of training before we set off for Hong Kong was of great benefit and helped me to get to know Sam better.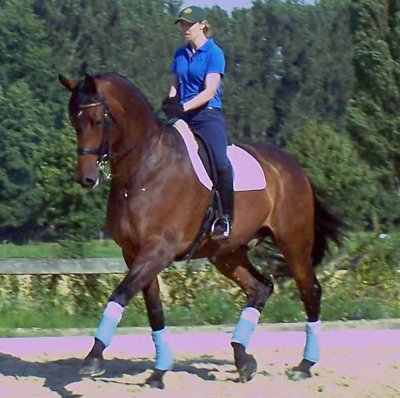 Georgia on Victory Salute (Sam) in Germany
As we count down to our trip from Germany to Hong Kong, Sam and I have our bags packed...in fact they were sent on the truck to the airport the day before we left.
We took just the basic necessities...hay for Sam... Laptop for me and a change of clothes... We left the quarantine area in Aachen on a truck today at 12 midday and we had a stop-over in Amsterdam before our flight to Hong Kong.
Carolyn (Sam's owner), directly to Hong Kong and we met up there. We flew to Hong Kong on the 27th August with horses from Denmark, Norway, South Africa, Poland and Spain. I was on the plane with Sam, as his groom. This was a really interesting experience and one that I valued as I had never been on a plane with a horse before.
The other members of the Australian team did their quarantine in Victoria, (Australia) and I will met up on the 28th of August after all horses the arrived in Hong Kong.
It was wonderful to arrive at the Equestrian complex at the Sha Tin Racecourse and to realise that we have made it this far. I was starting to get excited, but knew that I needed to keep focussed and well prepared for my event.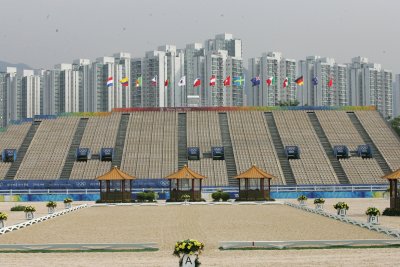 View Across the Dressage Arena with the wall to wall
high rise apartment blocks as the back drop in Hong Kong.
Pic: Berni Saunders, Cyberhorse
NEWS FLASH ...
Wednesday September 10

Georgia Wins 2nd Bronze Medal
In her final competition event Georgia rode with finesse to win another Bronze Medal.

After 10 riders she was the first to top 74%. But soon after two more athletes passed her mark. With hearts in our mouths we waited to see the score of the final rider to find out if she medalled. The Aussie supporters erupted when the final results were announced.
http://www.apcsports.org.au/equ/login.asp

Username: guest
Password: guest