Hong Kong 16th August
The showjumping competition at the 2008 Beijing Olympic Games is different to FEI World Championships and different to event that was run at the Athens Olympic Games held in 2004, and sometimes you feel like you need to be a mathematician to understand it.
For FEI World Championships the first and second competitions, a speed competition and a two-round team competition decide the team medals. These two competitions together with a third competition over two rounds serve as the qualifying competition where the four best placed riders then advance to the change-of-horse final which will be the deciding round for medals and 4th place.
For a range of reasons the traditional Olympic format has changed since the Athens 2004 Olympic Games. The team round one and two individual qualifier and the team round two and three Individual qualifier will be run over two completely different courses on two days. This was decided to increase spectator interest and increase the challenge for both horse and rider.
The number of participants in the Individual third qualifier has been reduced to the best 50 riders (including all tied for 50th place) after two individual qualifiers.
The number of riders qualified for round of the individual final has been reduced from 45 to 35.
The number of teams qualified for Round 2 of the team final has been reduced from 10 to 8.
The first round of competition, the first qualifying round for the Final Individual Competition saw only 13 clear rounds and 2 rounds that nearly cleaned up the entire arena.
New Zealand rider, Sharn Wordley, riding the Dutch Warmblood Gelding Rockville left only 2 jumps standing. He just could not get into a relaxed rhythm, and got further and further ahead of the horses movement as the round went on as if he was trying to push the horse over each obstacle.
Leaving only one jump standing was Egyptian rider Karim El Zoghby on the chunky chestnut Aladin a 10 year old Westfalian gelding chestnut. From his perceptive you would have to say it was a disaster.
At the other end of the scale there were some absolutely beautiful performances from a series of combinations that showed rhythm, balance, straightness and forwardness were the keys to getting around the Chinese influenced course safely and under time.
Some did it with flamboyance and others it was like a day at the office. Switzerland's Niklaus Schurtenberger's Grey gelding Cantus was alert and willing, putting in a really a solid and reliable performance.
Christina Leibherr from Sweden had her foot down for the entire round. Her tall, upright and leggy bay gelding maintained rhythm all the way but at an accelerated pace, literally chomping at bit. There was no way the Dutch Warmblood, No Mercy was not going to pick up any time penalties.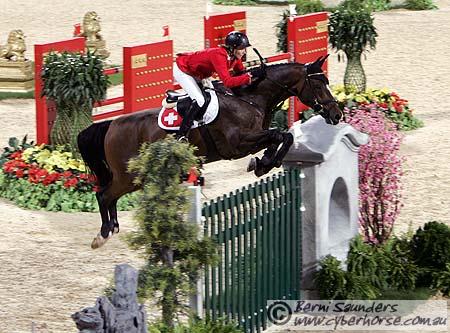 The pretty, short coupled stallion, Un Blanc de Blanc just popped his little pink nose in the air as he cleared each fence by metres. He was ridden by Brazillian rider Pedro Veniss, while the Japanese combination Taizo Sugitani and California, a Holstiener mare, looked like they were out for a Sunday picnic, it was too easy. The lanky grey mare had a fabulous relaxed but ground covering canter.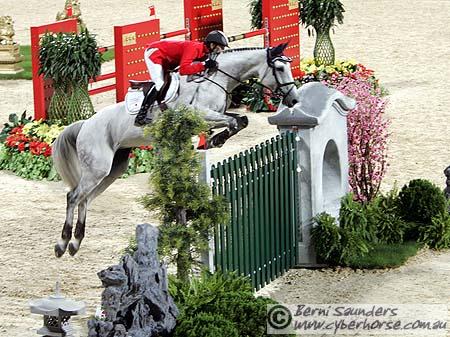 At only 10 years old she looked like she could have been a school master.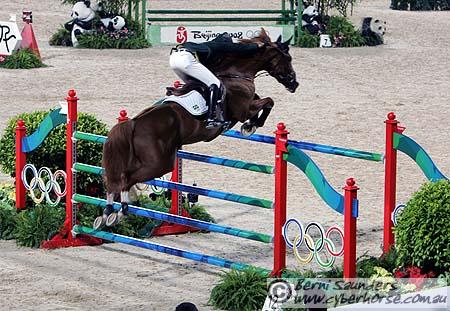 Canada's Mac Cone rode a smaller dark bay Dutch Warmblood gelding. Ole is a solid type but athletic and flexible. He really engaged his hind quarters to clear everything in front of him and at lightning pace. Mac was happy and said "I'm very pleased. He was calm, and he did his job well. We had a good start".
Sien Endresen of Norway was probably a bit lucky as the soft and pliable Le Beau nearly took the second of the "Horses in History" combination 10b. Apart from that small fright, the 13 year old Holsteiner gelding showed a nice rhythm and maintained concentration on the jumps and was not distracted at all by the crowed which at times went absolutely crazing, often almost jumping each jump with the riders in the arenas.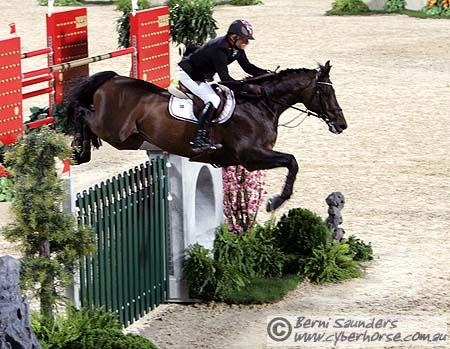 Sapphire, the Belgian Warmblood mare had done this before, competing at the Athens Olympic Games in 2004 games had given her a confidence that showed. The elegant mare did not expend any more energy than was necessary and gave Ward McLain from the USA a fabulous ride.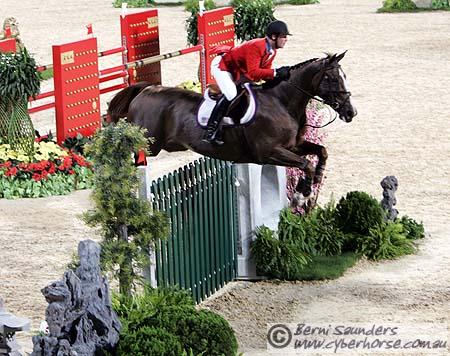 The crowd erupted when home town favourite Patrick Lam entered the arena on his Flemish Warmblood stallion Urban. Living up to his sire Darco, one of the all time greats of the sport, Urban was confident and fast. With wonderful rhythm through the Double Happiness triple and coping with a short stride into the "Horses in History" double, the pair did a lap of honour to a standing Hong Kong audience. The round went even better than Patrick had imagined. He said "I expected there may be two or three knock downs. A clear round is the best dream I've ever imagined. I love him (Urban). He gave 150 per cent to me, even more. I came here to get experience, I had no pressure, and look at me now. I had a clear round in the Olympics".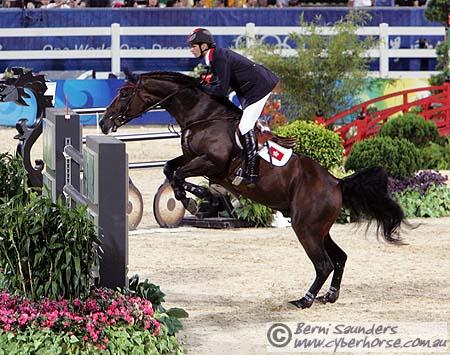 With a massive canter Chupa Chupa look like he was just taking a stroll, but there were no penalties. Just getting a little ahead of the movement into the Panda triple bar at fence 7 (the biggest fence on course at 1.54m high and 1.9m wide), Brazil's Bernardo Alves was lucky to be able to rely on the solid Holsteiner's ability to regain rhythm to clear that fence and the Dancing Fans that followed.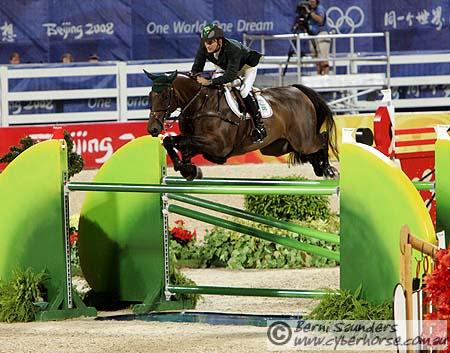 Two USA combinations progressed to the second round with no jumping penalties and no time faults. Will Simpson's year old Holsteiner gelding is a super little horse really short and compact. Carlsson Vom Dach has heaps of scope and enthusiasm for the jumps. He is very energetic and fast and will be one to watch in the finals. Beezie Madden's Authentic, a 13 year old Dutch Warmblood is not as glamorous or flamboyant as some of the horses here but Beezie is a fabulous rider and Authentic is a fabulous horse and between the two of them they are doing a fabulous job.
Beezie has high hope for the US team saying "Our team came first in the 2004 Olympics. We would like to defend the title, but it's a hard battle".
Canada's Eric Lamze Hickstead is a really forward, smart horse with great scope , the 12 year old stallion is not as relaxed as some of the other competitors, but he is certainly on the ball. The Canadian combination of Eric Lamze and Hickstead certainly knew what they were doing and didnt got into trouble once.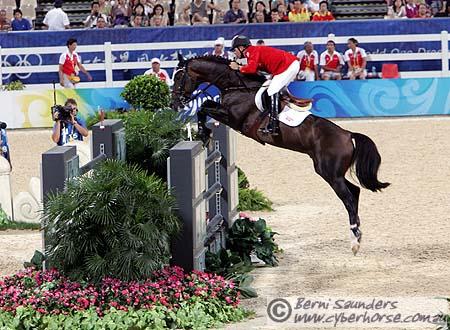 Another beautifully balanced and forward round was from the Netherland's Vincent Voorn and his mount Alpapillion who is a Dutch Warmblood Gelding with a splash of pony blood. Vincent later said "The horse jumped 400 per cent. He got a bit strong at the end but the jump was fantastic. We (The Dutch Team) want a medal for the team. Not necessarily a Gold or Silver, but Bronze is fine too. That would be a big achievement" Vincent's father, Albert Voorn was a Silver Medallist at Sydney 2000 Olympic Games in the showjumping competition and his advice to Vincent was "Do your own thing like you always do during the year . Ride according to your own plan".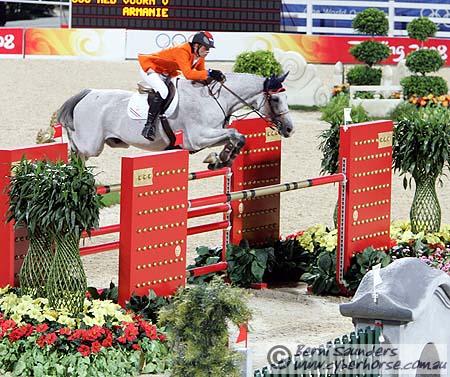 Some very famous combinations just couldn't quite get inside the 88 seconds required for a clear round.
With only one time penalty, Belgium's Jos Lansink riding the amazing Cumano had a spectacular round. The huge grey stallion is a magnificent creature and hopped over the jumps like they were not actually there. The round was an absolute joy to watch and looked like a fantastic clear round with in time until the very last second. Relaxed and totally at home in the arena Cumano, played to the crowed with a little pig root once through the finish flag.
Nick Skelton's Russell had no jumping penalties in a beautiful round that demonstrated the amazing scope of the horse. The balance between Skelton the grey Holsteiner was just lovely to watch. Nick agreed it was a good round saying "If he is well behaved, there is nothing he can't jump".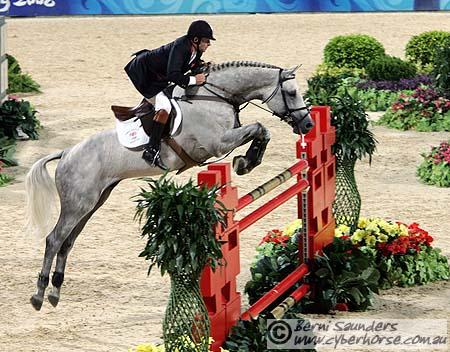 Australian Laurie Lever had a fantastic round with just one time penalty. The oldest rider in the competition felt that he has found the horse of his lifetime in the 10 year old Hanoverian gelding, Drossel Dan. Laurie said "You get a nice horse. You get a rush of blood to the head, and suddenly you are not as old as you think you are. He (Drossel Dan) was a bit tricky to start off with. We then built a partnership and I said to my boys, 'no you can't have him'" Tonight "He has gone from being frightened to actually enjoying the test".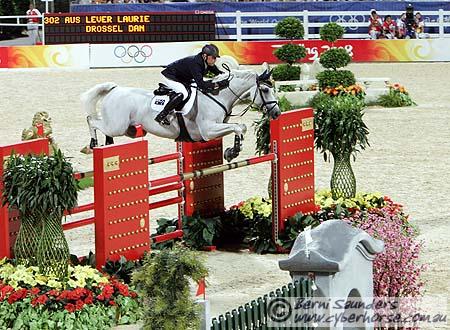 Special Ed, Canadian Jill Henselwood's Oldenburg gelding gave his rider a great round, flowing and rhythmic but the near miss at the Prosperity Fans water jump could have caused the 1 time penalty they incurred. She was very happy with her performance saying "I think 'wow', what a start for Canada. We seldom have four horses that look as good as these four do against the rest of the world. We have already set the bar".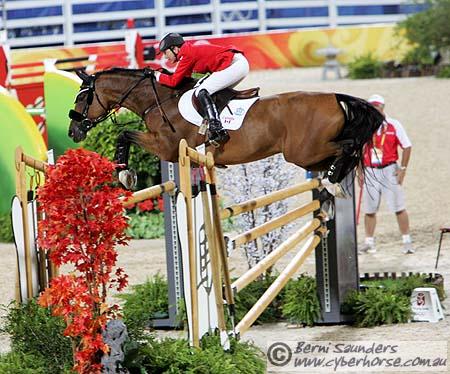 Brazil's Rodrigo Pessoa showed a beautifully sympathetic flowing round where he communicated well with Rufus a Dutch Warmblood gelding . The horse was ridden perfectly, but not fast enough. Perhaps that was because Rodrigo was concentrating on it. He said "I was too concerned about the time. The horse jumped quite well throughout the course. I have ridden him for one and a half years. He is a horse with a big heart, and he really wants to do well. He's progressed very quickly, and been doing better every month. He is a nice horse to bring to a championship".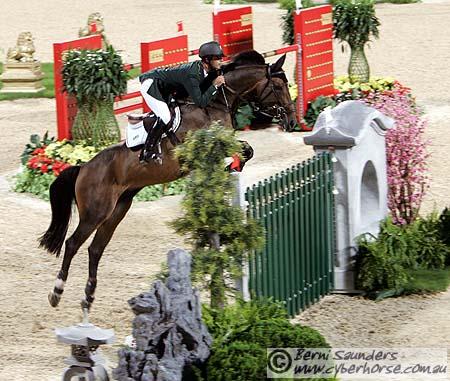 10 other rider combinations were able to leave all the jumps in tack with just one time penalty.
The competition continues on Sunday with the top 8 Qualified Teams going in to draw. The teams who made it to the top 8 are:
USA, Switzerland, Brazil, Canada, Norway, Netherlands, Great Britain, Australia
© Cyberhorse 2008 Toni-Anne Collins