Hong Kong 16th August
The Dutch Jumping team are still set to contend the medals with a team of proven riders, despite losing two of their best from the Olympics.
The team was hit last month when Jeroen Dubbeldam, Individual Gold medalist at the Sydney 2000 Olympic Games, withdrew because his horse Up and Down was not fit - and Albert Zoer, ranked No. 2 in the world, broke a leg.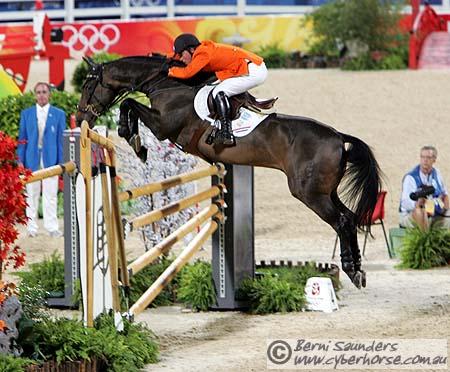 The Dutch riders will now be Gerco Schroder with Monaco, Vincent Voorn, who had a clear round in the first qualifying round with Alpapillion-Armanie, Angelique Hoorn with O'Brien and Marc Houtzarg with Opium .Angelique started beautifully with a slight twist in the back end of O'Brien, but just got a little deep to the only double on the course and took the rail for 4 points.
The reserve rider is Leon Thijssen with Olaf. Even without two key riders the team are determined to have a good shot at the medals and will be inspired by the memory of Dubbeldam's success in Sydney and the Gold medal the Dutch team won at Barcelona 1992.
Schroder, riding Monaco, was in the team that finished fourth in Athens 2004. In 2006, he rode in the World Championship-winning team with BERLIN, and finished sixth individually. Last year, the pair claimed European championship team honours and finished 29th individually. The 30-year-old Schroder, ranked No. 9 in the world, has changed horses for the Games, and will saddle Monaco instead of Berlin.
Voorn, 24, is the son of international Jumping rider Albert Voorn, who was second to Dubbeldam in Sydney 2000. Starting his riding career at 14, Voorn was European Champion Young Rider with Priamus Z in 2005. Last year, riding Alpapillion-Armanie, he was in the team that won the European championship, and finished 12th individually.
Hoorn, 33, won an individual Bronze medal with Hascal at the European Championship for Young Riders in 1996 and was Dutch champion in 2001. Riding O'Brien she won the Grand Prix of Zwolle in 2006 and the national title again in 2007. Houtzarg, 37, started riding at 16 and in 2000 rode for the Netherlands in the Nations Cup for the first time. In 2006, he won four Grand Prix with Opim . So it was no surprise that he became a member of the Dutch A-squad in 2007 and won Silver with the team at the European championships.
Story by Toni-anne Collins
Picturs by Berni Saunders
© Cyberhorse 2008 Toni-Anne Collins